Polk Audio UltraFocus 8000 Active Noise Canceling Headphones Review
By Chris Chiarella
It's All in the Details
While not a company I immediately thought of when discussing headphones, Polk Audio has been offering a wide, innovative assortment of products to reproduce sound with amazing clarity, at attainable price points that belie the superior performance. But a visit to the manufacturer's demo room at the recent CEA Line Show in New York City enlightened me, and I was invited to test for myself a pair of their newest and best model, the UltraFocus 8000 Active Noise Canceling Headphones.
Premium noise-canceling models are becoming ever more ubiquitous, but most noise-canceling circuitry has the unwelcome side effect of compromising the frequency response, adversely affecting the desired music/movie audio in the process of blocking out external noise. The Polk approach employs audio algorithms to quell environmental distractions, then goes a step further with their proprietary Optimized Active Tuning alongside, whereby the miniature thermoplastic polymer drivers' performance has been finessed and shaped for uncolored frequency response, rendered even more lifelike by the discrete equalization filters. Addressing the unpleasant symptoms of noise cancellation is especially critical because this feature is always active during use of the 'phones. Fresh batteries must therefore be properly installed or the Ultra Focus cans will not reproduce any audio.
Better by Design
The flat, oxygen-free cable avoids most tangles before they occur, despite its generous length. Multiple gold-plated connectors are supplied and the primary plug is right-angled for easy use with a smartphone held either vertically or horizontally, as when we're watching a movie. The plug is also quite slim, giving me no trouble with the small hole on my iPhone case, where other headphones have posed a challenge. On the other end, the cable quickly disconnects under the left earcup.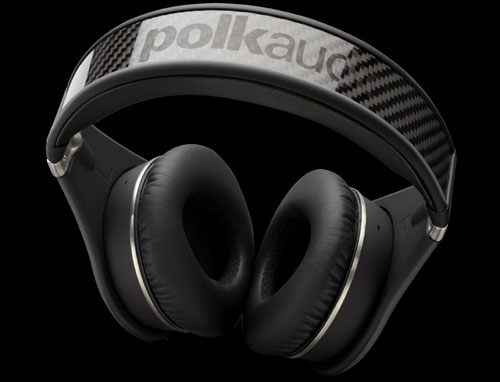 Instead of placing a row of tiny buttons on the cable like some other models I've tried, Polk puts a collection of touch controls on the perimeter of the right earcup. At the twelve-o'clock-high position is the multifunction button: Press once to pause a compatible source such as the iPod/iPad/iPhone, another press to play again, two rapid taps to track-skip forward, three times to skip backward. Left and right controls adjust the volume down and up, and at the bottom is push-to-talk, which reduces our music or whatever to barely audible levels while letting in outside sounds, the amplifier favoring human voice frequencies so we can communicate without incessantly taking the headphones off and putting them back on again.
A lot of thought obviously went into the design of the headband, which is probably the most comfortable I have ever worn for extended periods of listening. The gentle tension of the carbon fiber-accented band keeps the soft 360-degree cushions of the cans pressed securely but always comfortably in place, adding no small measure of passive noise isolation as well. They are remarkably lightweight and they fold down slimmer than I expected when stored, the 'phones and sundry adapters all fitting neatly into the rugged, padded carrying case.
FOCUS!
For my critical listening tests, I set myself up beneath an active air conditioning duct to approximate that inescapable airplane din. Merely putting the headphones onto my cranium blocked out much of the "whoosh" thanks to the thick cushioning, but flicking on the power phased out the unwanted sound almost entirely. The 8000's got me in a bit of hot water with the little woman, as my wife was allegedly shouting for my attention for several minutes while I was evaluating them, but I never heard a word of it. And I was soon enjoying my music so much that I found myself singing along, and thankfully I could barely hear my own voice!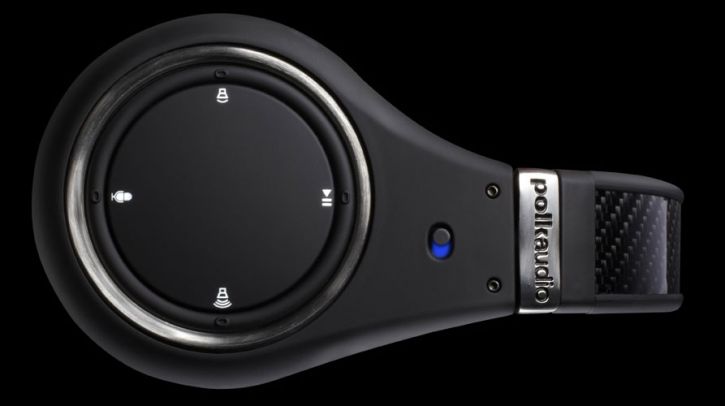 So they successfully minimize the bad, but do they maximize the good? In a word, yes. The UltraFocus 8000 headphones are a revelation of how good a $350 pair can sound, with exceptional depth, clarity and especially detail. I'm pretty sure I heard a cymbal crash I never noticed before in an oft-played Steely Dan cut, while backup singers and secondary voices are given the necessary room to be heard, with their softly-uttered lyrics arriving with more crispness than ever.
We are invited to savor the flavor various instruments individually, and on more complex musical productions we can appreciate just how large the soundstage can grow. Highs--brass in particular--are light and airy, while strings exhibit sustained resonance and a prolonged decay. The low-end oomph is palpable, but without an overly bassy quality. The reproduction here is so strong and transparent though, I noticed a lossiness in my compressed digital music files that rarely bothers me.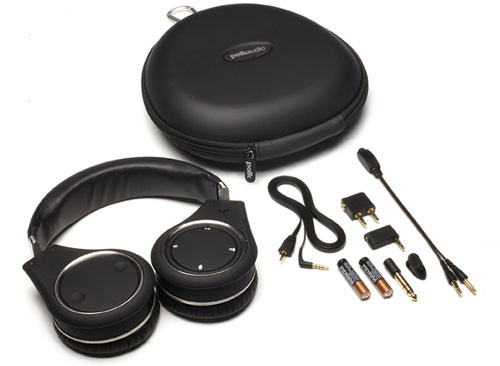 On big-scale, sophisticated Hollywood blockbusters (played on smaller screens, naturally), I have no delusions that I'm hearing anything more than stereo certainly, but the precise rendering performed atop my ears does an outstanding job of highlighting distinct sound cues. Chunks of Starfleet debris whiz by menacingly as The Enterprise arrives at Vulcan in Star Trek, and aboard The Narada later, the blasts of the phasers in the big shootout possess the requisite sharpness. Resonance is well-maintained, and the soundstage is so spacious, we could almost pretend that we are surrounded by speakers. Almost.
Turn-Ons:
Absolutely superb audio performance
Effective active noise cancellation and passive isolation
Extremely comfortable for long hauls
Turn-Offs:
On-ear controls are nifty but require a bit of practice
Won't work at all without the noise cancellation, or without batteries
Final Thoughts/Conclusion:
Painstakingly designed, supremely well-built and delivering a truly high-end audio experience, the Polk UltraFocus 8000 headphones are a worthy new addition to the product line of one of the most well-regarded names in home theater speakers, packing up the great sound we expect and enabling us to bring it anywhere.
Manufacturer's Specifications
MSRP: $349.95
Available Finish: Black
Headphone Type: Active Noise Canceling
Style: Over Ear
Transducer Type/Size: Dynamic Balance, 40mm diameter
Input Connections: Gold-plated 3.5mm
Maximum Sensitivity: 110dB
Minimum Impedance: 100 ohms
Total Frequency Response: 8Hz-28kHz
Apple Remote and Push-to-Hear Controls: On-Ear
Dimensions: 7" W x 7.6" H x 3.5" D (at the widest point of the earpieces)
Product Weight (without batteries): 8.9 ounces
Warranty: 1 Year, Parts and Labor
What's in the Box?
UltraFocus 8000 Headphones
55-inch Cable
Airline Adapter (-10db)
Skype Plug Adapter
Nokia Plug Adapter
1/8-inch-female-to-1/4-inch-male Adapter
Two AAA Batteries
Semi-Hard Carrying Case
Shirt Clip
Manual
More Information: