Polk Audio MagniFi Max Does Big Home Theater Sound in a Small Package
By Ken Sander
Polk Audio has been in the in the sound engineering business since shortly after President Polk finished his term in office. Well, maybe not that long, but it sure seems like it. Starting out nearly half a century ago, Polk Audio has come a long way. Over the years they have been at the leading edge of home audio with early entries into the "home theater in a box" and the "sound bar" categories and even a mashup of the two.
Polk Audio's SDA (Stereo Dimensional Array) technology was also among the first to enhance the size of the soundstage - SDA makes your movies or music sound like they're coming from a much larger space than that defined by the speakers. And as speakers get smaller and closer together, this technology becomes pretty important.
With many decades of development of home audio, car audio, boat audio, earphones and speakers it is no surprise that Polk has refined both passive and amplified sound for the listener. With that in mind, "Big Red" (a.k.a. Editor-in-Chief Chris Boylan) and I went to a private press demonstration of the company's newest Sound Bar, the MagniFi MAX system. Taking the elevator up to the penthouse at Manhattan's Morgans Hotel, we entered the lower room and then climbed the stairs of the luxury suite to the top level of the duplex, a nice big room with a view. There, Polk's Brad Starobin, Director of Research and Michael Greco, Global Brand Director debuted the MagniFi Max product in its full 5.1 "SR1" version with soundbar, subwoofer and optional wireless rear speakers. And you know what? It sounded really, really good.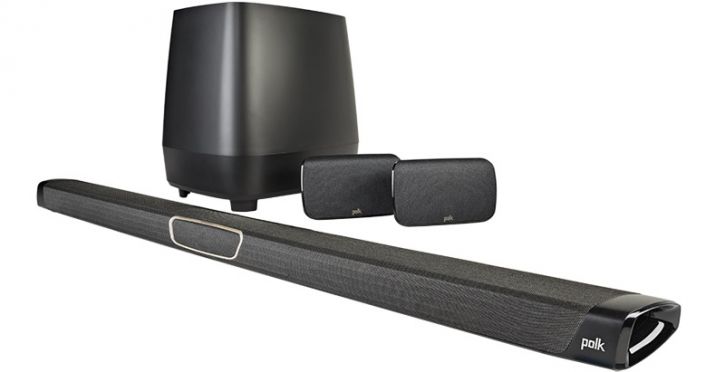 The MagniFi Max uses Polk's SDA technology to create a most excellent sound stage with a very wide sweet spot. The soundbar and sub come as a package, and even with just the two speakers, you get a full and enveloping soundstage. Add on the SR1 wireless rear speakers and you get a true 5.1 channel surround system without a lot of wires and with no additional electronics required.
The system's Vocal Adjust technology allows you to customize dialogue and intelligibility. No sir, this is not just raising the center channel, but it's a combination of electronics, dynamic range compression and EQ to make the dialog easier to hear (which is important for old-timers like me... "WHAT?"). And yes, it is also equipped with Bluetooth for connection to pretty much any smart phone or tablet made after 1972. Polk's "Smart remote" compatibility, has Samsung, LG, Sony and Vizio TVs already programmed in so it's good to go with those brands of TVs and their remote controls. No programming required - just point your TV remote at it, and the sound bar volume goes up (IT'S MAGIC, I TELL YA!).
The MagniFi MAX system has learning capabilities for other brands as well, which seems simple enough, if slightly less magical. Polk calls it the most expansive sound bar to date (not the most expensive; that's a totally different product). On board, you'll find four 1-inch by 3-inch full-range drivers, two 0.75-inch tweeters, one 1-inch center channel driver and an included 8-inch ported woofer. But wait! There's more! There's also a wireless powered subwoofer included for reproducing those deep bass tones. It's not completely wireless, though. It does need a power plug in order to make things go boom.
The system is also outfitted with several preset EQ settings for Movies, Music and Sports. For apartment dwellers like myself, there is a Night Effect EQ mode, which can make things easier to hear (if less dynamic) when you want or need to be more discrete. This is truly important to me. Or well, more so to my neighbors. In fact, I wouldn't be surprised if they all got together to fund this development.

The connection options are plentiful, including fiberoptic digital, HDMI and analog ports. Both an optical cable and an HDMI cable are included in the box. As far as the number and flavors of these inputs, there are three built-In Ultra HD 4K-capable HDMI ports (with HDCP-2.2 support), one HDMI (ARC-compatible) output, one optical digital input, and one AUX 3.5mm analog stereo input. There's also support for Google Home featuring Chromecast for audio, Bluetooth, and an Ethernet port.
The MagniFi MAX SR1 is $599 complete with subwoofer and a pair of wireless rear speakers. Without the rear speakers, the MagniFi Max is $499. You can upgrade a MagniFi Max to "SR1" capability (getting a pair of those surround speakers) after purchase for $149. The Magnifi Max and MagniFi Max SR1 are expected to begin shipping this August.