Polk Audio Simplifies Surround Sound with SurroundBar 360 DVD Theater HTiB
By Chris Boylan
While Americans are snapping up HDTVs and digital televisions at a brisk pace, the sad truth is that many HDTV owners still rely on their television's built-in speakers to provide the sound. Although the cost of purchasing a home theater system is certainly a factor (particularly when the consumer is already dropping a pretty penny on a suitably huge new television), complexity is also an issue.
Most people feel comfortable operating a television remote: channel up/down, volume up/down - yeah, I can do that. But the prospect of wiring up a multi-box surround sound system, even a purportedly simple "Home Theater in a Box" (HTiB) system, is too daunting for the average consumer. And their movie and TV watching experience suffers because of it.

Polk Audio has a plan to address this with its SurroundBar® 360° DVD Theater. The SurroundBar 360 system is comprised of just two pieces of equipment: a thin speaker bar which can be mounted above or below any television, and a DVD player console which provides CD/DVD playback, AM/FM tuner, surround sound processing and power for the speaker bar. The unit connects to a television via a single HDMI cable (or composite, S-Video or component if you prefer) and connects to the speaker bar with one additional umbilical cable which is included in the box. That's it - two cables plus one power cord, and you're good to go.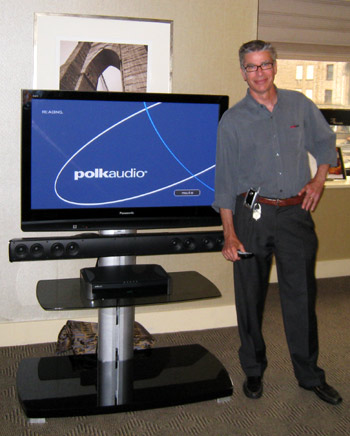 But how does a single speaker bar do surround sound, you might ask? Through the application of Polk's proprietary SDA Surround technology which uses advanced processing and precise geometry based on psychoacoustic theory to create a convincing illusion of three dimensional surround sound without rear speakers.
At a press event in New York earlier this week, I heard the system demonstrated with Dolby Digital and DTS DVDs as well as stereo music. The illusion of depth and width in the soundstage was very effective, as was the bass response. We were looking around the room to see where they hid the subwoofer, but there was none to be found. This "little bar that could" was able to reach such sonic depths through the use of Polk's PowerPort® bass venting technology. An external powered subwoofer can be added but I expect that most owners won't feel the need to do so.
In the video department, the unit features standard definition upconversion to 720p or 1080i HD resolution courtesy of its on-board Faroudja DCDi2 video processor. If you've got other devices in your system, the unit features two external video inputs which also enjoy the benefits of Faroudja upconversion and both RCA analog audio, fiberoptic and coax digital audio inputs. The unit includes DTS and Dolby Digital decoders for compatibility with virtually all content.
I've reviewed an earlier version of Polk's SurroundBar technology (pretty enthusiastically, I might add), and my main reservations were its lack of an included amplifier and surround sound processor and the necessity of adding a powered subwoofer. The SurroundBar 360 addresses both of these issues while still coming in at a fairly attractive price point of $1199.95 MSRP. The SurroundBar360° will begin shipping later this summer.
More Information: