Panasonic VT50 Plasma TV Deal: TC-P55VT50: $2199, TC-P65VT50: $3299
By Chris Boylan
It's good to be the king.  And the king of televisions for 2012 is undoubtedly Panasonic's VT50 series of plasma HDTVs.  Don't take my word for it.  Well actually, do take my word for it, as we've had the set in our labs as a reference display for the past few months and it's an exceptionally strong performer.  But also check out the results of the 2012 HDTV shootout where my opinion on the matter was corroborated by dozens of other attendees to this event.  When considering color accuracy, black levels, contrast and overall picture quality, The 65-inch TC-P65VT50 took home top honors as the best TV in 2012.
But as the top-rated TV, the VT50 is not often discounted.  Want the best, you'll have to pay the list price ($2499 for the 55-inch model, $3699 for the 65-inch). But today, Amazon is offering a rare discount on the VT50 series.  The 55-inch TC-P55VT50 is available for $2199.99 (12% off), and the 65-inch TC-P65VT50 is available for $3299.99 (11% off).  Both prices include free shipping, Amazon's 14-day price match policy and free 30-day returns.  Check them out here (must put TVs in your cart in order to see current price):
Actually the deal is even a bit better than that.  This year, Amazon is offering a 2% bonus on TV purchases of $999 or more. 35 days after you buy the TV, you'll get an Amazon gift credit in your account good on virtually anything sold by Amazon.  That's an additional $44 back on the 55-inch model and $66 back on the 65-incher.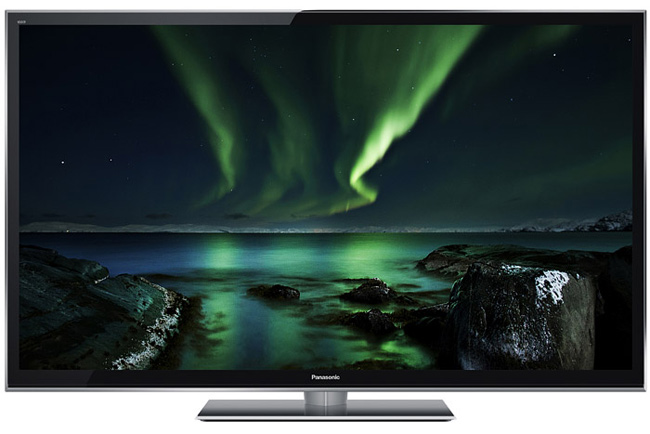 So what makes the VT50 series so special?  Black levels to die for (thanks to enhancements in Panasonic's plasma technology and louvred screen filter). The set also features excellent color accuracy and saturation and outstanding motion resolution.  Whether you're watching sports, reality TV or movies, you'll love the way the VT50 looks.  As a movie buff myself, I particularly like the 96Hz Cinematic Playback mode.  This allows you to view 24p Blu-ray Discs in their native 24p mode with no 3:2 pulldown processing or motion interpolation applied.
Another perk on the VT50 series is that its screen design is particularly good at rejecting/absorbing ambient light.  I'm not saying you can watch this set with the sun rishing in the window behind you without seeing some glare, but even in a bright environment, you'll be able to pick out fine shadow details and still see an inky black background when the content provides that.
In terms of features, the VT50 series is a full-fledged "Smart TV," offering Panasonic's Viera Connect platform.  This gives you direct access to Netflix streaming, Amazon VOD, VUDU, YouTube, Pandora, Hulu+ and a wide selection of additional streaming services and apps.  And you won't need a network cable as the VT50 comes with WiFi networking built in.
The VT50 also offers active 3D technology, which means it maintains its full 1080p resolution even in 3D mode (unlike passive 3D sets).  This means that the glasses are more expensive than passive sets (Panasonic's
2012 RF 3D glasses
start at about $60/pair), but because this set adheres to the new universal RF standard, you can also use
Samsung's much less expensive 3D glasses
for under $20/pair.
Amazon has no information as to how long this sale price will last so we'd suggest snagging one while the price is right.
More Deals:
Please note: all deals posted on Big Picture Big Sound are current as of the posting date and time. These deals are frequently time- or stock-limited and generally do not last. Final pricing and stock are determined by the individual deal provider, not by Big Picture Big Sound so you will need to click through on the offer link to see if it is still available. Through our affiliate relationships with many online vendors, Big Picture Big Sound may earn a small commission on any referred sale.