Pioneer VSX-1020-K Home Theater Receiver Review
By Greg Robinson
Edited by Chris Boylan
It's What's Inside That Counts
Sex sells.

Although it's easy to understand that bit of marketing gospel when flipping through the pages of Maxim, the concept of sexy consumer electronics is harder to pin down - though it always brings a smile to my face. Back in the day, when I wrote for a now-defunct print magazine, my copy editor would routinely insist I change my wording whenever I claimed a piece of gear had sex appeal.  "Consumer electronics cannot be sexy," she would say. I respectfully disagree.

Examine the explosive popularity of flat panel TVs and it's obvious that aesthetic appeal has become a dominant factor when selecting new tech for the home. Unfortunately, as in life, the consumer electronics world has its share of celebrities. And right now, if you're not an LED flat panel TV or a Blu-ray 3D Disc player, well, good luck getting a table at Nobu.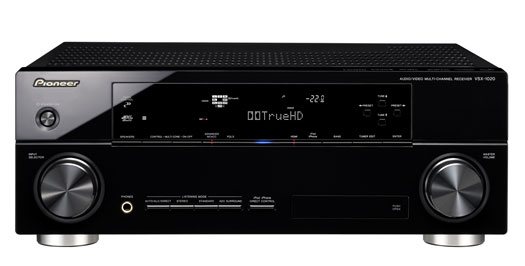 Visitors to your home theater will "ooh" over that giant plasma hanging on the wall ("It's so thin!") and they'll "aah" over your new Blu-ray 3D player ("It's so pretty! I just want to reach out and touch her!") But A/V receivers, those overweight black boxes that sweat bullets even in low humidity? No respect, I tell you. You'd think they were invented by Rodney Dangerfield.

The audio/video receiver has become something of an unsung hero in the average consumer's home theater. In addition to serving as the brains of the outfit, your receiver also does most of the heavy lifting - and it does these things rather selflessly. In fact, once your A/V receiver is properly configured, the only time you're apt to give it the time of day is when you turn it off or adjust the volume. And even then you can't resist pushing its buttons.

Smarts may not be what you notice first at the beach, but it's rather important for a happy, long-lasting relationship. Thankfully, some people find brains to be sexy. And if you're in that category, there's someone you must meet.  Say hello to the Pioneer VSX-1020-K. Packed with cutting edge technology such as HDMI (1.4a) switching, a Bluetooth adapter for phone or MP3 player audio streaming, built-in internet radio and an available iPhone/iPod Touch app for touch-based WiFi control, the VSX-1020-K is the smartest and one of the most affordable full function A/V receivers I've seen yet from the wizards at Pioneer.
The Hook-Up

Thanks to the fact that virtually every piece of gear in the average A/V cabinet has converted to using HDMI for signal delivery, it takes no time at all to get the VSX-1020-K up and running. Out of the box, speakers default to "Small," crossover frequency defaults to the THX-recommended setting of 80Hz and one of the HDMI inputs is conveniently labeled "BD" for quick and easy connection to a Blu-ray Disc player. You'll also want to connect a network cable to the unit's Ethernet port, but more on that in a minute.

The back panel on the VSX-1020-K isn't nearly as cluttered as some other models out there. This is made possible by the fact that Pioneer has focused on the things you're most apt to care about while ditching a few things you probably won't miss. For example, you won't find a single S-video input anywhere on the VSX-1020-K. (Oh, dry your eyes. When's the last time you used S-video?) And instead of three or four optical and three or four coaxial digital audio inputs, you only get two of each. The component video jack pack has also slimmed down some, with two sets of inputs versus the traditional three for this price point. Whereas these changes could have been viewed as a limitation one or two years ago, the unit's five HDMI inputs (plus one more up front!) more than make up for it in this age of HDMI everything.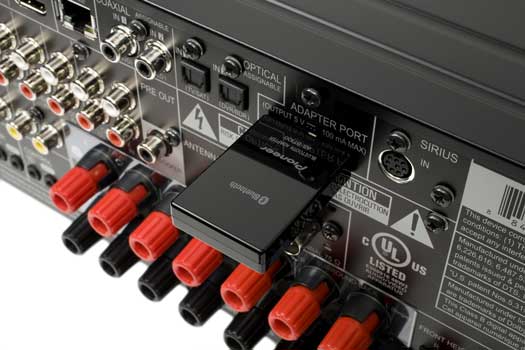 Mic Test. Check. Check.

Like many modern receivers, the VSX-1020-K comes equipped with automatic speaker calibration software and a wired mini microphone. Pioneer calls this their Multi-Channel Acoustic Calibration Control system (MCACC). The system is quite simple to use, though inexperienced users may be a little confused by what exactly MCACC is and why it's recommended. Pioneer should consider a more intuitively-named "speaker setup wizard" on the Main Menu to calm the nerves of techno-phobic new owners.
Item #1 on the the Main Menu is labeled "Advanced MCACC." If my dad saw the word "Advanced" he'd probably stay far away from it. Item #4 on that same Main Menu is labeled "System Setup," a much more inviting option. However, selecting System Setup brings you to the manual setup options, which aren't explained in the owner's manual until page 98. The EASIER way to get your system set up is to use that "Advanced MCACC" option from the Main Menu.  There's a catch-22 in there somewhere.

After running through the MCACC auto-calibration, I manually inspected the values and settings that were deemed optimum for my basement theater. Oddly enough, MCACC identified my front speakers as "LARGE" and my center and four surround speakers as "SMALL." This is strange because all seven of my speakers are in fact identical: the Noble Fidelity L-55 LCRS in-wall loudspeaker. Although the L-55's do well down to 45Hz or so, I generally like to run them as "SMALL" with a crossover setting of 60Hz. The VSX-1020-K allowed me to change the size without a problem, but I was disappointed to discover that crossover options were limited to 50Hz, 80Hz, 100Hz, 150Hz and 200Hz. I would have liked to see 60Hz and 70Hz as options in there, particularly when you consider that speaker distances on the VSX-1020-K can be adjusted on the HALF inch. I opted for the 50Hz option to let my Nobles pull their share of the weight and was quite satisfied with the result.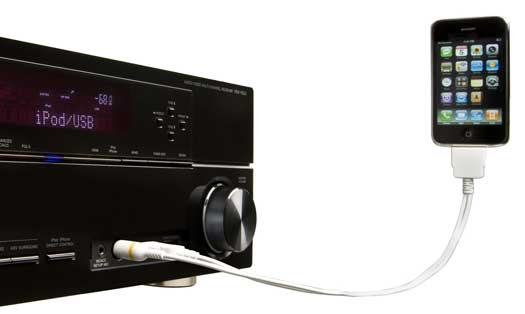 There's an App for THAT?

Here's where we get into some of that aforementioned sex appeal. Seeing as how there's now 1.21 jillion apps (give or take) for Apple's iPhone and iPod Touch, it should come as no surprise that consumer electronics makers are getting in on the fun. Pioneer has developed a free, downloadable application for the iPhone or iPod touch called "iControl AV." It's available in Apple's App Store and, although I never thought I'd say it, it's actually pretty cool.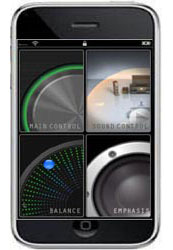 With the VSX-1020-K connected via hard wire to my home network, my iPod Touch was able to communicate with it over my home's Wi-Fi network. Divided into four categories, the "Control" section of iControl AV is where you'll spend most of your time. Despite losing its connection to the receiver a few times, I loved being able to raise, lower and mute the volume on the VSX-1020-K using my iPod Touch from my office. With no line of sight and several walls in between, this can be quite handy. The only negative here is that although you can power the unit OFF using iControl AV, you cannot turn it back ON in the same fashion. To maintain its Energy Star compliance, the VSX-1020K's low-power standby mode does not allow it to register on your home network, thereby rendering it offline in the eyes of iControl AV. For remote (and web-based) control when the unit is in Standby mode, you need to step up to the
VSX-1120-K
($749) , or one of the new Pioneer Elite Models, such as the VSX-32 ($800). The feature you're looking for on those higher-end models Pioneer calls "Network Standby."
The "Emphasis" and "Balance" utilities in iControl AV are quite handy and more than a little fun to play with. With a source playing, these utilities leverage iPhone's internal gyroscope to control where in the soundfield to focus the output and even allow for dialogue and bass adjustment. Simply roll your iPhone (or iPod Touch) in your hand and listen as your music veers left, right or travels in a circle around you. Thankfully, there is a RESET button which brings your setting back to their original value before you started playing. Just add wine and I'm sure it would be a hit at parties. At the end of the day, am I going to ditch the VSX-1020-K's included remote control and just rely on iControl AV? Definitely not. But is iControl AV a cool little freebie that's occasionally fun and useful? Indeed it is.
And speaking of iPods, there's also a chance that you have music on your iPod that you'd like to play through your receiver. Using the front panel iPod port and supplied interface cable, that is certainly possible - but there's a better way. Pioneer is also selling an optional Bluetooth adapter, the AS-BT100, which allows you to wirelessly transmit tunes from your Bluetooth-capable mobile device to the VSX-1020-K. After a minor hiccup getting my iPod Touch paired up (be sure to read the receiver's owner's manual for "Initial Pairing" instructions), this adapter worked like a dream. To be able to lie on the couch, flip through your music on your iPod, and simply tap the song you want to hear through your theater's speakers - this is a must have accessory for music fans. In fact, if your only goal one evening is to sit and listen to music, you can easily (and quite enjoyably) get by with just your iPod, the Bluetooth adapter and iControl AV. Very cool stuff.

The Main Event


As entertaining as these iPod-focused opening acts may be, they're hardly the main event.  They're not why I bought the VSX-1020-K. (OK, I didn't buy it. It was sent to me for review and sadly I need to give it back soon. But still.) When it comes to performance, the thing that matters most here is, how does the VSX-1020-K fare when fed a DTS-HD Master Audio soundtrack from my Blu-ray player over HDMI? How does it do with streamed Netflix content from my Roku box? How does it handle the Dolby 5.1 mix coming from Dish Network DVR? The short answer: it does just fine. Quite well in fact.
Watching one of my favorite go-to audio samplers, the Bat Pod sequence from
The Dark Knight
, the VSX-1020-K quickly locked down and began decoding the Dolby TrueHD bitstream from my Panasonic DMP-BD35 player. Bass during the Tumbler's "catastrophic" accident was appropriately thunderous and the high-pitched zips of the helicopter trip wires sounded airy and thoroughly convincing.
I'm not set up with height speakers, so I wasn't able to test the receiver's Dolby ProLogic IIz decoding, but interested consumers will be happy to know the VSX-1020-K has you covered. The same goes for 3D. Although I have Sony's new Cloudy with a Chance of Meatballs Blu-ray 3D disc, I have neither a player to play it on nor a 3D-capable display or glasses.  I'll have to work on the boss and see what we can do to change that, but for now that's just the way it is. The VSX-1020-K supports the latest HDMI 1.4a specifications, so provided you've got the other necessary gear in the chain, you should be all set should you decide to venture into the third dimension.
As for the receiver's video processing and scaling capabilities, the news here is both good and bad. In my case, I had the VSX-1020-K connected to an Epson 8500UB 1080p projector. As I said in my review of the 8500UB, it's an exceptional display device with some of the best video processing in its price bracket. To evaluate the VSX-1020-K, I used component video cables and set my Oppo DV-983H to feed the Pioneer with a 480i signal.  I then ran through IDT's HQV Benchmark 2.0 DVD and looked at a few of the more telling test patterns.
As expected, the Epson projector's HQV Reon VX chipset handily trumped the best efforts of the Pioneer's Anchor Bay Technology (ABT) processor. Setting the Pioneer's resolution setting to "Auto" (the default setting, here yielding 1080p) or any of the specific output resolutions (480p, 720p, 1080i, 1080p) resulted in significantly increased waviness during the "jaggies" tests and noticeable stair-stepping on the waving flag test. The 3:2 24fps race car sequence fared no better, with plenty of distracting moire artifacts in the grandstands. So that Anchor Bay processor built into the Pioneer receiver isn't all that impressive - that's the bad news.
The good news is that Pioneer's VSX-1020-K allows you to set its output resolution to "PURE," which in turn allows your source video signal to pass through the VSX-1020-K unmolested. The better news is that the VSX-1020-K was able to hand my 480i component video signal off to HDMI at its native 480i. Very few receivers allow for 480i component to HDMI pass-thru, so this was a refreshing sight to see. Once I set the Pioneer to "PURE," my 480i HDMI signal was then able to benefit from the superior deinterlacing and processing capabilities of my Epson projector. The moral of the story: definitely experiment with your configuration and if your display happens to have a better processor than that of the Pioneer, remember to set the receiver's output to "PURE" in the Video Parameter menu.  Fyurthermore, many of today's Blu-ray players offer excellent upconversion performance so setting your player to 1080p output will also bypass the Pioneer receiver's video processing.
Turn-Ons:
Six 3D-capable HDMI 1.4a inputs
iControl AV iPhone app makes "remote" control easier
Integrated internet radio is a nice touch. No Pandora, but still.
Unmolested 480i component video pass-thru to HDMI output
Turn-Offs:
Limited Crossover Frequency options
Remote's buttons are too small, too many and Volume should be bigger
Chintzy front panel covering iPod interface
Mediocre video processing

Final Thoughts

More so than any receiver I've tested thus far, Pioneer's VSX-1020-K does so much more than merely provide signal switching and amplification. With a whopping six 3D-capable HDMI inputs, a handy iPhone app for improved "remote" control, integrated internet radio and decoding for everything under the sun - including Pro Logic IIz - the VSX-1020-K is one compelling package. It's got the looks, it's got the brains, it's got the fashionable accessories. Like I said: the VSX-1020-K is one sexy receiver.
Specifications From the Manufacturer:
Continuous average power output of 80 watts per channel, min., at 8 ohms, from 20 Hz to 20 000 Hz with no more than 0.08 % total harmonic distortion.
Front (stereo) 80 W + 80 W
Power output (1 kHz, 8 Ω, 0.05 %, 1 ch driven) 110 W per channel
Guaranteed speaker impedance: 16 Ω to 8 Ω, less than 8 Ω to 6 Ω (setting required)
Input (Sensitivity/Impedance) LINE 300 mV/47 kΩ
Output (Level/Impedance) REC 300 mV/2.2 kΩ
Signal-to-Noise Ratio (IHF, short circuited, A network) LINE 100 dB
Signal-to-Noise Ratio [EIA, at 1 W (1 kHz)] LINE 81 dB
Frequency Range (FM) 87.5 MHz to 108 MHz
Antenna Input (FM) 75 Ω unbalanced
Frequency Range (AM) 530 kHz to 1700 kHz
Antenna (AM) loop antenna (balanced)
Maximum video resolution, Component Video: 1080p (1125p)
HDMI terminal: 19-pin (Not DVI)
HDMI output type: 5 V, 100 mA
USB terminal: USB2.0 Full Speed (Type A)
iPod terminal: USB, and Video (Composite)
SIRIUS antenna cable: 8-pin mini DIN cable
ADAPTER PORT terminal: 5 V, 100 mA
Control (SR) terminal:  3.5 Mini-jack (MONO)
Control (IR) terminal:  3.5 Mini-jack (MONO)
IR signal: High Active (High Level: 2.0 V)
Power requirements: AC 120 V, 60 Hz
Power consumption: 245 W
In standby: 0.5 W (Control OFF) - 0.8 W (Control ON)
Dimensions: 16 9/16 in. (W) x 6 1/4 in. (H) x 14 15/16 in. (D)
Weight (without package): 22 lb 8 oz
MSRP: $599
Company Contact Information:
Pioneer Electronics (USA)
2265 E. 220th Street
Long Beach, CA 90810
On the web: www.pioneerelectronics.com