HQV Benchmark Version 2.0 Blu-ray Review
By Chris Chiarella
The Program
The HQV Benchmark Version 2.0 Blu-ray is not your typical disc, so this won't be quite the typical disc review. I, along with Big Picture Big Sound Editor Chris Boylan, and contributing writers such as Greg Robinson, routinely use the HQV Benchmark whenever we evaluate the performance of new displays or Blu-ray players. HQV stands for Hollywood Quality Video, a brand of video signal processors implemented into a variety of high-end A/V components to address problems common to today's video content. As such, former parent company Silicon Optix also created evaluation software that has become an industry standard reference for key indicators of video processing performance.
Modern televisions are called upon to handle a variety of challenges as they display difficult-to-reproduce material, and how well they address each potential pitfall can distinguish good TVs from greats. The HQV Blu-ray is comprised of a series of video clips, test patterns and still images specially designed to expose the strengths and weaknesses of a TV. We've tested TVs that excel in some aspects but fall short in others, and highest marks in all categories suggest a truly top-notch display.
The disc has been available to pros and consumers alike for a few years now, first as a DVD and inevitably on Blu-ray. It has undergone several incremental updates (marked as "Version 1.something") but with the never-ending, rapid evolution of ATSC video, a real overhaul was needed. Semiconductor manufacturer IDT (Integrated Device Technology, Inc.) acquired Silicon Optix and their HQV brand in 2008 and almost immediately undertook the task of revamping the Benchmark, and the results have earned that "2.0" designation. It's a mix of familiar and new footage, some utilized in different ways from the original discs. And instead of a single-sheet Score Card inside the case, Benchmark 2.0 arrives in a cardboard envelope with the invitation to download from the website and print out the new six-full-sized-page card (brimming with fine print, yet!) Be sure to scroll down to "Testing & Scoring Guide for the HD HQV Benchmark Version 2.0 (Blu-ray)" and click on "Download Document" (a PDF).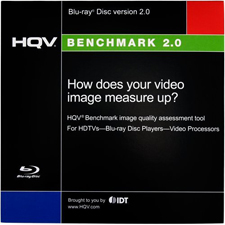 The program begins with a six-and-a-half-minute Overview Video which acquaints us with the terminology, what to look for, and why it matters. The first interactive section is Setup, providing step-by-step instructions for configuring our gear depending upon the tests we want to perform. A full listing of all sections and sub-sections appears below, but worth noting is that Audio Synchronization, to diagnose problematic delays, has now been added for the first time.
The Tests section is where we are destined to spend most of our time. The graphics and text have all been completely re-rendered to appear extremely crisp. Familiar tests--we often write about the "Jaggies" evaluation, a long white bar spinning inside a dial, for example--have now been upgraded with additional elements, such as a mesh grid layer inside the dial to make it even more revealing. (This is now one of three "Video Resolution" tests.)
In addition, a subtle gray overlay on the black border in the Multi-Cadence tests now tells us the format of the video source material currently playing, while a clear graphic underneath the image not only indicates the current cadence but further marks the appearance of individual frames via the flickering of white squares within a blue frame. Most tests also include disparate elements to help make their point, such as two very different computer graphics followed by live footage, so it is not only more sophisticated than ever but extremely thorough. Most of the tests tend to run about a minute each, some closer to two, Film Resolution runs briefest at a mere 29 seconds.
While the grading scale is finely nuanced to acknowledge many different possible results, and how to rate our gear accordingly, gone now are any pop-up Pass/Fail examples of how the results should/shouldn't look and, without this, our scoring might be more subjective. Once in a while, a test such as Resolution Enhancement will state on-screen "This text and all edges should show little or no ringing," which is helpful. Each of the evaluations is discussed in the separate Explanation of Tests section, but frankly even after watching the instructive Response Time clip, I still don't know what I'm supposed to be looking for, or whether my Blu-ray player did a good job or not.
The MPEG-2-format video is of dependable quality, generally in the impressive 30-megabit-per-second range. The only exceptions are the Color Upsampling and Scaling/Filtering tests, which are in AVC format.
Final Thoughts
For the Big Picture Big Sound crew, the HQV Benchmark Version 2.0 Blu-ray is an immediate essential, with few sacrifices and lots more to chew on. For savvy consumers, this disc is a mostly-accessible, singularly effective means to gauge with professional precision the performance of your current TV/Blu-ray player, or to help you audition your next.
Disc Contents:
VIDEO OVERVIEW
SETUP:

System Configuration
Display Setting
Color Adjustment
Audio Synchronization

TESTS:

1) Video Conversion

a) Video Resolution

i) Dial
ii) Dial with Static Pattern
iii) Gray Bars
iv) Violin

b) Film Resolution

i) Stadium 2:2
ii) Stadium 3:2

c) Text Overlays on Film

i) Horizontal Text Scroll
ii) Vertical Text Scroll

d) Response Time
e) Multi-Cadence

i) 2:2:2:4 24 FPS DVCAM Video
ii) 2:3:3:2 24 FPS DVCAM Video
iii) 3:2:3:2:2 24 FPS Vari-speed
iv) 5:5 12 FPS Animation
v) 6:4 12 FPS Animation
vi) 8:7 8 FPS Animation

f) Color Upsampling

i) Interlaced Chroma Problem (ICP)
ii) Chroma Upsampling Error (CUE) Film

2) Noise and Artifact Reduction

a) Random Noise

i) Sailboat
ii) Flower
iii) Sunrise
iv) Harbor Night

b) Compression Artifacts

i) Scrolling Text
ii) Roller Coaster
iii) Ferris Wheel
iv) Bridge Traffic

c) Upscaled Compression Artifacts

i) Test Pattern
ii) Roller Coaster
iii) Ferris Wheel
iv) Bridge

3) Scaling and Enhancements

a) Scaling and Filtering

i) Luminance and Frequency Bands
ii) Chrominance Frequency Bands
iii) Vanishing Text

b) Resolution Enhancement (Brook, Mountain, Time Elapsed Flower, Red Hair, Wood Grain)

4) Scaling and Enhancements
5) Adaptive Processing

a) Contrast Enhancement

i) Theme Park
ii) Driftwood
iii) Beach at Dusk
iv) White and Black Cats

b) Skin Tone Correction

EXPLANATION OF TESTS
Product Details
Number of discs: 1
List Price: $24.99
More Information: