Thousands Line Up to Buy the Tesla Model 3, Sight Unseen
By Chris Boylan
All across the country, and in many other parts of the world, Tesla fans are getting in line at their local Tesla stores to order the Model 3 sedan. It's a car that hasn't even been unveiled yet (that happens tonight) and won't start shipping in quantity for at least two years. And yet thousands of people all over the world are getting on line - some even camping out - in order to get an early spot in the reservation queue. So what's all the fuss about?
The only details we have so far on the Model 3 are that it will start at $35,000 and will have a range of "at least 200 miles." And that it will be a Tesla. And apparently that's enough to lead to the kind of frenzy that normally only accompanies the release of a new iPhone (there's one of those coming out today too, though apparently no one's lining up for that).
Tesla's current model lineup includes the Model S sedan, which starts at $70,000 and the Model X SUV, which starts at $80,000. Once you start adding in options like a larger battery pack, AutoPilot self-driving capabilities and premium seating, the car price easily tops $100,000. Even so, Tesla's Model S was actually the top-selling large premium sedan in the U.S. last year, beating out the BWM 6 series and 7 series combined and even surpassing the venerable Mercedes S Class. With over 26,000 Model S cars sold in the US in 2015 (over 50,000 globally), Tesla's Model S took a whopping 27% of the large premium sedan market.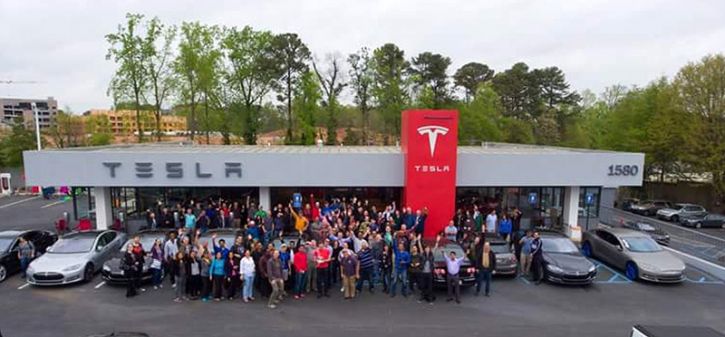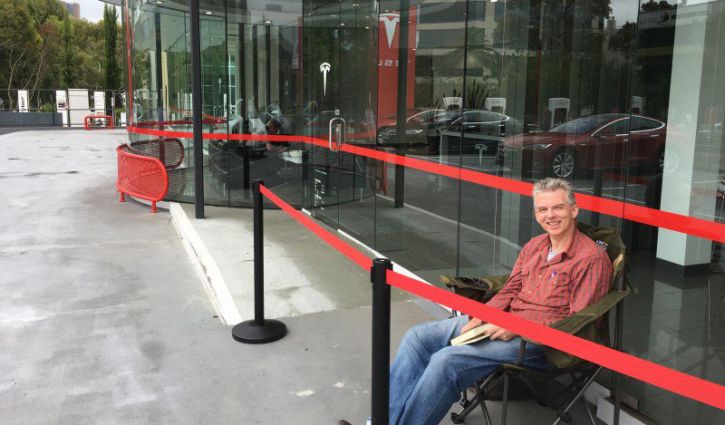 What makes Tesla different? Unlike most of its competition, every Tesla is 100% electric. There is no internal combustion engine. This means there are no harmful emissions (there is no tailpipe), and there is also a much simpler drive train and propulsion system. This means lower maintenance costs over time, lower fuel bills, and the ability to start each day with a "full tank" by leaving your car plugged in overnight. Teslas' electric motor and battery combination also lead to virtually unheard of performance. With the electric motors' instant torque, a Model S sedan can get from 0 to 60 miles per hour in under 3 seconds. This puts is squarely in "supercar" territory, but unlike most supercars, the Model S is a family hauler that seats up to 7 people.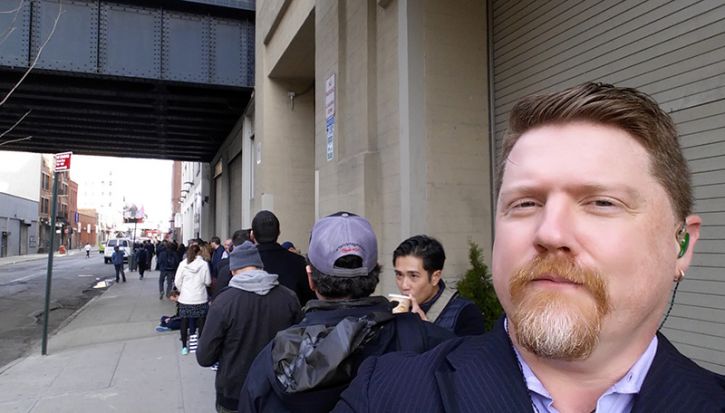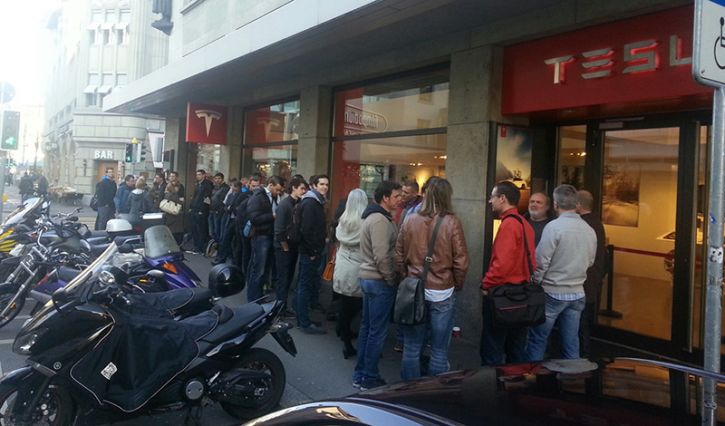 The Model 3 is expected to be significantly smaller than the Model S or Model X: possibly up to 20% smaller overall. This makes seating for more than 5 people unlikely, but the more compact body (and lower weight) should lead to higher efficiency, and potentially even better handling than the Model S. While the EV (Electric Vehicle) market has been fairly stagnant overall, Tesla has been bucking that trend with 44% year-over-year sales growth in 2015. Apparently even the lowest gas prices in a decade haven't tempered the enthusiasm of Tesla fans. And that enthusiasm is coming out today as thousands of prospective Model 3 buyers are heading into their local Tesla stores to place a $1,000 deposit in order to secure a place in line.
Reports we're hearing from folks on the Tesla Motors Club forum are that many of the Tesla stores had well over 100 people on line before the stores opened this morning with some locations like Denver reporting up to 700 people on line outside and in the store waiting to reserve a Model 3. The Model 3 will be officially unveiled at an event this evening in Hawthorne, Calfornia. At that time, the Tesla web site will also begin accepting deposits. Until then, those interested in getting in early can visit their local Tesla stores to make a deposit.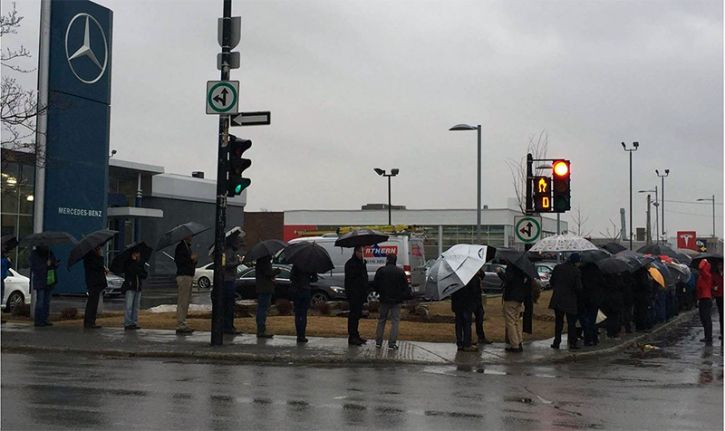 The Model 3 is expected to begin shipping in late 2017 with production ramping up in 2018 and beyond. Model 3 deposits are fully refundable until the buyer confirms his or her order close to production time.
UPDATE (4/1): Elon announced that the company had over 115,000 orders in the first 24 hours, and once the online order system went live, that number surpassed 135,000 orders. Read more about the official Model 3 launch.
More Information and Related Articles: