Tesla Model 3 Unveiled: Here's What You Need to Know
By Chris Boylan
Elon Musk, CEO of Tesla Motors, may finally be making good on the final step in his "Secret Master Plan." First: build an expensive electric sports car to prove that an EV can be fast, sporty, sexy, and have decent range. Use the money from that car to build a less expensive electric car. Use the money from that to build an even more affordable electric car and usher in a revolution in sustainable transportation. Step one was the Roadster, Step 2: the Model S sedan (step 2.5 the Model X SUV). Step 3 will be the Model 3. And last night at an event at Tesla's Design Studio in Hawthorne, CA, Musk unveiled the Model 3 and confirmed the details that matter: The Model 3 is an all-electric sedan that will sell for $35,000 before incentives, will have an EPA range of at least 215 miles, and will come with Supercharger access included.
That last part was a surprise to some (including yours truly) as the ability to access Tesla's Supercharger network is a strategic advantage: it's the only way to make long distance travel in an EV manageable. And it does represent an ongoing expense to the company. With Teslas's growing network of high power Superchargers, located mostly along major highways and near major cities, you can regain about 60% of the car's range in about 1/2 hour by plugging in for free. You can currently drive up and down the East or West coast of the U.S., drive completely across the country and make lots of trips in between, and all without using a drop of gasoline.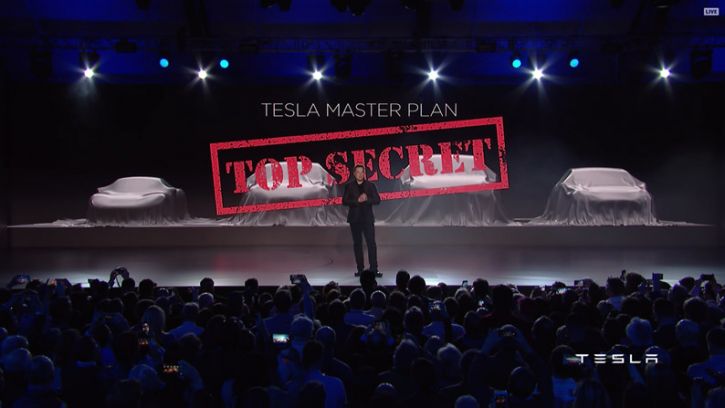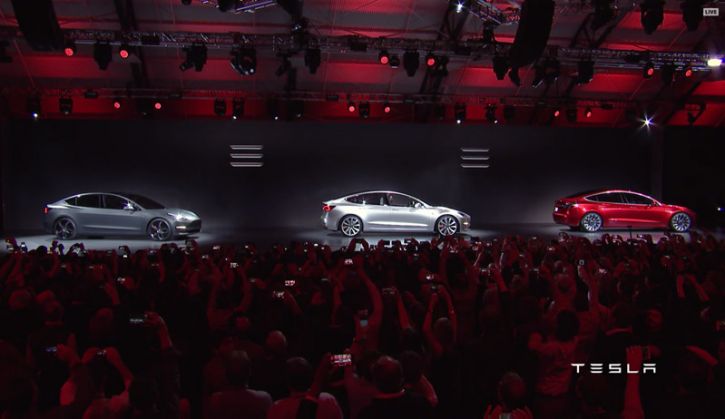 Some had thought they would charge a flat up-front fee for Supercharger access on the Model 3, particularly since it costs quite a bit of money to build out and expand the network, and provide the electricity necessary for charging all these cars. Hopefully Tesla will make enough revenue from Model 3 sales to be able to grow the Supercharger network out quickly enough to accomodate the huge increase in vehicles using it as they ramp up production. Musk promised to double the size of the Supercharger network worldwide, from the current 3,600 charging bays to over 7,200 by the end of 2017.
Update (4/1): I contacted Tesla PR to clarify whether Supercharging access would in fact be free, and the response I got from Tesla was: "All Model 3 will have the capability for Supercharging. We haven't specified (and aren't right now) whether supercharging will be free." So we'll have to stay tuned for more on that point...
Musk confirmed that the hardware required for Tesla's advanced AutoPilot features: cameras, radar and other sensors, will be included in every car. And safety features such as auto braking, lane departure warning and collision avoidance will also be included at no additional cost. Although he didn't explicitly state it, we believe this means that the actual AutoPilot convenience features such as auto steer, auto-park and auto lane change will be an option that will cost extra (as it does now on the Model S and Model X).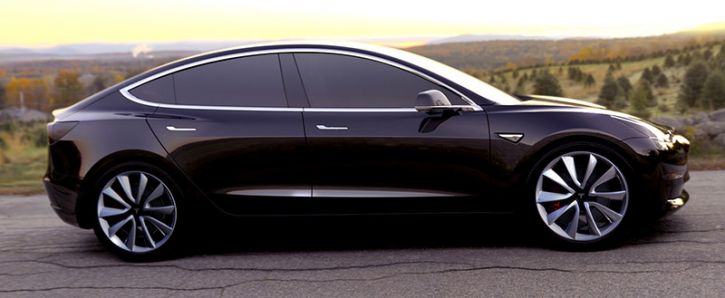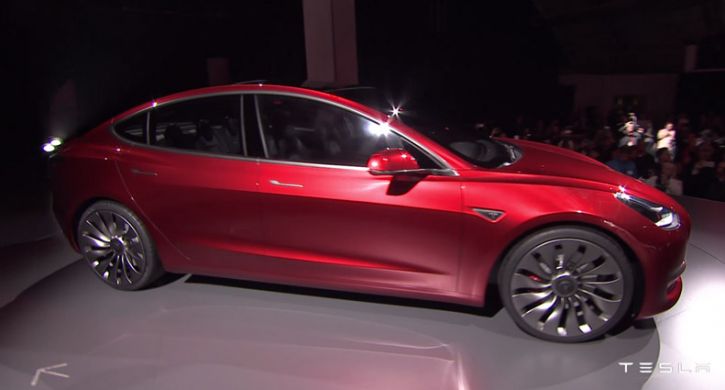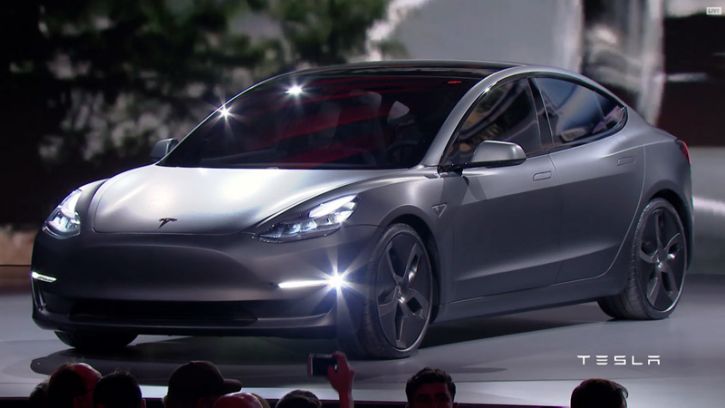 Musk confirmed a few additional details about the car: that it will have a "continuous pane of glass" above the rear passengers, in order to maximize rear headroom and provide an open-feeling driving experience. And even the base model is expected to be pretty peppy: Musk promised a 0-60 time of under 6 seconds, even on the base model. During the live stream of the reveal event, we got a couple of glimpses inside the prototypes and it looks like the main touch screen control panel (17-inch upright screen on the Model S and X) may be a bit smaller and oriented in a landscape orientation on the Model 3. And there was also no odo/speedometer display in front of the driver. That information is in the top left corner of the touchscreen display in the center of the dash. The interior of the car looked very sparse so we wouldn't count on what was shown of the interior being exactly what will ship in final production.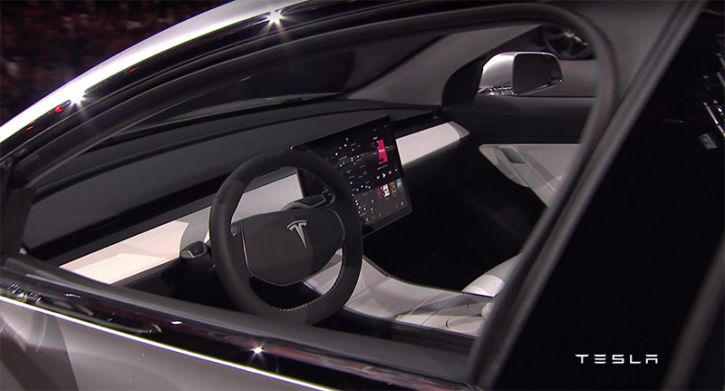 Musk also committed to building out the Service Center network so you will be able to buy and have your car serviced in "virtually any major city." Specifically he stated that Tesla plans to build out the Service Center network from 215 to 441 locations by the end of 2017. And finally, Musk revealed that Tesla has received over 115,000 orders for the car in just 24 Hours. Having waited in line at one of the Tesla stores early yesterday, I can easily believe that last bit. And once the online ordering system went live, that number climbed to over 135,000 reservations by the end of the night.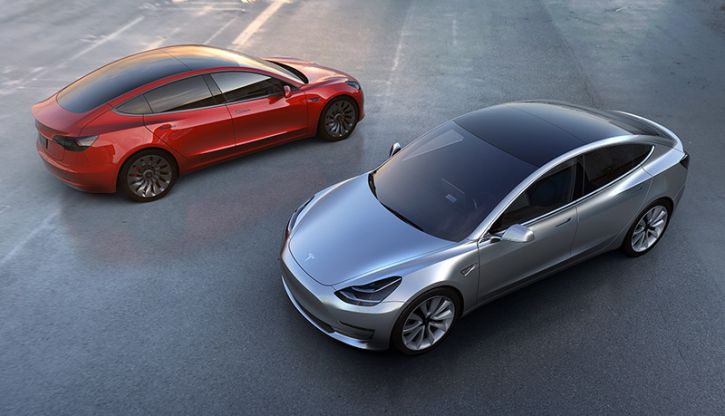 Those interested in reserving a Tesla Model 3 can now do so online at model3.Tesla.com or by visiting a local Tesla store or gallery. Musk stated that the Model 3 should begin deliveries in late 2017, but based on Tesla's previous track record with Model S and X, we're taking that date with a grain of salt. And now, the waiting begins...
Related Articles: