Driving Tesla's Model X: The Future Called... They Want Their Car Back
By Chris Boylan
While Tesla Motors officially started delivering the Model X all-electric crossover utility vehicle last September, there are still only a few hundred of the cars in the hands of their customers, mostly in the United States, with several thousand reservations and orders for the car still pending. Tesla has not officially released the exact number of advance reservations for the Model X, but estimates in online forums (based on the reservation numbers reported by forum members over the past four years) run as high as 30,000 or more before accounting for cancellations. For a car that sells for anywhere from $80,000 to $152,000, that's an impressive feat. It should also bring in a hefty amount of income for the company when these reservations convert to confirmed orders, and from there to delivered cars later this year.
However, not all of these thousands of reservations have converted to confirmed orders. Apparently some people actually want to see the car in person -- maybe even drive one -- before converting their refundable $5,000 (production) or $40,000 (Signature) deposit into a non-refundable order.  But with so few Model X cars available -- and virtually none in Tesla's stores -- getting hands-on with a Model X has been tricky.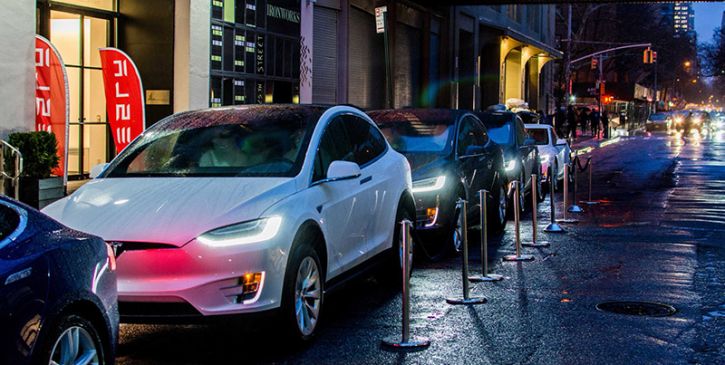 To remedy this situation, Tesla is bringing a fleet of Model X cars around the U.S. and Canada, allowing reservations holders to check out the X in person: play with those unique Falcon Wing Doors, take in the view of the massive panoramic windshield and experience the thrill of a "Ludicrous Speed" launch. This event, called "Meet Model X" came through Manhattan and Syosset, NY this past week and it gave me a chance to get behind the wheel of this decidedly futuristic car.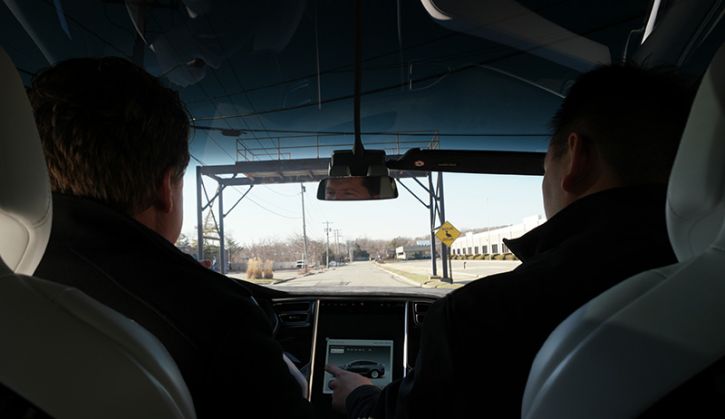 "She'll Make Point 5 Past Light Speed"
After a quick tutorial from my Tesla co-pilot, we pulled out of the lot and onto the back street where the Syosset Tesla store is located. We switched the car over to "Ludicrous Speed" and I punched that go pedal hard. Wooohooooo! We were pressed back into our seats as the road melted away behind us. It was just as exhilarating as the first time I test drove a Tesla P85+ a few years ago. But the fact that a 6000-pound 7-seat SUV could have the same effect continues to amaze me. Tesla says the Model X P90D with Ludicrous Speed upgrade will do 0-60 in 3.2 seconds, and I have no reason to believe they're wrong. This makes it the quickest production SUV ever made. It even beats many dedicated 2-seater super cars. But it can fit a family of seven plus their gear and also tow a boat or medium-sized trailer (up to 5,000 pounds).
And as fast as the Model X is, I never felt that I was not in control. Whether speeding down that deserted street, merging onto the highway, or exiting said highway in a tight curve, the car's low center of gravity and responsive steering made it feel as if we were glued to the road.
"We Have Assumed Control"
The Model X also handled surprisingly well when my hands were off the wheel. While on the highway I tapped the stalk under the steering wheel twice to engage "Auto-Pilot" mode. With auto-pilot engaged, the Model X steers for you, keeping you in your lane and also maintains a safe distance from the car in front of you. Its built-in cameras even read speed limit signs and can adjust your speed accordingly, to prevent you from getting any tickets. And this is probably a good thing. Because the ride on the Model X is so smooth that it's easy to break into 3-digit speeds without even trying (ahem, "from what I've heard").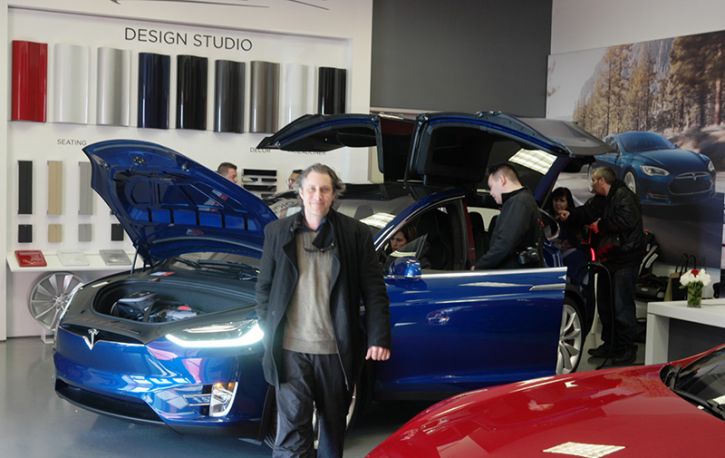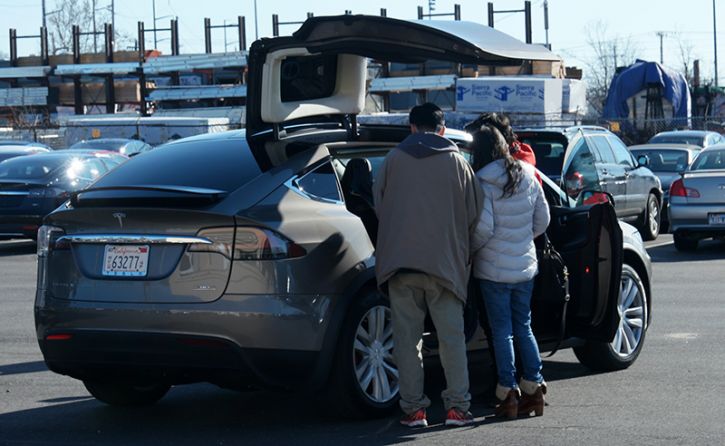 Back at the Tesla store, we were able to check out some of the unique features of the Model X. Pressing the keyfob or tapping the rear door handle sets the Falcon Wing Doors in motion. These are different from traditional "gull wing" doors in that they have two hinges instead of one. These two independent hinges as well as integrated sensors allow the doors to open even in very tight parking spaces. If the car detects a large object next to it (like another car), the falcon wing doors will change their opening arc to avoid the obstruction, opening up and then outward instead of outward, then up. And if you stand too close to a falcon wing door, it will simply stop, rather than smack you in the face.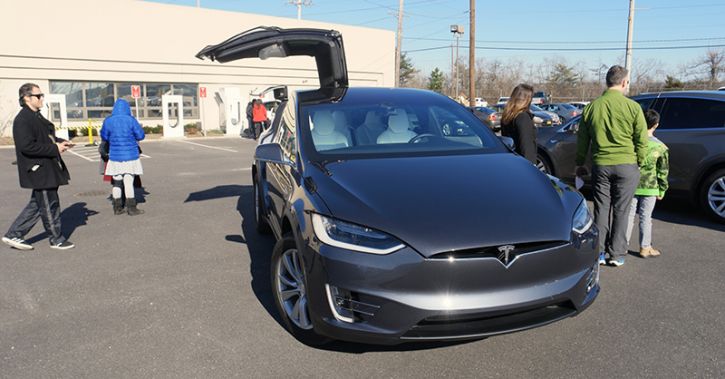 It's Roomy, But It's No Tardis
Once the Falcon Wing Doors are open, accessing the third row seat can be done a couple of ways: in a seven-seat configuration, pressing the button on the back of the outer middle seat moves the outer and middle seats in the third row forward and tilts them out of the way allowing passengers to walk right into the rear seat. In a six-seat configuration, you can do the same thing, or you can simply enter the rear seat from the middle row, passing through the space between the two middle seats. Once in the rear row of a seven-seater, things can feel a little tight back there (at least for this 6-foot tall writer) due to the high seat backs of the middle row in front of you and the relatively low headroom. But switching over to a 6-seat configuration opens up the space considerably and also gives rear seat passengers a peak through that massive front windshield as well as some additional leg room. The windshield goes back much further than in a regular car, making it feel almost like you're touring around in a glass-walled helicopter.
My only disappointment with the seats is that the middle row does not fold flat, and this can limit the ability to transport very large pieces of furniture or other gear. It also means you might have some trouble renting out your Model X as a room on AirBnB. While the Model X does have a fair amount of cargo space, it's fundamentally more of a people mover than a cargo van. If you've got gear to transport, like bikes, skis, snowboards or a whole lot of luggage, then consider getting a hitch-mounted rack for that.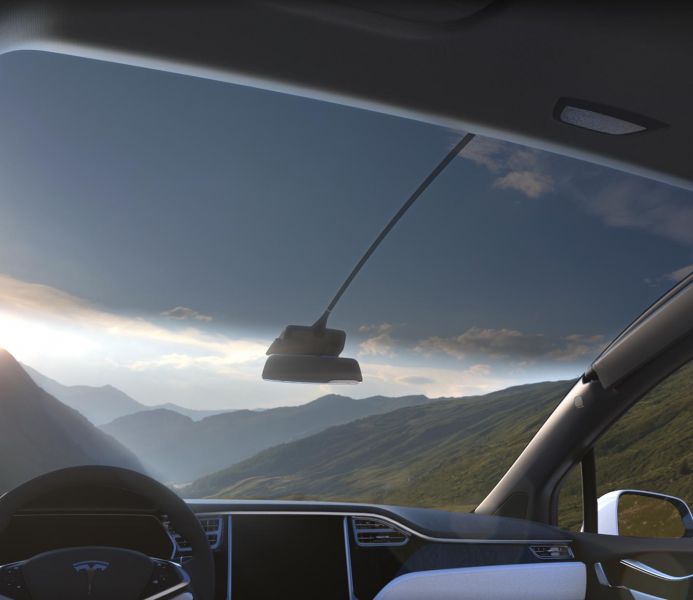 The front doors are also very clever. They detect your approach to the car (or, to be precise, they detect the key fob in your pocket approaching the car) and they open out automatically to allow you to get in. Like the falcon wing doors, the front doors include sensors to avoid contact with people or other objects. Once in the driver's seat, simply tap the brake pedal to close both the driver's and front passenger's doors automatically.
"These All Go to Eleven"
We also checked out the HiFi system (it goes to 11, natch), which comes with such niceties as TuneIn Internet Radio, FM, Slacker, Sirius/XM (upgraded system only) and Pandora. What it lacks is AM radio which we're told is due to the EM interference on the AM band caused by electric motors. BMW's i3 EV lacks the AM band for the same reason. If you're fond of particular AM radio stations for news, sports, weather or traffic, chances are you can find the internet radio streaming versions via TuneIn internet radio and you can plug those in as favorites. The Model X comes with free 4G LTE service in the car for the first four years so you won't have to worry about your internet connection in most areas of the globe where you're likely to drive one. You can also connect the car to your phone's mobile hotspot or your home WiFi for software updates or internet access.
Just for fun, we fired up the "bioweapon defense" mode on the climate control system. This mode pumps the cabin air through dual activated carbon filters as well as a HEPA grade particulate filter. It also cranks the fan to eleven (Musk must really like "Spinal Tap"). While driving, the whir of the fans wasn't even noticeable though we could hear it when the car was stopped. The system was designed to provide "hospital grade" air quality inside, while the air outside may be somewhat less than ideal. This should make the car very popular in China (and certain parts of New Jersey).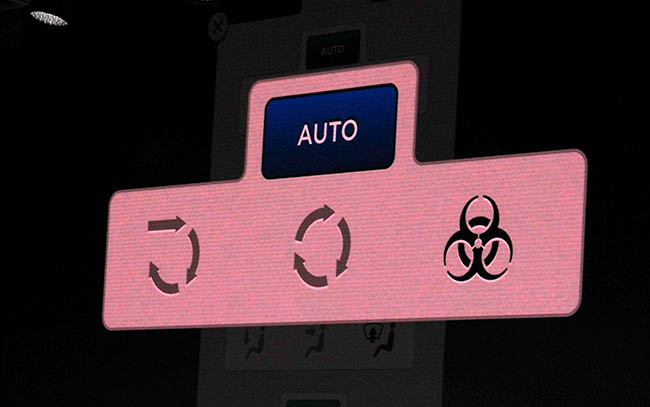 Goodbye's The Saddest Word
Reluctantly, I had to say goodbye to the Model X as the next driver in the queue approached. Overall, my hands-on experience with the Model X just reinforced my opinion of this car. It's a glimpse of what cars will be like in the future, but it's available now (or at least, "soon" for current reservation holders). If you can afford the price tag, put in your order and you're in for a treat. Depending on which configuration you choose, you could be waiting for a few months or even up to a year. Confirmed orders for the top of the line P90D version are shipping first, followed by the non-performance 90D model, followed by the smaller battery (and lower range) 70D model. Features like the panoramic windshield and falcon wing doors are standard on all models while auto-opening front doors and bioweapon defense mode are optional features. You can check out our complete Model X Buyers Guide for details on options and pricing.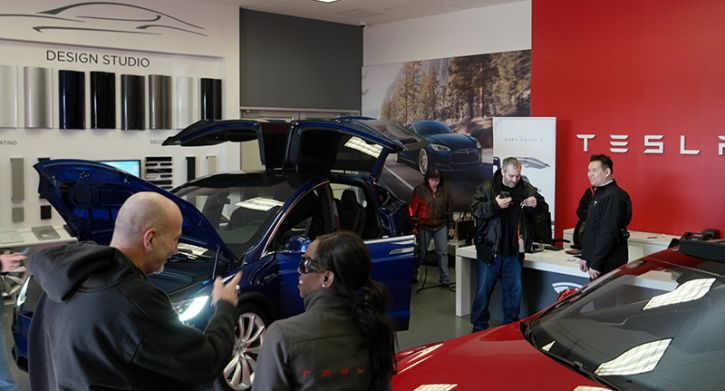 The "Meet Model X" event is still making its way across the country but is currently open to Model X reservation holders only. Tesla expects to have the Model X available in showrooms for the general public to test drive later this year.
More Information and Related Articles: