Buyers Guide to Tesla Model X Options and Pricing
By Chris Boylan
Although the Tesla Model X all-electric SUV was first unveiled in prototype form way back in February 2012, and limited customer deliveries began in September of this year, the car is still shrouded in mystery. With somewhere between 20,000 and 30,000 pre-orders for the vehicle, the Model X is arguably the most highly anticipated SUV of the decade. And yet you still can't go to the Tesla web site to find out pricing details or a comprehensive description of the various options and configurations that are available.
Prospective customers of the Model X have been lining up to buy it since the reveal event three and a half years ago, plunking down a $5,000 deposit for the right to buy a standard production model or $40,000 to buy one of the exclusive early "Signature" models. But the general public - even many of those with a Model X reservation - still don't have access to the online design studio and configurator where you can see the available options and pricing. This guide should help those who are considering a Model X purchase. You can also view a detailed video walk-through of the Model X Design Studio here on YouTube:
The "entry-level" Model X is the 70D which sells for $80,000 plus a $1,200 doc and destination fee. The Model X 70D features a 70 kWh battery pack which gives it about 220 miles of range with a full charge.
UPDATE: In April, 2016, Tesla announced that the base model 70D, which has not been produced yet, is being replaced with a 75D (75 kWh battery pack) with 237 miles of range. The new base price is $83,000. Those who had already confirmed orders for a 70D will receive a 75D at the original 70D pricing.
This base model 75D Model X comes with those sexy Falcon Wing Doors, advanced navigation, free access to the growing network of high powered Tesla Super Chargers, all the hardware and sensors you'll need to take advange of Tesla's Auto Pilot functionality (the software to enable that costs extra), the huge panoramic front windshield, and many other goodies. If you don't need towing, but would like to use hitch-mounted ski, bike or luggage racks, you can get a 1.25" hitch mount at no additional charge (update: hitch mount option is now a 2" hitch for $200 as of February, 2016).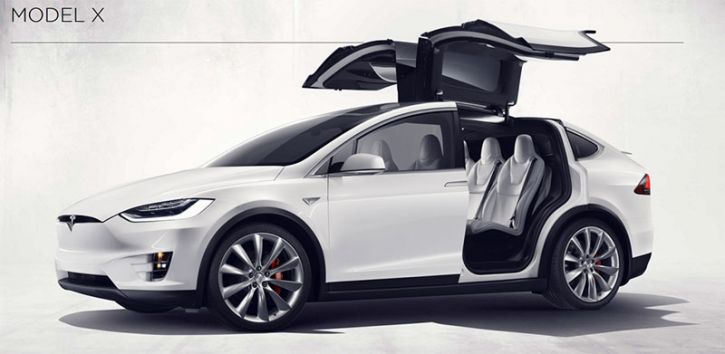 The Model X 75D is expected to begin shipping in mid to late 2016 but the more expensive upgraded models are expected to hit the road much sooner. The 90D is expected to start shipping in early/mid 2016 while the P90D is shipping now in its "Founders Edition" and will begin shipping this month in the "Signature" edition.
UPDATE (April, 2016): Founders and Signature Series Model X P90Ds have nearly all been shipped to customers. Regular production Model X 90D and P90D models are also already shipping.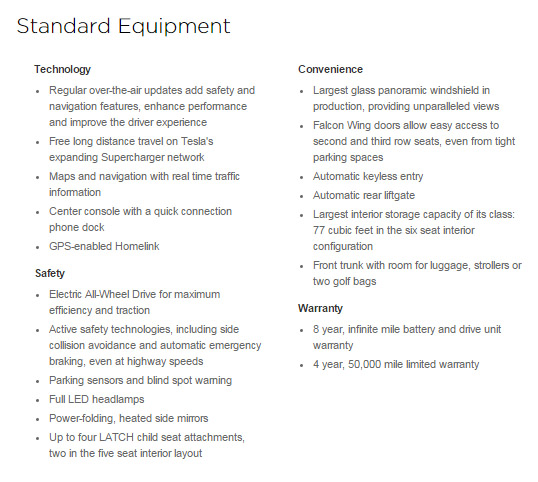 If you're interested in these higher performance models, need a little longer range, or want to take advantage of the much ballyhooed HEPA air filter with its "Bio Weapon Defense" mode, you're going to have to pony up a little extra.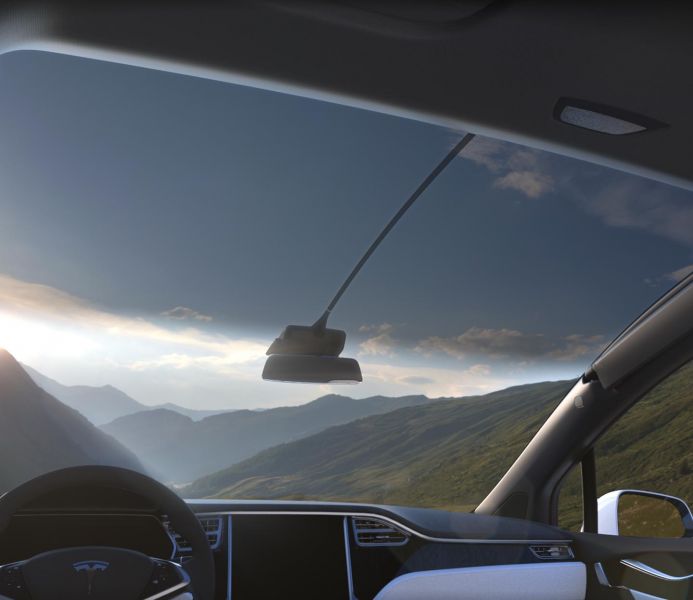 A fully loaded top of the line Model X P90D will set you back over $150,000. It can go from zero to 60 miles per hour in about 3.2 seconds (supercar territory), seats seven adults comfortably, and can provide clean breathable air to passengers even when the outside air quality stinks (literally). But you don't have to spend over $150K just to configure a highly featured Model X. The standard 90D model offers a 257-mile range and improved performance and also includes dynamic adjustable "Smart Air Suspension" for $95,500. Tack on the rear row of seating to seat 7 people ($4,000) and a tow hitch ($750), and you can have a killer long-range all-electric SUV/CUV for around $100,000. Want something a little different? Check out the full list of options below. Pricing specified is the option price which is added to the 70D base price.
Production Model X Options and Pricing:
Base Price:
Model X 70D: $80,000 (plus $1,200 destination and doc fee) - discontinued before production
Model X 75D: $83,000 (plus $1,200 destination and doc fee)
Drive Train/Battery Options:
75D - 75 kWh Battery Pack with AWD: $0; 0-60 in 6.0 seconds, 237 miles range
90D - 90 kWh Battery Pack with AWD: $10,000 (Requires Smart Air Suspension for additional $2,500); 0-60 in 4.8 seconds, 257 miles range
P90D Performance Upgrade to P90D: $20,000 (includes smart spoiler and red brake calipers, performance tuning and larger motors); 0-60 in 3.8 seconds, 250 miles range
Ludicrous Speed Upgrade: $10,000 (only available on P90D); 0-60 in 3.2 seconds, 250 miles range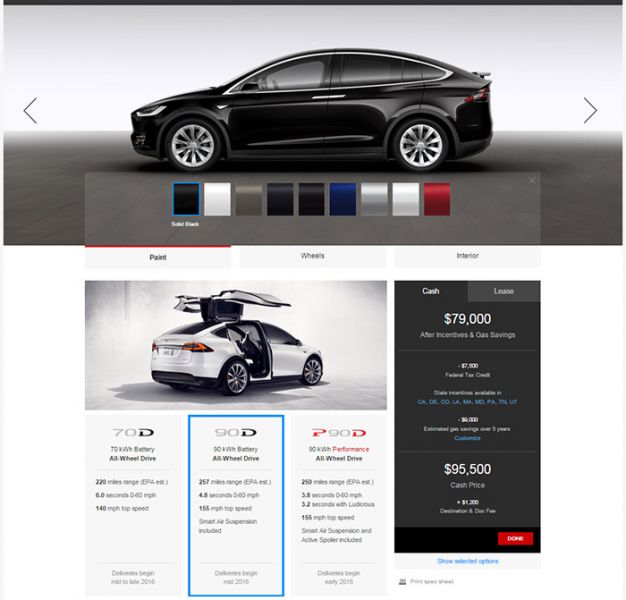 Paint:
Solid Black: $0
Solid White: $0
Titanium Metallic: $1,000
Midnight Silver Metallic: $1,000
Obsidian Black Metallic: $1,000
Deep Blue Metallic: $1,000
Silver Metallic: $1,000
Pearl White Multi-Coat: $1,500
Red Multi-Coat: $1,500
Wheels:
20-Inch Silver (turbine style curved fan blades): $0
20-inch helix wheels: $2,500
22-inch Silver turbine: $4,500
22-inch Carbon turbine: $4,500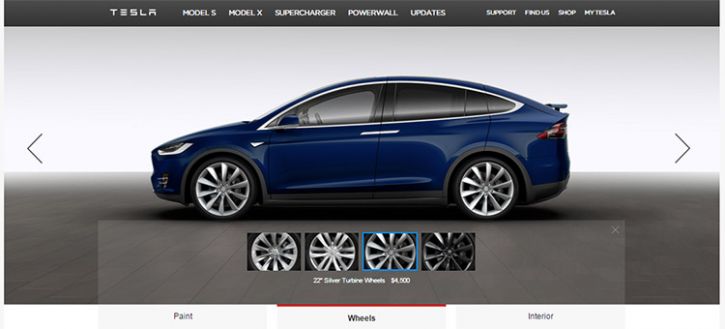 Interior (Seats):
Black Multi-Pattern Seats (similar to Model S textile seats): $0
Black Leather: $2,500
Tan Leather: $2,500
Ultra White (simulated leather with stain-resistant treatment): $2,500
Interior (Headliner):
White Headliner: $0 - upgraded to Alcantara if you get the Premium Upgrades Package
Black Headliner: $0 - upgraded to Alcantara if you get the Premium Upgrades Package
Interior (Decor):
Dark Ash Wood: $0
Obeche Wood Matte: $750
Figured Ash Wood: $750
Obeche Wood Gloss: $750
Carbon Fiber: $1,000
Interior (Seating Options):
5 Seats: $0
6 Seats: $3,000
7 Seats: $4,000
Premium Upgrades Package: $4,500 (requires selection of black leather, tan leather or Ultra White seats). Includes:
Self-presenting driver's door that opens automatically as you approach
True HEPA air filtration system with dual activated carbon filters (with Bioweapon Defense Mode)
Ventilated front seats
Leather arm rests, steering wheel and lower dashboard when paired with leather seating. Note: currently you can only select the PUP with leather or Ultra White simulated leather seating.
Alcantara headliner and upper dashboard accents
Soft LED ambient interior lighting
Three-position dynamic LED turning lights for nighttime visibility
LED fog lights
Autopilot Convenience Features: $2,500 at order or $3,000 to enable later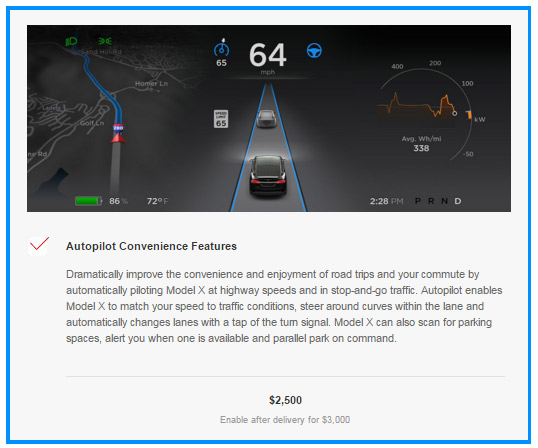 Smart Air Suspension: $2,500 (required/included with 90D and P90D, also required for tow package)
Ultra High Fidelity Sound: $2,500
Subzero Winter Package: $1,000 (heated seats in all rows, heated steering wheel, heated wiper fluid nozzle and heater wipers)
Towing Package/Accessory Hitch:
No hitch or towing package: $0
Accessory Hitch (2" hitch for luggage/bike/ski-rack attachment): $200 (upgraded from a free 1.25" hitch to 2" for $200 in February, 2016)
Towing package (removable 2-inch trailer hitch receiver with towing capacity of 3,500 pounds (22-inch wheels) or 5,000 pounds (20-inch wheels): $750 - note: tow package requires Smart Air Suspension.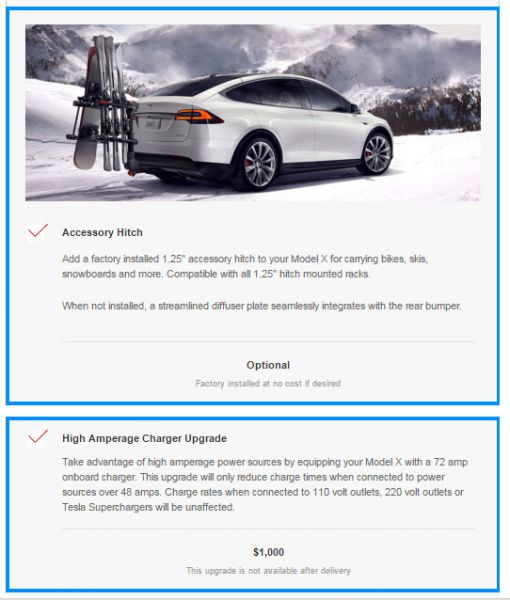 High Amperage Charger Upgrade: (upgrades on-board charger from 48 Amps to 72 Amps): $1,500 (price increased from $1,000 to $1,500 in February 2016).
This is for AC charging only; does not affect super charging speed. Currently requires you to type "charger" anywhere in the design studio and the option magically appears (visible in the video walkthrough). We've had reports that this option is now visible in the design studio as of February 2016.
Model X Size Specifications (Supplied by Tesla):
Length:  198 inches
Height:  66.3 inches
Width (overall, mirrors extended): 89.4 inches
Width (mirrors folded): 81.6 inches
And there you have it! From $80,000 to $152,000, the Tesla Model X can be ordered in a variety of different configurations and performance levels. Sample cars are expected to start showing up in Tesla showrooms around the world beginning in early to mid 2016.
Note: This article was updated in February and April 2016 with changes to the base model (from 70D to 75D) and a change to the base interior (the base interior option changed from Matte Obeche to Dark Ash; the Matte Obeche interior is now a $750 option, but Dark Ash is available at no additional charge).
Related Articles and Links:
Note: All artwork, copyright Tesla Motors.
Keep those cards and letters coming!
if you have a question for one of our home theater experts, shoot us an e-mail to "
Ask The Expert
." We'll select among these for future installments in this column. Due to the volume of requests we receive, we cannot reply to each question personally.