Tesla Model X Pricing Revealed: $80,000 to $152,000 for Premium All-Electric SUV
By Chris Boylan
Back in 2012, before its Model S all-electric sedan became the success that it is today, Tesla Motors unveiled a prototype SUV, the Model X. It had unique Falcon Wing Doors, a huge sweeping windshield that went over and past the driver's head, sat seven adults, and was powered entirely by electricity. Initial delivery estimates were late 2013, but other priorities intervened and the Model X underwent several delays with a revised estimate to begin deliveries in Q3 of this year. Finally, amid much hoopla at a Model X launch event at the company's factory in Fremont, CA, the first six Model X cars were handed over to their owners one day before the end of the quarter.
Initial deliveries were the so-called "Founders Series" - fully loaded performance versions of the car that were delivered to investors and friends of Tesla including Google co-founder Sergey Brin and early Tesla investor Steve Jurvetson. CEO Elon Musk officially took delivery of Founders Model 00001 at the event and left it up on stage for a few hours for event attendees to explore. Since then, several other Founders model cars have been delivered (a bit more discreetly) to other VIPs.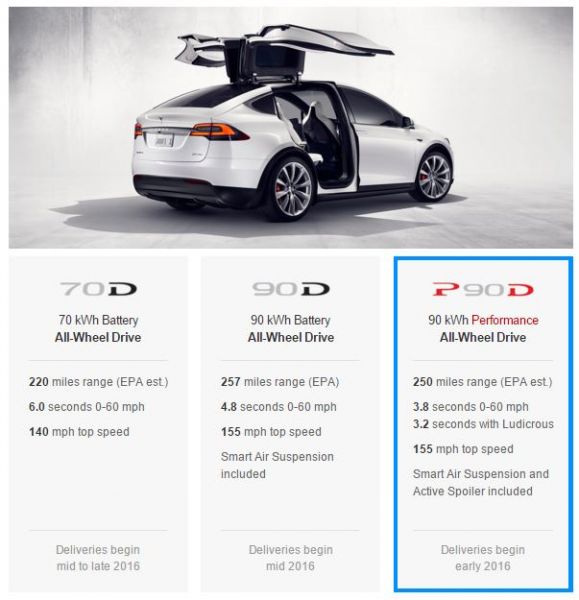 In addition to the Founders, another exclusive line of Model X cars called the "Signature Series" was expected to begin shipping shortly after the Founders models. Signature reservation holders put down a deposit of $40,000 up to three and a half years ago for the right to purchase one of the earliest Model X cars to be delivered to the public. These signature depositors were invited to configure their cars and lock in their orders in September but, as of today, still do not have confirmed delivery dates (the Signature models are expected to begin shipping before the end of this year). The Signature Series starts at about $132,000, but can top out at about $145,000 with the addition of all options. There are somewhere between 1,000 and 1,200 Signature Series reservation holders wordlwide, many of whom have configured their cars and are (mostly) patiently waiting to take delivery.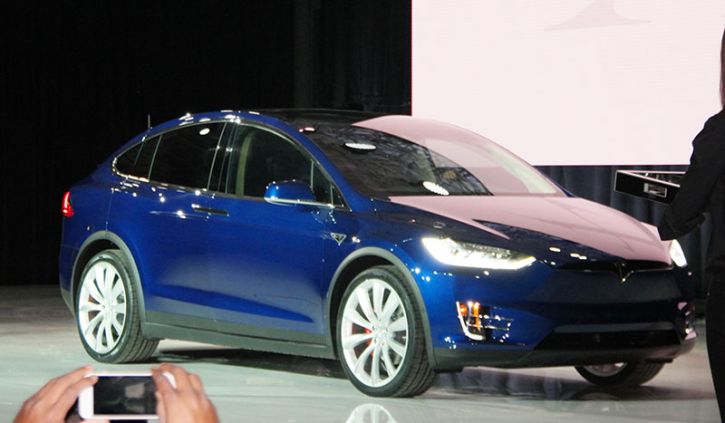 But there is an additional, much larger group of reservation holders for the Model X - between 20,000 and 30,000 worldwide, depending on cancellations - who are waiting for a standard production version of the car. And though there have been hints about the pricing and configuration options, these details have remained hidden, until yesterday.
On November 23, the earliest production reservation holders received an invitation to configure their cars. Tesla CEO Musk has said previously that the Model X would sell for around $5,000 over a comparably equipped Model S, due to it being a larger, more complex car. And the company has stayed mostly true to that promise. The base level Model X with all-wheel drive and a 70 kWh battery pack will sell for $80,000, and will offer an EPA estimated range of 220 miles on a single charge. This is exactly $5,000 more than a comparable Model S. The only bad news is that those who want this "entry-level" version will need to wait until late next year (2016) for delivery.
As many car companies do, Tesla is prioritizing delivery of the more expensive (and more profitable) models with the larger battery packs first. Those who order the 90D model (90 kWh battery, dual motor drive, base price $95,500) are expected to get their cars in "mid 2016" while those who order the souped up performance model (P90D, base price $115,500) are expected to take delivery in "early 2016." So if you want one soon, be prepared to pony up at least $115,500. But you'll probably want to add in a few options.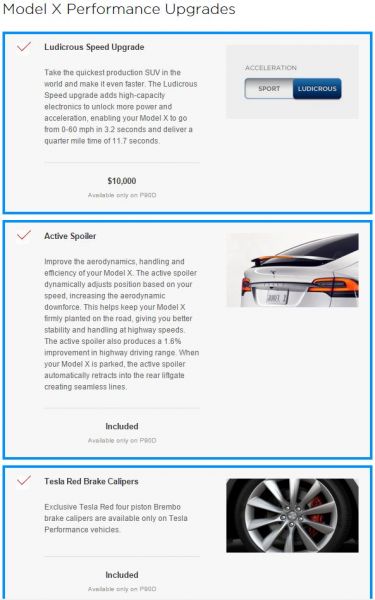 Those sexy Falcon Wing Doors are included on all models, but it you want a third row of seating, that will cost you an extra $3,000 for a six seat configuration or $4,000 for seven seats. Interested in the advanced HEPA air filter, with its "BioWeapon Defense Mode?" That will set you back another $4,500 for the "Premium Upgrades" package, but you'll also get an automatic-opening front door that detects your approach to the car, ventilated front seats, LED fog lights and other goodies in that price. And how about letting Tesla take the wheel for you with AutoPilot and automatic parallel parking? Tack on another $2,500 for "Autopilot Convenience Features."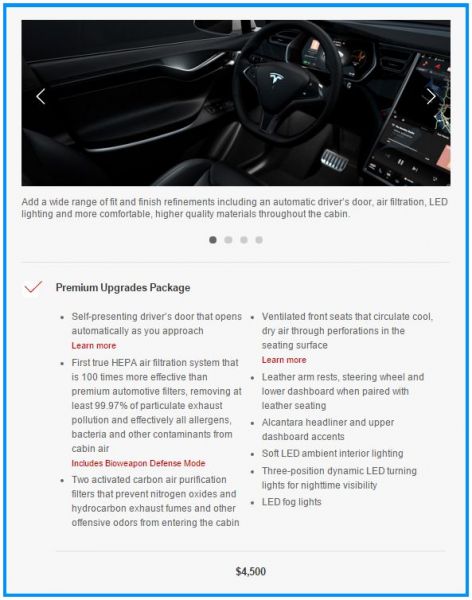 All told, with all the options including premium interior, upgraded sound system, premium paint, 22-inch wheels and the "Ludicrous speed" upgrade, you can price a Model X out at a whopping $152,450.
And here's a hidden easter egg for all you Model X buyers out there. The Model X comes with a 48-Amp charger on board (which is about 20% faster to charge than the Model S, which has a single 40-Amp charger as its base charger). But if you plan to use a lot of the "destination chargers" out there which can charge at up to 80 Amps, there's a hidden "off the menu" option to bump your Model X on-board charger up from 48 Amps to 72 Amps. Just type in the word "charger" while in the design studio and a hidden field will become visible asking if you want the 72A charger instead (it's a $1,000 upgrade). Note: this has no effect on Super Charger charging (which uses DC), but is a nice feature to have if you need quick charges at home from one of Tesla's High Power Wall Chargers (HPWC), configured for 80 Amps or if you plan to use destination chargers on longer trips through areas where Super Charger avaiability is light.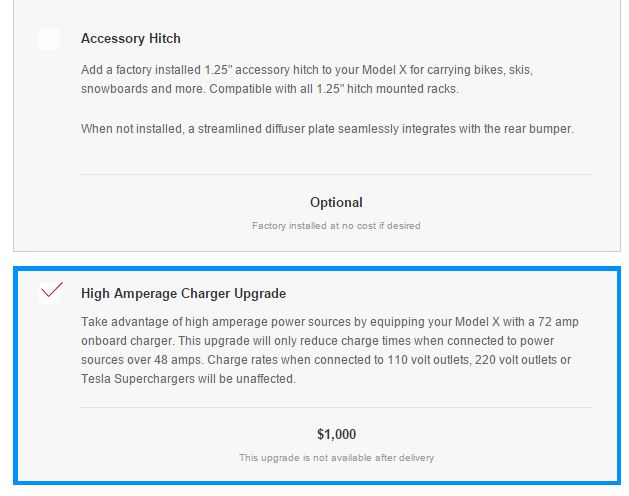 More details (including the pricing of all options) can be found over at the Tela Motor Club forum: Model X Production Configuration Has Begun!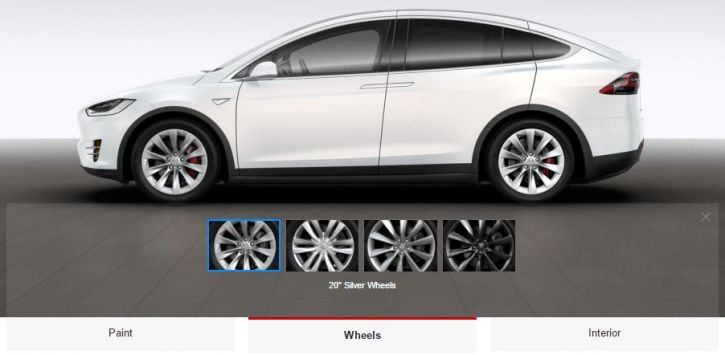 Special thanks to TMC user engle for sharing screen shots and pricing options of the production Model X design studio.
More Information: