Panasonic SC-BT230 Blu-ray Home Theater in a Box (HTiB) Review
By Chris Boylan
Panasonic SC-BT230 Blu-ray Home Theater Review
Swiss Army Home Theater System
If Victorinox, the makers of Swiss Army knives, made a home theater in a box (HTiB), I think it would look a lot like Panasonic's SC-BT230 Blu-ray Disc Home Theater System. Of course, the unit is quite at home playing all of the popular movie and music discs, including CDs, DVDs and Blu-ray Discs, but it also has a number of other media-friendly features and options including a built-in iPod dock fully compatible with iPod, iPod Touch and iPhone. And when we say "compatible," we mean it, with support for music, photos and videos from your iPod or iPhone.
The SC-BT230 also includes built-in amplifiers to power its five compact but powerful speakers and subwoofer for discrete 5.1-channel surround sound.  It includes on-board decoders for the latest surround sound codecs (namely DTS-HD Master Audio and Dolby TrueHD), as well as standard Dolby Digital, DTS, and stereo or multi-channel PCM sound.  On the video side, it does a good job upconverting DVDs up to 1080p resolution, plays Blu-ray Discs in Full 1080p HD like nobody's business, and streams Netflix, Amazon Video on Demand and YouTube.  Did we mention the built-in FM tuner?  Oh yeah, it's got that too.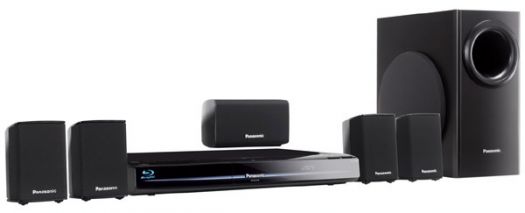 If you want to add in other sources such as a cable or satellite set top box, a TV's built-in ATSC tuner or a gaming system, then just plug the audio outputs of those components into one of the BT230's two fiberoptic digital inputs (for full 5.1 channel compatibility) or use the one analog stereo input. One nice touch, for those with a recent HDMI 1.4-compatible TV, is that it can even accept the 5.1-channel Dolby Digital audio return channel signal from a TV's built-in ATSC or QAM digital tuner over the very same HDMI cable used to connect the BT230 system to the TV.  Single cable simplicity, indeed.  But I'm getting ahead of myself...
The Set-Up
Set-up of the SC-BT230 system is pretty simple: the speaker wires are all included in the box and all are terminated in proprietary, color-coded connectors that plug into the back of the main unit. I would have liked to see matching colors or text labels on the speaker ends of the cables as well as on the speakers themselves, but this is a fairly minor gripe. The speaker wires are each labeled with "+" and "-" on each lead, so you won't be plugging in the speakers out of phase from each other.  Plugging in the speakers out of phase can have a deleterious effect on the sound, specifically on the bass response.
Network set-up via a wired Ethernet cable (not included) was a breeze.  Sorry but there is no built-in WiFi.  For wireless networking, you'll either need to buy the optional WiFi Network adapter from Panasonic or use a generic wireless bridge or gaming adapter.  With the network cable connected to our router, the player was able to obtain a dynamic IP address and DNS info automatically. Once we activated the player for use with our Netflix account, our very first connections to YouTube and Netflix went through without a hitch.  Soon we were watching the "Annoying Orange" on YouTube and streaming HD movies from Netflix for free (well, free with a Netflix DVD or Blu-ray rental plan that is). The "VIERA Cast" button on the remote goes right to the IPTV features (Netflix, YouTube, Amazon VOD, etc.) so those should be easy enough for people to find.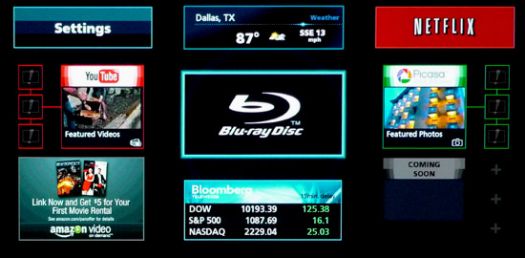 The only other audio/video cable you'll need is HDMI (not included) which connects the system to your HDTV. Do make sure to get one of these as it's the only way you'll be able to enjoy the system's upconversion of standard def content to high definition resolution as well as full 1080p resolution of Blu-ray Discs.  Composite and component video connections are also available for hooking the unit up to older analog TVs. With the HDMI cable connected, set-up was a breeze as the TV and HTiB system communicated via VIERA Link (more on that later) to automatically set the screen shape (16:9) and resolution (1080p).
Big Picture?  Big Sound?  Under $400?  Seriously?
For a $399 packaged system with a built-in Blu-ray player (available even cheaper on Amazon), the SC-BT230's image and sound quality are better than I expected. 1080p Blu-ray Discs look exceptionally clean, and DVD upconversion is not too shabby for the price.  Using the HQV test DVD and Blu-ray Disc, the player shows that it handles the basics of upconversion pretty well, with a decent diagonal filter (resolving spinning diagonal lines without too much stair-stepping).  The player is also able to recognize the 2:3 film cadence of film-based DVDs, avoiding too much moire in the grandstand on the Super Speedway clip, although it does take a bit longer to lock to the film cadence than we have seen on other Blu-ray players.  Playing standard def DVDs such as Star Wars and Raiders of the Lost Ark, the system was able to present a nicely detailed image, though there was some aliasing around edges, softening of text and general lack of saturation in the colors, particularly when compared to Blu-ray.
The bass response is solid, if not terribly extended and there was very little of that one-note boominess that can plague inexpensive systems. The tiny little center speaker actually does a decent job reproducing dialog and the main front and surround speakers (which are identical to each other, a bit little smaller than the center speaker) can put out a surprisingly high decibel level without excessive distortion.  Sure the system breaks up at very high volumes, but the neighbors will probably complain before that happens.
Avatar on Blu-ray is a sonic and visual treat with this system hooked up to a 46-inch Panasonic VIERA plasma 1080p HDTV. The images are bright and colorful, with exquisite detail.  The dialog is distinctly audible (whether in English or Na'vi), and the automatic weaponry fire and mortar explosions produce a deep rumble that actually makes the floor shake. Switching over to the built in tuner, FM stations sound a bit thin, in comparison, with only average reception.  But for casual radio listening, it gets the job done.  The actual volume level of the tuner is a bit higher than the Blu-ray player and external sources, so be aware of this while switching between sources.
Ergonomically Challenged
Where the system has some flaws is in its actual ergonomics -- the day to day operation -- particularly if you start taking advantage of multiple inputs. Navigating iPod content, for example, is pretty tricky. Inserting the iPod into its dock and hitting the "iPod" button on the remote is simple enough -- this brings up a music menu which lists things like playlists and artist selections on the connected display. The unit's remote can be used to navigate through music and other content on your iPod. But to get to the higher level iPod menu, where photos and videos are also accessible, you need to hit the "Sub Menu" button on the remote. And if you want to view visual content such as photos and videos stored on your iPod or iPhone, then you'll also need to hook up a separate composite video cable (included) to your TV.  Oops.  There goes that one-cable simplicity.
Also, selecting from the other inputs (other than the integrated Blu-ray/CD/DVD drive) can be a chore. There is a little "Radio/Ext In" button on the remote which cycles through the built-in FM tuner and other available inputs. But it's slow to lock on incoming signals and the text that appears on the LCD readout on the front of the unit is fairly cryptic.  The fact that "DIG IN 1" means "digital input one" which you have connected to your cable box, might be obvious to a seasoned pro, but for the casual user, it can all seem a little strange. You can also bring up a list of available inputs on the TV screen using the "Functions" menu on the remote, but again, this option is not that intuitive.
"There is Nothing Wrong with Your Television Set... Do Not Attempt to Adjust the Picture"
As with the classic TV series, "The Outer Limits," some adjustments to your TV will occur automatically if you use an HDMI cable to connect your HTiB system to your television.  Newer HDTVs from Panasonic and other brands, can take advantage of the HDMI-CEC (High Definition Multimedia Interface Consumer Electronics Control) feature, which is called "VIERA Link" on the Panasonic.  And in actual use, this feature can be both a boon and a curse. VIERA Link allows you to operate the functions of the HTiB from a TV's remote control (which is handy) but it also makes certain choices for you about how everything in the system should work together.

For the most part, this is helpful, like when you put a Blu-ray Disc into the player and VIERA Link powers up the TV and switches it to the correct input.  But in some cases, the VIERA Link behavior can be annoying, as when you want to listen to music on your iPod, and then you turn off the TV, it shuts down the receiver automatically. Doh. This can be disabled (or behavior modified) in either the HTiB or TV's set-up menu under VIERA Link settings, but unsophisticated users might not be able to figure out what's going on.
The Need for Speed
Boot-up and disc loading speeds are significantly slower than we're used to seeing on current generation standalone Blu-ray players and competitive HTiB systems, but certainly faster than first and second generation players. Initial boot-up to the splash screen takes a little under 30 seconds, but if you switch on QuickStart mode in the menu, it drops way down to about 6 seconds (though this does use more electricity when in standby mode).
A standard DVD (Gladiator) loads up in about 24 seconds to the Dreamworks logo; a basic Blu-ray (Underworld: Evolution) fires up in 33 seconds; and a BD-Java Disc (the first Pirates of the Caribbean film) loads up past the spinning coins in about 93 seconds.  For a real torture test, put on a recent Lionsgate Blu-ray title, such as "Saw VI," where you'll wait almost 2 full minutes for the disc's "LG Live" (BD-Live) widgets and content to load.  Note: that this test was performed with a standard 1 GB SD card inserted in the slot.  Load times of this and other BD-Live heavy discs may be a bit quicker using a higher speed SDHC card instead.
During the review, a firmware update became available, so we dutifully performed that update by clicking a few buttons.  This update took longer than expected (around 15 minutes) with very little indication of what was going on, other than a green flashing light and a few small letters on the display.  Hint: be patient and let any firmware update run to completion: eventually you will be able to get back in and resume your use of the system.
Turn Ons
Built-in Blu-ray/CD/DVD player
On-board decoding of Dolby TrueHD and DTS-HD Master Audio
Solid, if unexceptional DVD upconversion performance
Surprisingly good sound from such a small package
Super Low Price
Netflix streaming, YouTube and Amazon VOD (Pandora coming soon)
Turn Offs
No VUDU streaming
Non-intuitive menus and operation
Limited dynamic range if pushed
Sluggish compared to other current generation players and HTiB systems
Requires SD or SDHC card at least 1 GB in size (not included) for BD-Live to work
Final Thoughts
For a small investment, this little HTiB system offers an excellent upgrade to a TV's built-in speakers, transforming your movie and TV viewing into a more cinematic experience.  The system also feeds your HDTV with some fine 1080p HD material on Blu-ray Disc as well as a number of high quality web-based streaming options. Pandora internet music streaming is not available yet but should be coming this summer in a firmware upgrade.
The system's integrated iPod/iPhone dock makes enjoyment of your portable media collection on the big screen (and with big sound) a fairly simple matter, though it will require one additional video cable if you want to watch iPod content on your television.  Our main criticism - the unit's operational idiosyncrasies - are easy enough to get used to, once you figure them out. All in all, the Panasonic SC-BT230 is an excellent choice for a full-featured but inexpensive compact home theater system and a worthy match for any flat panel HDTV.
Where to Buy:
Features/Specifications of the Panasonic SC-BT230:
Physical Media Formats supported: CD, CD-R, CD-RW, DVD, DVD-R, DVD+R, DVD+RW, DVD-RW, DVD-RAM, Blu-ray Disc, BD-ROM, BD-RE / BD-RE DL, BD-MV, SD, SDHC
Video/Image Codecs: JPEG, AVCHD, MPEG2, H.264/MPEG-4 AVC, VC-1
Deep Color and x.v.color support
Video D/A Converter 148.5 MHz/12-bit PHL Reference Chroma Processor Plus with High Precision 4:4:4 color output
1080/24p Playback
Audio Codecs: MP3, PCM, Dolby Digital, Dolby Pro Logic II,  Dolby Digital Plus, Dolby TrueHD, DTS, DTS-HD High Resolution Audio, DTS-HD Master Audio Television Signal System: NTSC
Audio D/A Converter: 192kHz/24-bit
Output Power - Home Theater Mode (RMS) Total Power: 1000W

Front: 125W x 2 (1kHz, 3ohms, 10% THD)
Center: 250W (1kHz, 6ohms, 10% THD)
Surround: 125W x 2 (1kHz, 3ohms, 10% THD)
Subwoofer: 250W (100Hz, 6ohms, 10% THD) Output Power - Home Theater

Output power (FTC rating) Total Power: 446W

Front: 60W x 2 (120Hz-20kHz, 3ohms, 1% THD)
Center: 106W (120Hz-20kHz, 6ohms, 1% THD)
Surround: 60W x 2 (120Hz-20kHz, 3ohms, 1% THD)
Subwoofer: 100W (45Hz-120Hz, 6ohms, 1% THD)

FM Station Presets 30
Universal Dock for iPod
VIERA Link (HDMI-CEC with HDAVI control)
A/V Outputs: HDMI Out (1) Video Out (1), Speaker Outputs (6)
A/V Inputs: Analog Audio Input - stereo mini-jack (1), Digital Audio Inputs - fiberoptic (2), USB Port (for optional Wi-Fi)
Speaker specifications:

Front Speakers (x2)


Front speaker configuration: 1-way 1-speaker, Bass-reflex, 2-1/2 " full range driver
Front speaker weight: 0.88 pounds
Front speaker dimensions (H x W x D) [Approx.] 4-11/16" x 3-5/32" x 2-11/16"

Center Speaker

Center speaker configuration: 1-way 1-speaker, Bass-reflex, 2-1/2 " full range driver
Center speaker weight: 1.32 pounds
Center speaker dimensions (H x W x D) [Approx.] 3-11/32" x 5-23/32" x 2-13/16"

Surround Speakers (x2)

Surround speaker configuration: 1-way 1-speaker, Bass-reflex,  2-1/2 " full range driver
Surround speaker weight: 0.88 pounds
Surround speaker dimensions (H x W x D) [Approx.] 4-11/16" x 3-5/32" x 2-11/16"

Subwoofer

Subwoofer speaker configuration: 1 way 1 speaker, Bass-reflex, 6-1/2" woofer
Subwoofer weight: 6.17 pounds
Subwoofer dimensions (H x W x D): 11-13/32" x 5-23/32" x 10-5/32"

Wireless Rear Ready (via optional Panasonic wireless speaker kit)
WiFi ready (via optional Panasonic Wireless Network Adaptor)
Control unit specifications: 

Weight: 7.1 pounds
Dimensions (H x W x D): 2-1/8" x 16-15/16" x 11-5/16"

Warranty: 1 Year (Limited)
MSRP: $399.99
Manufacturer's Contact Information:
Panasonic Corporation of North America
One Panasonic Way
Secaucus, NJ 07094
1-800-211-PANA (7262)
Web Site: www.panasonic.com