Avatar Blu-ray Review
By Chris Chiarella
The Movie
Say what you like about James Cameron, there's no denying that the guy is a visionary. And more importantly in Hollywood, he has the gift to turn that vision into onscreen reality in such minute detail that audiences will follow him wherever he leads. For Avatar, his first feature film in a dozen years, he takes us on a journey to Pandora, an exotic, distant and definitely dangerous world where a colony of humans has set their sights on a valuable mineral deposit, aiming to claim it at any cost. Standing between the corporation and their prize is their last shred of humanity, and the Na'vi, the simple, soulful indigenous people.
The struggle is recounted from the point-of-view of paralyzed former marine Jake Sully (Sam Worthington), an unlikely hero who soon finds himself seduced by the beauty and wonder of Pandora. Jake inhabits a remote-operated Na'vi body to live among their clan, gain their trust and hopefully negotiate a deal, but it won't be easy. The story is plainly inspired by Dances with Wolves, and often plays out like "The Best of James Cameron": There's the walking tanks, and Vasquez from Aliens! The crazed soldier from The Abyss! Look, someone's hanging onto the missiles under an airship, like that guy in True Lies! I could go on.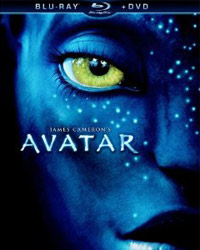 Even Cameron's choice of frequent composer James Horner feels familiar, and Horner is notorious for repeating many of the same themes and passages in his music, as he does here. But it's what's new about
Avatar
that makes it so enthralling. It's a stunning visual achievement beyond anything we've ever seen, with a very human heart.
Don't take my word for it: Be sure to read Joe Lozito's review of Avatar.
The Picture
The 1.78:1 image was originally captured digitally, famously for 3D exhibition. This Blu-ray is 2D and it works remarkably well, even the floating droplets of water and billowing wood sprites are interesting without being distracting. What amazes here is the photorealism of scenes that are entirely computer-rendered, the result of the best visual effects design and execution often combined with state-of-the-art motion capture technology for the actors.
The movie is long but there is little wasted space on this dual-layer Blu-ray disc, enabling video bitrates which seldom dip below 25 megabits per second and sometimes topping 40 Mbps. This is a boon to the depiction of fine gradations in mist and shadows, which show minimal compression artifacting. The fantastic colors can be almost overwhelming, and are particularly effective in contrast to the charred, ashed remains of a devastated forest near the end of Act II. I noted some harshness in fine patches of bright light here or there, some streaking, but nothing that would merit any strike against the landmark video quality on display.
The Sound
Perfectly matched to the stunning image is one of the most thrilling soundtracks on any disc. The DTS-HD Master Audio 5.1 surround sound track flaunts aggressive surrounds both in calmer scenes--bustling laboratories, loading bays and offices, echoes inside a cave--and more active locales as when a walking tank crosses the yard behind us, we're being chased through a living jungle, or are caught in the middle of a raging firefight fraught with flying machines and beasts. Bass is rich, strong and generously utilized, while the nuances of tone are readily clear, in the voices of the choir and even when heroine Neytiri screams, we can detect that actress Zoë Saldana was recorded indoors, although her character is out in the jungle. There are plenty of smart, subtle touches along the way, and then for most of the final hour, all hell breaks loose.
The Extras
As previously reported, the Blu-ray of Avatar contains no bonus content per se, but I like to see the disc and not the hole, plus Big Picture Big Sound Editor Chris Boylan wants to see me make the effort, so here goes. Purchasers are invited to register for The Avatar Program online with a unique in-package code, via computer (not BD-Live? really?) to gain access to "exclusive first looks & sneak peeks, content & updates, money-saving offers, and be part of The Home Tree Initiative to plant one million trees," in conjunction with Fox's green promotion surrounding this release. I also discovered a very loud new themed THX trailer, but none for this or any other movie.
Disc Two is a DVD of the movie in standard definition.
Final Thoughts
Should you buy this Blu-ray? That's always a tough one, especially when a multi-disc special edition is currently being prepped for this November and an inevitable 3D release lurks beyond that. Interested solely in the movie? Definitely consider at least a rental, or a purchase if you plan to keep Cameron's latest spectacle on-hand for stellar demo material.
Product Details
Actors: Sam Worthington, Zoë Saldana, Stephen Lang, Sigourney Weaver, Joel David Moore, Giovanni Ribisi, Michelle Rodriguez
Director: James Cameron
Audio Format/Languages: DTS-HD Master Audio 5.1 (English), Dolby Digital 5.1 (French, Spanish, Portuguese, English Descriptive Audio Service), Dolby Digital 2.0 (English)
Subtitles: English SDH, Spanish, Portuguese
Aspect Ratio: 1.78:1
Number of discs: 2
Rating: PG-13
Studio: Fox
Release Date: April 24, 2010
Run Time: 162 minutes
List Price: $39.99
Extras:
Related articles: