OPPO Unveils New Improved Universal Blu-ray Players: BDP-103 and BDP-105
By Rachel Cericola
Back in 2010, OPPO introduced the BDP-93 and BDP-95, two universal Blu-ray players. Both have been highly rated -- and not just by us. (Check out Greg Robinson's OPPO BDP-93 Network Blu-ray 3D Disc Player Review, which scored the product our BIGGIE award.) After two years, though, it's time for a change, wouldn't you say?
OPPO thinks so, announcing two new universal Blu-ray players. Fairly soon, the company will welcome the BDP-103 and BDP-105 into its lineup.
Both models come packing support for almost every AV format you can imagine, including 3D and 2D Blu-ray, DVD-Video, DVD-Audio, Super Audio CD (SACD), HDCD, and CD. Each one also has three USB ports for adding in digital devices or you can stream content using a hardwired Ethernet connection or wirelessly via each player's built-in WiFi access.
Out of the box, both players will provide instant access to popular services such as Netflix, VUDU, Pandora and YouTube. They are also adding Film Fresh into the mix, with plans to add other services in the near future.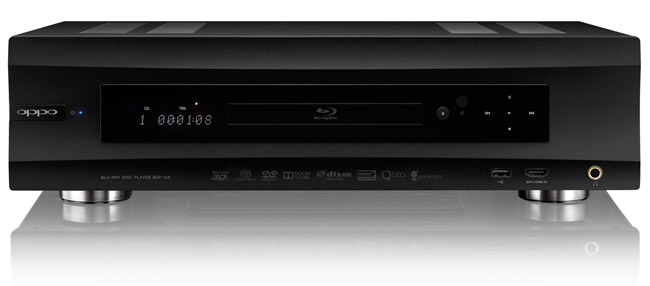 Each player has a custom dual-core SoC processor and the latest generation of Marvell's Qdeo video processor, to improve the video quality of both standard and high definition content -- which is exactly what one would expect from OPPO. Other features include 4K upscaling (for the newest batch of 4K displays), 2D-to-3D conversion, 1080p24Hz output, HDMI 1.4 with Deep Color, a Source Direct output, and numerous picture control and enhancement options.
OPPO's new players support all of the high-resolution audio formats with bit-stream output and onboard decoding of Dolby TrueHD and DTS-HD Master Audio.
Both players offer dual HDMI outputs, so you can share the love with two displays or even use one for video and the other for audio. But now, the two players also offer two HDMI inputs -- one on the front and one on the back. This allows owners to connect additional sources to the OPPO to benefit from the player's superior video processing and scaling.  The front HDMI input includes support for Mobile High-definition Link (MHL), which confirms that the player will support Roku's Streaming Stick. Best in breed universal disc playback and video processing from OPPO combined with best in breed media streaming and apps from Roku?  This sounds like a match made in heaven to us.
Now, you're probably wondering what sets the two players apart from each other. The BDP-103 provides a configurable 7.1-channel analog output that can be used in stereo, as well as a 5.1- or 7.1-channel mode. The BDP-105 does the same but with beefed up audiophile-grade DACs and hardware.  The analog audio section of the BDP-105 sports two ESS Sabre32 Reference DACs, a newly designed Toroidal linear power supply, dedicated stereo outputs with both RCA and XLR balanced connections, and a headphone amplifier connected directly to the DAC. The BDP-105 also has an asynchronous USB input that can support the USB Audio 2.0 standard, along with additional coaxial and optical digital inputs.
OPPO has yet to announce precisely when the players will start shipping. However, the BDP-103 is expected to come sometime in October with an MSRP of $499. The BDP-105 will then follow sometime before the end of the year, with an MSRP of $1199.

Where to Buy: