OPPO BDP-93 Network Blu-ray 3D Disc Player Review
By Greg Robinson
Edited by Chris Boylan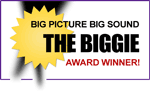 Being the go-to gadget guy in my family and circle of friends is a role I rather enjoy playing, even if it does mean having to answer the same questions on a fairly regular basis. Since the high definition format war ended, a constant resident on my F.A.Q. has been some variation of, "Which Blu-ray Disc player should I buy?" As different models come and go, my answer changes from time to time. However, as it was with their exceptional DVD players, one slot on my Greg Recommends list is always occupied by the latest disc spinner from OPPO Digital.

Unfortunately, whenever I tell someone to buy an OPPO, my suggestion is invariably met with a searching look of puzzlement. In case you're making that same face right now, let me address the typical barrage of follow-up questions as efficiently as possible: Yes, OPPO. O-P-P-O. No, they're not new. They don't sell their players at retail, so you won't see them at Best Buy or Walmart. To keep costs down, OPPO only sells direct through their website and through Amazon.com. Are their players really that good? Let me put it this way: they don't get much better.

To answer the "Which player should I buy?" question, it's important to know who it is you're talking to and have a solid understanding of what's most important to that consumer. Is benchmark video performance the primary goal? How important is ease-of-use and an attractive user interface? Is Internet connectivity a requirement, or do you get your apps from elsewhere? Whereas OPPO models from years past might have caused me to hesitate on all but the video performance question, the OPPO BDP-93 Network Blu-ray 3D Player requires no such hesitation. If you're in the market for a Blu-ray Disc player, your list just got a whole lot shorter.  It's not perfect, but the BDP-93 has a lot to offer.

The Walk-Around

The BDP-93 sports an attractive brushed-metal faceplate with convenient control buttons and dual information displays. Refreshingly, said control buttons are not touch sensitive. Said another way, they behave as expected every time. In addition to the usual front panel buttons, you also get a front USB port tucked in the lower right corner.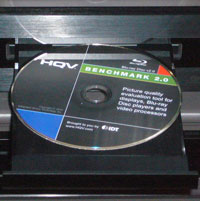 Although the unit's high-end metallic look imbues the BDP-93 with superior aesthetics, it's actually the ergonomics that most impressed me. Specifically, I'm talking about the disc tray. This may sound trivial, but the BDP-93 is the first disc player that doesn't irritate me when it comes time to remove a disc. The reason for that is simple: OPPO wisely designed the BDP-93's disc tray to be slightly narrower than the disc it's transporting. The net effect of this decision is that you now have a small lip of disc overhang on both the left and right side of the tray, making it a snap to grab a disc without having to dig it out of the traditional disc tray recess. It may be a small touch, but it's far from insignificant.
Out back you'll find a few more deviations from the norm, raising the BDP-93 a step above what you'll see on a run of the mill Blu-ray player. First off, you get 7.1 channel analog audio outputs, a desirable option for users who haven't upgraded to an HDMI-switching receiver or pre/pro. These also represent another option for outputting high resolution audio from SACD and DVD-Audio, both of which the BDP-93 supports, hence its "Universal Disc Player" designation.
Also out back you'll find dual HDMI outputs, and they both (yes, both) can deliver audio and video simultanously. Only one ("HDMI 1") benefits from the Marvell QDEO video processor employed by the OPPO, but still, the ability to output to two displays, or to one display and one A/V receiver simultaneously is a welcome feature, and particularly useful if your otherwise excellent receiver or preamp/processor does not happen to support 3D passthrough. Lastly, the rear panel also features an eSATA port for connection to an external hard drive for personal media playback. It CAN also be used for BD LIVE data storage, but OPPO recommends using the player's 1GB of internal flash memory or a USB memory stick for BD LIVE purposes.
Remote, Control

In a refreshing departure from the OPPO DVD remotes of days gone by, the BDP-93 carries forward the new remote design introduced with last year's BDP-83 Blu-ray player - and it's a good one. Although the buttons are a bit spongy for my taste, this large and fully-backlit remote features an intuitive layout and has a nice heft to it. Response was pretty good, though I did find myself having to repeat a few clicks now and then when I ventured too far off-axis.

When the BDP-93 is powered on, the user is dropped into a fairly uninspiring logo screen awaiting further action. Personally, I would prefer to see OPPO bring you to the "Home" screen, where you have icons for "Movie" (to play what's in the tray), "My Network" (to access your personal media), along with web-based apps such as Netflix, Blockbuster, Picasa, and FilmFresh. Rumor has it, VUDU is on the way but it's not available just yet.
One click of the "Home" button on the remote brings you to this Home screen, but it's an unwanted step if you're powering the unit on for the sole purpose of streaming a Netflix movie. I suspect this was done because the OPPO is technically still booting when that logo screen first appears. Although you can put a disc in the tray and get the ball rolling, the Home screen is likely unable to be rendered as quickly as the OPPO logo screen can.
It should be noted that just prior to going live with this article, I upgraded the unit's firmware to version 42-03-23. As a result of doing so, the new Film Fresh application icon made its debut on the OPPO's Home screen. However, more importantly, the Netflix app stopped working for me. Netflix would appear to launch, but then it promptly returned me to the OPPO logo screen without ever displaying my queue. Powering the unit down was then necessary before I could resume normal operation.
After some back and forth with Jason Liao, OPPO's VP of Product Development, and his discussions with the tech folks at Netflix, it appears as though I may be running into a bad title in my queue, where its "corrupt or incomplete metadata" is causing the entire queue to choke. Rather than remove my titles one at a time, I re-activated the BDP-93, this time pairing it with an OPPO test account; the result was a success and Netflix behaved just fine. It's important to note, however, that this failure does not occur or any of my other Netflix-enabled devices, but Jason indicated that an upcoming update of the Oppo's Netflix API will hopefully resolve this issue for good. We'll keep an eye on this and if anything further comes of it, we'll be sure to post an update.
Picture This

Unlike its predecessor, the BDP-83, which featured Anchor Bay's VRS chipset, OPPO's BDP-93 utilitzes Marvell's QDEO video processor to handle scaling and noise reduction duties on the primary HDMI output. It should be noted that neither the secondary HDMI output, nor the component video output, take advantage of the QDEO's processing. A secondary, less impressive chip is used for those outputs. While it's hard to find fault with the QDEO's performance, OPPO has kindly given users the ability to bypass the QDEO processing entirely, if desired. If you're using an external video scaler or processor, simply set the OPPO's output resolution to "Source Direct" which will bypass the QDEO sending over the HDMI output a raw video signal that matches the format and resolution of the specific media you're playing.  In other words, DVDs are sent out at 480i/60 and Blu-rays are sent out at 1080/24p, 1080/60i or 720/60p depending on the actual content.

Running through several generations of the HQV Benchmark test discs, the BDP-93 performed quite well, easily passing each test I threw at it. The jaggies tests were certainly a Pass, though I have seen that bottom oscillating rectangle look a bit smoother on some other players. Film and Video Resolution Loss tests were all handled adeptly by the BDP-93 and the 3:2 cadence was locked down quickly during the Super Speedway race car sequence. Video noise tests posed little challenge to the BDP-93, and in fact it was here that the QDEO was most impressive. The green roller coaster sequence on HQV's "adaptive noise test" showed a distinct improvement with the OPPO's "Noise Reduction" control set as low as 2 (out of 8). Overall, the QDEO's scaling and noise reduction capabilities are among the best I've seen on a Blu-ray Disc player to date.

Not surprisingly, real world viewing material looked downright lovely on the BDP-93. My usual test clips, including the carrier flyover scene in I Am Legend, The Dark Knight's opening pan across downtown Gotham, and the gorgeous landscapes on display in Baraka, all rendered beautifully on the OPPO, with no glaring problems or noticeable artifacts. Popping in the DVD of Gladiator, the QDEO processor displayed its prowess with its expert handling of the tricky coliseum flyover near the end of chapter 12.
Unlike a few other players on the market (notably those from Panasonic, and even OPPO's earlier players), the BDP-93 does not support 24p (24 frames/second) output from DVDs.  This feature is useful if you want to be able to view DVDs, sourced from 24 fps film content, on a TV that supports a native 24p mode.  This capability helps to preserve that film-specific look to motion without introducing motion artifacts.  One could argue that DVDs are not a native 24p format (encoded on the disc at 60 frames/second interlaced) and that is true, but few TVs have the ability to decode the underlying 24p content properly for a 60i input signal and display that content in a native 24p mode.  Normally this content is displayed at a multiple of 60 Hz, which means you get some judder (uneven motion).  So it would be helpful if the player had good 3:2 cadence detection and decoding on-board so it could output 24p content from DVD at 24 frames/second.
The QDEO processor actually has the ability to do this, but OPPO says that they felt that enabling the 24p output from DVDs on this particular chipset would have produced inferior results.  So that feature is disabled.  Really the solution here -- if you find yourself bothered by judder on film-based DVDs -- is to set the player to its "Source Direct" mode, send the DVD output to your processor or TV at 480i/60 and rely on one of these devices to correctly perform the 3:2 cadence detection and correction.  Of course, Blu-rays are supported at 1080/24p output since this is a native encoding option of the format.  Also, few competitive models offer this feature so it's not a major slam, but it is worth pointing out since it is a departure from the earlier OPPO Blu-ray players.
On a final performance note, one additional advantage of that QDEO video processor is that it also benefits the appearance of streamed content, such as that from Netflix and personal content found on your home network. Using the "My Network" icon, I had no trouble browsing and streaming content from the NETGEAR ReadyNAS Ultra 2 Plus I have located in my home office. Directories rendered quickly and both my movie trailers and music files piped in quickly without any observable playback distortion.
Tick Tock

With my trusty Android stopwatch at the ready, I next conducted our standard battery of speed tests. Powering the unit on using the Power button results in an 8-second wait before the OPPO logo page appears. More impressive is that by using the Open/Close button to power the unit on, you need wait only 4.2 seconds before the disc tray is fully extended. That's fast. (Is anyone else picturing Jodie Foster from Maverick? "Was that fast? I thought that was fast.")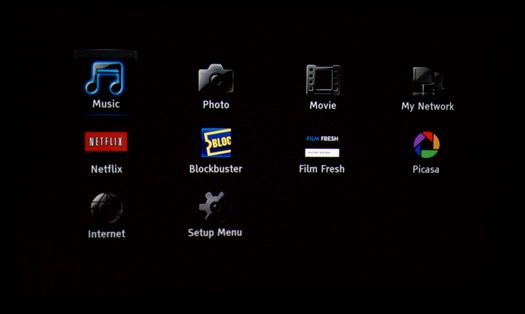 As for disc loading, the test subjects included: a standard DVD (Gladiator), an early non-Java Blu-ray Disc (Sony's Underworld: Evolution), a Java-enhanced Blu-ray Disc (Pirates of the Caribbean: Curse of the Black Pearl), plus Stallone's overwrought, overstuffed Expendables, a disc that can incapacitate some players for several minutes, driving some consumers to the brink of madness before the movie even starts (and it's all downhill from there). As usual, for each load test I started with the unit on and the tray extended; I hit play on the remote and timed how long it was before disc-specific content appeared.
The Gladiator DVD presented its soundtrack menu in under 15 seconds, which is squarely average. However, the Underworld 2 Blu-ray displayed the Sony Pictures Home Entertainment logo in under 14 seconds, a new record, and a full 11 seconds faster than the Toshiba BDX3000. Pirates' gold coin stopped spinning and gave way to the Disney logo after a mere 25 seconds -- about 8 seconds faster than it took the speedy LG BX580 to accomplish the same task. Finally, with BD-LIVE functionality disabled, The Expendables loaded in 1 minute and 16 seconds before revealing the Lionsgate gears, and with BD Live enabled in the OPPO setup menu, disc load time increased only 20 seconds to 1 minute and 36 seconds - a highly respectable time for this particular title. So what's the bottom line here? First, the BDP-93 is fast. Very fast. Also, whoever authored that Expendables disc deserves a punch in the face.

3D? Check.

My review of the BDP-93 happened to occur at a time when I was without a 3D-capable display available, so I cannot speak directly to its abilities in this regard. However, having reviewed Blu-ray 3D players from a few different manufacturers, the quality of the 3D presentation seems more dependent on the display and on the content than anything else. This observation coupled with the OPPO's 2D performance leads me to believe that if 3D playback is something you enjoy, the OPPO is well equipped to serve up your favorite Blu-ray 3D content.  Since there is no gimmicky 2D to 3D conversion feature on-board, we expect the player to handle 3D content transparently, passing along the full HD 3D goodness to your display without getting in the way.  We will update this review in the future if later testing turns up any idiosyncracies with 3D disc playback.



Turn-Ons:
Reference quality picture and video processing performance
Dual HDMI outputs  for connection to two displays to or a pre-3D receiver and a 3D-capable display

Attractive metal faceplate and classy front panel buttons
Rear eSATA hard drive port and RS-232 interface
7.1 multi-channel analog audio outputs for compatibility with older gear

Turn-Offs:
No VUDU, Hulu Plus, Amazon VOD, Pandora or YouTube
Power-on doesn't bring you to the more-useful "Home" screen
Inconsistent menu navigation (left cursor vs. "Return")
Off-axis remote control response could be better
Remote control buttons are a bit too spongy
Final Thoughts

The BDP-93 is easily OPPO's most impressive disc player to date. And while the spit and polish on the OPPO's user interface isn't quite on a par with that of an LG or a Sony, the player makes up for this with its top shelf video performance.  The selection of streaming services is weak, but it has Netflix and that may be enough for many people. In the end, the highest compliment I can give the OPPO is to share this one simple fact: the BDP-93 has taken up permanent residency in my A/V cabinet as my new reference Blu-ray Disc player to which other players shall be compared.
Features and Specifications
Discs supported: CD, DVD, Blu-ray, Blu-ray 3D, DVD-Audio, SACD

Video Upconversion: 720p/1080i/1080p
Supported Audio Formats: Dolby Digital, Dolby Digital Plus, Dolby True HD, DTS, DTS-HD, DTS-HD Master Audio, PCM, DSD (SACD), MLP (DVD-Audio)

Other Supported Media Formats: MPEG1, MPEG2, MKV, WMA, MP3, AC3, AAC, JPEG
BD-Live (Profile 2.0)
Wireless-ready (802.11 b/g/n adapter included)

Internet Streaming: Netflix, Blockbuster, Picasa, Film Fresh
DLNA-compliant network device
Unit Dimensions: 16-7/8" W x 12-1/4" D x 3-1/8" H
Unit Weight: 10.8 lbs
MSRP: $499
Connectivity:
HDMI x 2 (audio and video on both outputs)
Component Video Output
Composite Video
Analog Stereo
7.1 Analog Multi-Channel Audio Output
Optical, Coaxial Digital Audio Outputs
Ethernet Port
USB Ports (1 front, 1 rear)
RS-232 interface (rear)
eSATA port (rear)
HDMI cable included
Company Contact Information
OPPO Digital, Inc.
2629 Terminal Blvd., Suite B
Mountain View, CA 94043
(650) 961-1118

Website: www.oppodigital.com