Toshiba BDX3000 3D Network Blu-ray Disc Player Review
By Greg Robinson
Edited by Chris Boylan
Who's Laughing Now?
"The war's long done. We're all just folk now."
Captain Malcolm Reynolds

On April 18, 2006 Universal Studios Home Entertainment shipped its first HD DVD title, Serenity, Joss Whedon's superb follow-up to the ill-fated gem that was TV's "Firefly." The quotation above is taken from that film, and it seems fitting as I sit here poring over Toshiba's latest and greatest Blu-ray Disc player, the BDX3000. Toshiba and its HD DVD format may have failed to best Blu-ray in the high definition format war, but that hasn't stopped Toshiba from re-grouping, moving forward, and giving us a fast, handsome Blu-ray Disc player that gets a lot of things right without making too large a dent in the wallet.

Consumers currently shopping for a Blu-ray Disc player are looking for solid 2D performance, 3D readiness, integrated wireless, and most importantly - for some, at least - they're looking for Netflix, and myriad internet streaming applications such as Vudu and Pandora. If that describes you, then you'll want to read on as Toshiba's BDX3000 may just be the one you've been waiting for.

The Walk-Around

Unlike Toshiba's bargain-priced BDX2500, the flagship BDX3000 sports a more upscale look complete with touch-sensitive buttons on the front panel. Ironically, when it comes to the buttons, they should have left well enough alone. The right side of the front panel is home to touch-activated controls for Power, Stop, Play and Open/Close. As the Owner's Manual states:

1. These indicators are located in the sensor field.

2. When the unit is off, these indicators are dimmed. If a finger is brought close to the sensor field, the indicators will be invoked and light up.

The first point is correct. The second? Not so much. Allow me to explain. When the unit is off, only the Power indicator is lit, which makes sense. Its red glow makes for an easy target and the unit powers on after applying the lightest of pressure. However, if you prefer to power your player on with the Open/Close button - something most players will allow - you're out of luck. The BDX3000 must first be turned on and only then can you eject the tray. But don't wait too long or the the Open/Close light will disappear after ten seconds or so. And just bringing your finger "close" won't do the trick. In my experience, you actually need to touch the sensor pad to invoke the button lights, and then touch it again to register your button push. They may look slick, but these touch controls had me yearning for backlit hard buttons.

The front panel also features an insanely-bright Blu-ray Disc logo which glows blue at all times. Although you can dim the text area's brightness using the remote control, you cannot dim this logo light without turning off all front panel illumination entirely. I'm not sure if this is some sort of "say it loud and say it proud" statement regarding Toshiba's new role as a Blu-ray hardware manufacturer, but maybe next time we can ditch the bright blue beacon.

On a final note regarding the front panel, it's unfortunate that Toshiba chose to forego a front USB port, opting instead to give us one in the rear only. We do get a front SD card slot, which some folks will surely welcome. The front USB omission is doubly frustrating when you consider the fact that the BDX3000 is a surprisingly versatile media player. Although I was bummed to see DLNA compatibility missing, and I was unable to play DivX HD (AVI) files from my USB stick, I had no trouble with my VOB and MKV test files, and I was even able to play a pair of movie trailers in Apple's QuickTime movie format (MOV). The latter was a pleasant surprise, as very few non-Apple devices play nice with the versatile media format.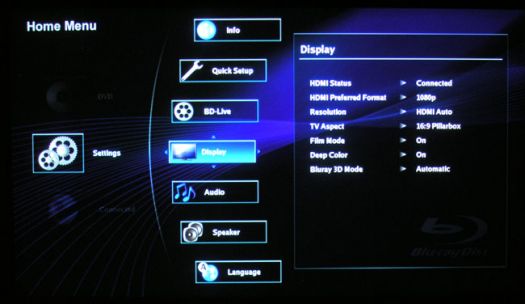 Remote, Control

If there's one area where the BDX3000 falls short, it's the remote control. The central cursor pad is great - but everything else about it, well, let's just say I'm not a fan. I can just see my mom looking at this remote wondering, "What's the difference between Home Menu, Top Menu, and Menu?" And for once, I wouldn't blame her - it's not obvious. Not only are these buttons too far from the cursor pad, but they're also right next to each other, equal in size and shape, making it impossible to determine which is which in the dark, a fact not helped by the remote's complete lack of backlighting.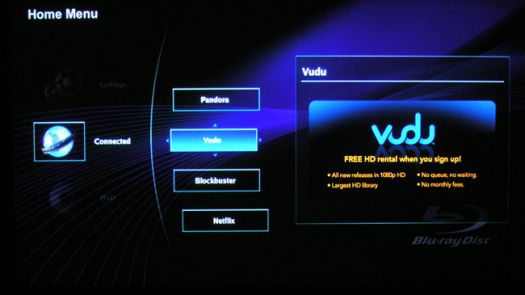 Toshiba's chosen user interface is attractive and reasonably intuitive. One does wonder why they chose the word "Connected" to serve as the road sign for Netflix and the other web apps, but aside from that everything is relatively easy to find. As for those internet applications, Toshiba has outfitted the BDX3000 with Netflix, Vudu, Blockbuster, and Pandora. These pickings are somewhat slim relative to some of Toshiba's competitors, but at least the apps you do get are heavy hitters. Also, fans of Netflix instant streaming will be pleased to know that the BDX3000 features the latest version of the Netflix interface, which allows for title searching and a convenient way to browse the newest instant titles available.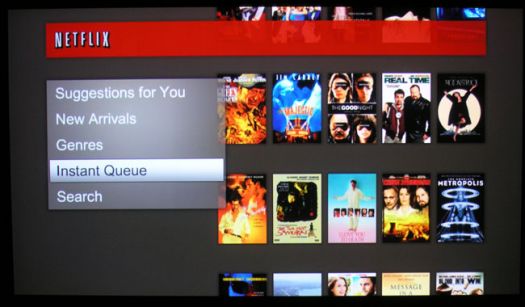 Picture This

After verifying that the BDX3000 was outputting 1080p video, I queued up the DVD and Blu-ray ediitons of IDT's HQV Bechmark 2.0 disc and jumped right into test pattern evaluation. (Note: when evaluating a Blu-ray Disc or DVD player's video process prowess, make sure it's outputting progressive video. You want to be sure that the deinterlacing your seeing is being handled by the player and not your TV.)

On the Video Resolution and Film Resolution tests, the BDX3000 did an excellent job of keeping the rotating white bars smooth and solid during their revolutions and Old Glory revealed only the slightest of stair-stepping as it flapped in the breeze. 3:2 cadence was locked down quickly during the race car lap test, though the 2:2 clip showed some moire noise in the grandstands. Ringing was not apparent and object edges looked crisp during the Resolution Enhancement clips.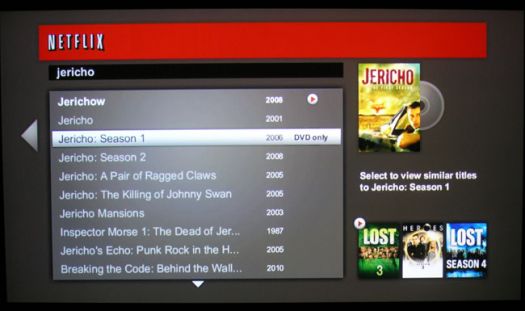 Real world viewing material looked fantastic on the BDX3000. Watching the first 30 minutes of I Am Legend on Blu-ray, I was routinely impressed by the 1080p image put forth by the Toshiba. The interior of Will Smith's fortress apartment revealed wonderful image detail in the kitchen while Sam the dog's fur showed clearly-delineated texture. Watching the Gladiator DVD, I was quite impressed by the Toshiba's steady handling of the tricky coliseum flyover near the close of chapter 12.

Tick Tock

With my trusty Android stopwatch at the ready, I next conducted our standard battery of speed tests. With the unit off, it takes less than 6 (yes, SIX) seconds for the BDX3000 to render its Home screen. As for disc loading, the test subjects included: a standard DVD (Gladiator), an early non-Java Blu-ray Disc (Sony's Underworld: Evolution), a Java-enhanced Blu-ray Disc (Pirates of the Caribbean: Curse of the Black Pearl), plus the latest BD LIVE-stuffed heavyweight, Sylvester Stallone's The Expendables. As usual, for each load test I started with the unit on and the tray extended; I hit play on the remote and timed how long before disc-specific content appeared.

The Gladiator DVD presented its soundtrack menu in 15 seconds flat, which is about average. The slightly more challenging Underworld 2 Blu-ray displayed the Sony Pictures Home Entertainment logo in 25 seconds, which is again fairly average. Pirates' gold coin stopped spinning and gave way to the Disney logo after 41 seconds - not a bad time, but not breaking any records either.  With BD-LIVE "partially permitted," The Expendables loaded in 1 minute and 12 seconds before revealing the Lionsgate gears. Surprisingly enough, this was a full 9 seconds quicker than LG's speedy BX580 which I just reviewed. Bottom line: typical DVD and Blu-ray load times easily fall under the umbrella of "fast," which should keep the "furious" to a minimum.

3D? Check.

If you're looking to jump on the 3D bandwagon, you'll be happy to learn that the BDX3000 is fully compatible with the Blu-ray 3D format. Although it would have been nice to get a second audio-only HDMI 1.3 output on the rear panel, the HDMI 1.4 output you do get means you can output 3D video to compatible display devices, such as Toshiba's 55WX800U (review coming soon). I played with a few 3D titles using this Toshiba duet, and apart from my usual griping about the current state of Blu-ray 3D video, everything appeared to behave as advertised.



Turn-Ons:
Blazing fast system boot time of < 6 seconds
Netflix, Vudu, Blockbuster & Pandora = good times
Excellent de-interlacing and video performance
Analog multi-channel audio outputs
Turn-Offs:
No YouTube, no Hulu Plus, no Picasa, No Facebook
Remote lacks backlighting and is confusing in the dark
No audio-only HDMI 1.3 output
Front panel touch controls are moody; can't use Open if unit is off
Final Thoughts

It should be apparent to anyone who reads consumer electronics reviews that no product is perfect. It's always about trade-offs and compromise. For every nine things a product gets right, there's always going to be at least one thing that annoys you and keeps you from calling it a perfect ten. The BDX3000 gets a lot of things right - a whole lot - and it has quickly earned a spot near the top of my recommended Blu-ray players list. If not for the irksome front panel touch controls and lousy remote, I'd be saying run, don't walk. As it stands though, the BDX3000 is a terrific player, a tremendous value, and proof positive that Toshiba may have been down for a while, but they're far from out.

Features and Specifications
Video Upconversion: 720p/1080i/1080p
Supported Audio Formats: Dolby Digital, Dolby Digital Plus, Dolby True HD, DTS, DTS-HD, DTS-HD Master Audio
Other Supported Media Formats: MPEG1, MPEG2, MKV, WMA, MP3, AC3, AAC, JPEG
Convenience: BD-Live (Profile 2.0)
Integrated Wi-Fi (802.11 b/g/n)
Internet Streaming: Netflix, Vudu, Pandora, Blockbuster
Unit Dimensions: 16.93" W  x 2.52" H x 8.27" D
Unit Weight: 3.89 lbs
MSRP: $249
Connectivity:
HDMI x 1
Component Video Output
Composite Video
Analog Stereo
Analog Multi-Channel Audio Out
Optical Digital Audio Out
Ethernet Port
USB Port (1 rear)
SD Card Slot (1 front)
Company Contact Information
Toshiba America Consumer Products
9740 Irvine Blvd.
Irvine, CA 92618
(800) 631-3811

Website: www.tacp.toshiba.com