Roku Streaming Stick Will Add Instant Audio/Video Streaming to Mitsubishi, OPPO, Onkyo Gear
By Rachel Cericola
Since January, Roku has been talking up its Streaming Stick, a little plug-in device that looks like a small USB thumb drive and puts everything Roku has to offer on other devices.
While there's no price info yet, Roku says that the Streaming Stick will be launching "in the coming weeks." If that weren't enough of a tease, the company put out a list of manufacturers that should be compatible at launch. That preliminary list includes Element Electronics, GlobalVue International, Haier, Hitachi America, Ltd., Best Buy's Insignia brand, Mitsubishi Electric (TVs), Onkyo and Integra, OPPO and TMAX Digital, Inc. (Apex Digital TVs).
While the Roku Streaming Stick may not look all that impressive, this is some very cool stuff. Not only does it pack in access to hundreds of streaming services, such as Netflix, Amazon Instant Video, Pandora, and about 500 other offerings, it event comes packing its own WiFi connection so you won't need to run a network cable to your TV in order to enjoy all that streaming goodness. (Some subscriptions and/or fees may apply for specific services.) In other words, you shouldn't worry so much if that Blu-ray player or TV only has only a few streaming services - or none at all - just add the Roku Streaming Stick and you'll be ready to rock!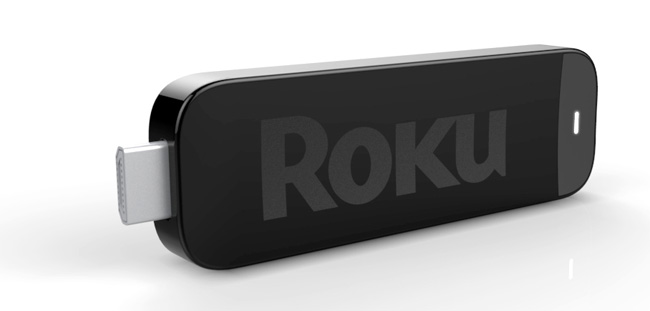 That said, the Roku Streaming Stick features Mobile High-Definition Link (MHL), which looks exactly like HDMI, but isn't compatible with some existing products. The MHL extension to HDMI adds a power connection to the HDMI port so that devices like the Stick can draw power from the port itself, rather than requiring a separate power plug.  For instance, an OPPO spokesperson told us that the Stick won't work with the company's current line of Blu-ray players (which lack any type of HDMI input, MHL or otherwise), but they have new products in the works that will be compatible. Onkyo, on the other hand, has a mess of MHL-enabled receivers in their current line-up (the TX-NR515 AVR and higher).This should allow you to plug the Streaming Stick into a compatible Onkyo receiver and begin streaming audio and video through your home theater system. Onkyo's home-theater-in-a-box products, however, are not currently MHL-capable.
If you're unsure about compatibility, Roku says that new products will start shipping with the "Roku Ready" logo right on the package. The company even plans to bundle the Stick with select, soon-to-be-announced devices.
Besides the built-in WiFi, the Roku Streaming Stick also has its own processor, memory and software -- which will be updated on a regular basis, free of charge. Also, when paired with a TV, the Stick will integrate with the TV's interface, allowing viewers to use the TV remote to tap into all of these streaming goodies.
"The response to the Roku Streaming Stick is tremendous. Consumer electronics manufacturers recognize the value in making products that stream entertainment, yet it is very difficult for them to deliver and sustain a vibrant, robust streaming platform on their own," said Chas Smith, vice president of business development at Roku. "The Roku Streaming Stick adds instant access to the leading streaming platform with virtually no overhead from manufacturers, while giving consumers the best streaming experience available."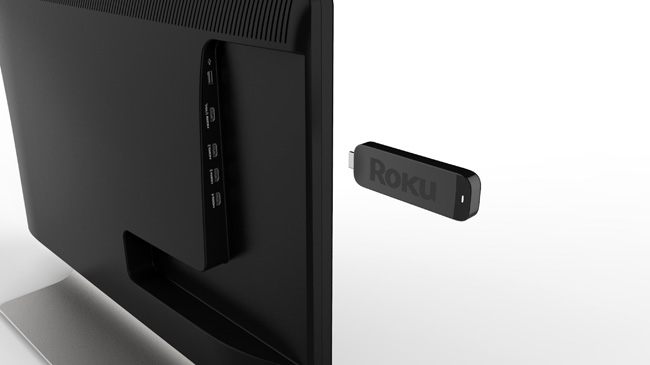 Where to Buy Roku products: