Can't Afford a 4K Home Theater Projector? New Epson Cinema 4000 Does 4Ke and HDR for $2199
By Chris Boylan
When it comes to picture quality, Ultra HD 4K displays with support for HDR (High Dynamic Range) define the gold standard for image reproduction at home. And while you can get those features on flat panel TVs in increasing reasonable prices, finding a home theater projector with support for 4K HDR sources is extremely difficult, at least at an affordable price point.
Last year, projector maker Epson introduced a new line of home theater projectors with support for 4K/HDR sources at surprisingly affordable prices (the Home Cinema 4040 listed for $2,699). This year the price of entry has gone down yet again. Today, Epson announced the Home Cinema 4000: a home theater projector with support for 4K Ultra HD sources and HDR that sells for just $2,199. You might ask yourself, "Self, how can Epson sell a 4K projector for such a low price when most competitive models are $10,000 or more?" And the answer is that these are not really 4K projectors. Wait... what?
The new Epson 4000, like the Home Cinema 4040, 5040 and 6040 announced last year, does support Ultra HD ("4K") sources, but it does so with high definition 1080p imaging chips, not native 4K chips. Epson uses a technique called "pixel shift" to effectively double the visible resolution of the image, compared to a traditional 1080p projector. So it's not native 4K resolution but it does create an image that is sharper and more detailed than a traditional high definition 1080p display. Also, the projector's support for HDR 10 High Dynamic Range means that it can create a more dynamic and colorful image when compared to a projector with standard dynamic range support.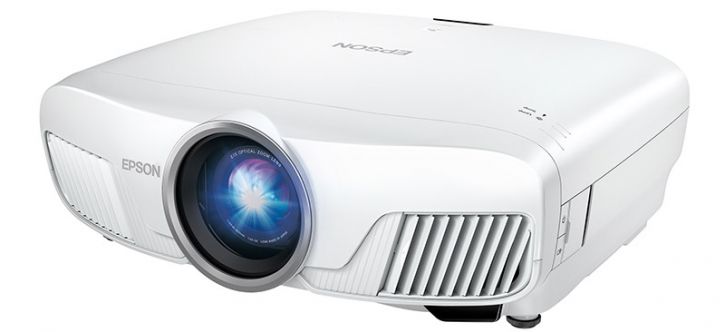 So if you've got a growing library of Ultra HD Blu-ray Discs, you now have a more affordable option to view these movies and shows on a truly enormous screen. The Home Cinema 4000 offers impressive brightness with a rated 2,200 lumens of both white output and color output. Epson says the projector is capable of a maximum contrast ratio of 140,000:1 and it can drive a screen up to 300 inches wide (though you'll need a really dark room if you go anywhere near that large).

The Home Cinema 4000 includes two HDMI ports, one of which is 4K/HDCP 2.2 compliant. The Home Cinema 4000 also features Epson's smart motorized lens assembly with motorized control of focus and lens shift in both the vertical and horizontal domains. The projector's zoom memory feature allows it to shift between 16:9 HD aspect ratio and a more cinematic 2.35:1 Cinemascope aspect ratio (with a compatible screen, of course). Epson also claims that the 4000's Ultra Wide Color Gamut support is capable of reproducing the full spectrum of the DCI/P3 digital cinema standard.
The Home Cinema 4000 ($2,199 MSRP) begins shipping today and is already available to order on Amazon.com. The projector comes with Epson's PrivateLine priority technical support, a two-year limited warranty (90 days on lamps), and free next-day exchange with Extra Care Home Service.
Order on Amazon.com:
Editor's note: an earlier version of this article stated that the projector had an optical digital audio output, but we have since confirmed with Epson that this was an error in the press release.
Related Articles: