Murder on the Orient Express Review
By Lora Grady
Locomotive for Murder
Kenneth Branagh, who burst onto the scene 30 years ago with a pair of films ("Henry V" & "Dead Again") that had critics labeling him the next Orson Welles, has returned to the director's chair with a new version of "Murder On the Orient Express," in which he also plays iconic Belgian (not French!) detective Hercule Poirot. Based on Agatha Christie's classic 1934 novel, it's a locked room murder mystery that takes place in close quarters aboard a luxury passenger train en route from Istanbul to Calais. The film is great fun, with a top-notch cast and a performance by Mr. Branagh that humanizes a character who's become famous for his tics and aphorisms. But "Orient" is ultimately just a light entertainment, despite occasional moments of flair that recall the upstart young filmmaker who had critics in such an uproar.
Poirot has made a name for himself as a detective who can solve the unsolvable; thus he is constantly in demand at far-flung crime scenes in all manner of exotic locales. He's obsessed with balance, alignment, and order, a keen observer who quickly analyzes clues and discerns guilty behavior because, as he puts it, "I only see the world as it should be."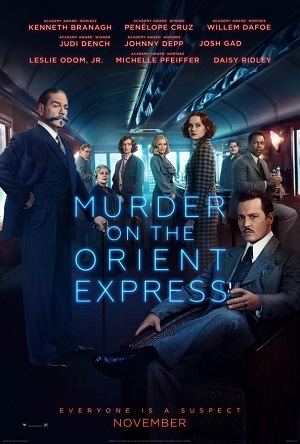 On his way to yet another crime scene Poirot finds himself on the Orient Express as a guest of railway company manager Bouc (Tom Bateman), where he meets a disparate cast of characters including gangster Edward Ratchett (Johnny Depp, "Black Mass") and his right hand man MacQueen (Josh Gad, "Beauty and the Beast"), fresh-faced governess Mary (Daisy Ridley, "Star Wars: The Force Awakens"), earnest physician Dr. Arbuthnot (Leslie Odom Jr. of "Hamilton" fame), aging beauty Mrs. Hubbard (Michelle Pfeiffer, "mother!"), a nun (Penelope Cruz, "Pirates of the Caribbean: On Stranger Tides"), and an assortment of royals including Judi Dench ("Philomena") as an elderly, overindulged princess.
A murder takes place amid the opulent surroundings of the first-class passenger car, and Poirot is of course called on to identify the culprit. Did someone sneak aboard the train to commit the dastardly deed? Or is the murderer one of the passengers, and thus still among them?
Agatha Christies' material is so often referenced and remade that those who have never actually read her novels or seen her stories may think that it's all terribly familiar, even a bit clichéd. But there's an elegance and wit to her work that Mr. Branagh captures commendably, both with his direction and with his portrayal of Poirot, and even those who know "whodunit" can enjoy his fresh take on a classic.
The large cast works together seamlessly, with Ms. Pfeiffer and Mr. Gad standing out in particular for their shading of what would otherwise be fairly two-dimensional characters. It's also a pleasure to see Mr. Depp buckle down and focus for a change (I scribbled in my screening notes, "Yay! Someone's actually directing Johnny Depp!"). A scene where Ratchett attempts to charm and then intimidate Poirot is a brief but effective reminder of how much the now-veteran actor can do with virtually any kind of material when he's not bogged down with special effects or playing to the rafters.
Mr. Branagh is effortlessly entertaining as Poirot, tripping lightly over the wittily pompous dialogue but also finding the weary sadness that lurks in the brilliant detective's depths. He evinces an equally light touch behind the scenes, though he still sprinkles in a few moments that hint at the studied young filmmaker he once was. There's a tidy tracking shot that captures Poirot as he makes his way down the first-class train car in search of his compartment, at the same time introducing other characters and presaging important clues based on who's quartered where. And cinephiles will delight in the neat use of static overhead shots to show the conversation taking place among several characters in close quarters as the crime scene is discovered.
We may still be waiting for the next grand flourish from Mr. Branagh; until that arrives, "Murder on the Orient Express" is an entertaining offering, and a perfectly proper distraction.