Logitech Squeezes Out 2 New Squeezebox Products
By Rachel Cericola
Logitech
is using the power of Wi-Fi for its two new Squeezebox devices. The Squeezebox Radio and the Squeezebox Touch are two Wi-Fi music players designed to wirelessly deliver a variety of musical choices, including free Internet radio, personal digital music files and music subscription services.
"Digital music and the Internet have radically changed how we discover, share and listen to the music we love," said Sam Feng, product marketing director of Logitech's Streaming Media business unit. "Now, millions of people are downloading music through iTunes and listening to Internet radio stations and music services and our newest Logitech Squeezebox Wi-Fi music players bring it all together. Just plug one in and you can be ready to discover and enjoy music from around the world."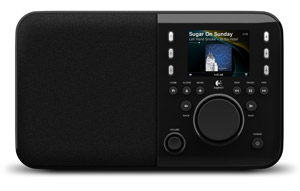 The Squeezebox Radio packs big sound into a small package. Measuring 5.12 by 8.66 by 5.04 inches, the unit features a 3/4-inch tweeter and a 3-inch woofer. Plug it in, connect it to your home network, and you'll instantly be streaming thousands of free radio stations from around the world. If you need more, you can pay a few extra bucks for the priviledge of streaming DRM-free iTunes Plus downloads, Napster, Pandora, Rhapsody, SIRIUS, and Last.fm.
Squeezebox Radio features six presets, which can keep track of your favorite songs, web radio stations or playlists. Other features include a built-in clock, 3.5 mm jack, and a color screen to display album art, track and station information, visualizers and more. It's also got an optional battery pack, which allows you to blast stations anywhere in the house, for up to six hours.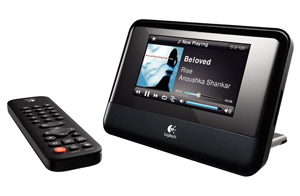 If you need something to rub your greasy fingers all over, the Logitech Squeezebox Touch invites you to smudge up a storm. The 4.3-inch color touchscreen provides access to all of the same content as the Squeezebox Radio, adding in music and photos from an SD card or external USB device. Promising sampling rates of up to 24 bits at 96 kHz, this unit hooks to your existing speakers
and
your home network. It can also sit nicely on a tabletop or you can wall-mount it with an optional bracket ($99.99, coming in December).
Both units can also stream digital music files from any networked computers. If all of that is not enough to keep you entertained, you can also log into Facebook and Flickr, where Squeezebox users can share friend status updates, recommendations and full-color photos right on the display.
Logitech's Squeezebox Radio should start shipping this month for $199.99. If you move fast, you can even get a limited edition one in red. The accessory pack, which includes a battery and an IR remote, will be available in November for $49.99. The Squeezebox Touch will hit shelves shortly after in December, for $299.99.
Also Check Out:
Where to Buy: