Logitech Squeezebox Boom Wi-Fi Internet Radio Review
By Chris Boylan
Squeezebox Boom Review
The World at Your Command
You don't have to be a Nowhere Man to appreciate the Squeezebox Boom from Logitech. It's a streaming media player that accesses music stored on your PC or network as well as content from the Internet at large - not just streaming radio stations, but content from online services such as Pandora, Slacker and Rhapsody. And it doesn't require a Ph D. in Computer Science to operate and set-up, although that does help.
The Set Up
If you've ever set up a laptop or other electronic device for wireless network access then you should be perfectly capable of getting the Squeezebox Boom up and running. First up, you will need to install the included Squeeze Center software on a PC that's accessible to your network and accessible to the internet.  This will allow your Boom to connect to your local music files.  If you have no interest in streaming local files (and want "nothing but 'net") then you can skip that part, but you will still need to set up an account on the Squeeze Network which is your portal to all things internet-based.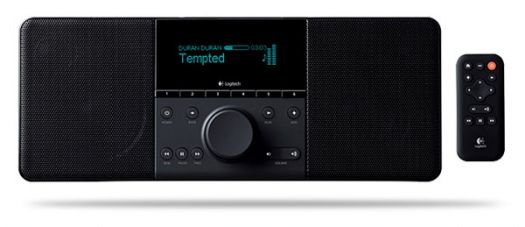 After installing Squeeze Center, setting up an account and adding my existing Pandora account, as well as some details about location and such, I was ready to power up the Squeezebox Boom. From my bedroom, I was able to get the Boom connected to my home network in just a few minutes, providing my WEP key and telling the box to automatically obtain an IP address. Once it was connected, I started surfing the vast ocean of Internet Radio stations (several thousand stations are currently available).
Internet radio stations can be accessed geographically (by country, state,  city), or by genre. You can also search directly by call letters.  My wife was impressed when, after a couple of minutes, I had accessed three different stations of traditional and modern Portuguese music, direct from Lisbon. We were about to head to Portugal on vacation and this helped to get us in the mood (hey, I'm talking about traveling here, get your minds out of the gutter!). I also found a local station from college (WPDH in Poughkeepsie) as well as one from my misspent high school days (Rock 101 WGIR from Manchester, NH).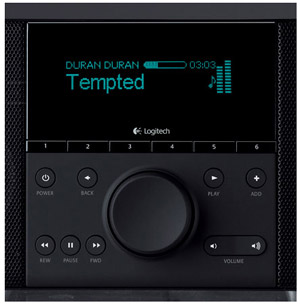 When I got tired of Portuguese music and reminiscing, I headed over to Pandora for some classic 80s new wave (well actually I guess that's just more reminiscing), and then got a little more modern with "Coldplay Radio" (another of my Pandora stations). In case the enormous selection of internet radio stations is a little overwhelming, you can check out Logitech's staff picks, available in the Squeeze Center on your PC or Mac, as well as on the Boom itself. I also browsed and listened to my PC's music library from the Boom, which can be sorted by title, by genre or by artist, based on MP3 id3 tags (assuming your music files have this meta data embedded).
The Sound
Playback of internet radio stations, locally streamed music files and Pandora was virtually glitch-free and sounded like decent quality MP3s (which is basically what most internet radio stations are). Music in my own collection ripped at 320 KBPS sounded a bit better than most internet radio station and Pandora which use much lower encoding rates.  For real purists, the Boom supports playback of losslessly encoded music files including FLAC, WMA Lossless and Apple Lossless, in addition to traditional MP3, WMA, AAC, WAV, and AIFF encoded music files.
The built-in speakers go louder and deeper than I expected, considering the size of the unit. Bass guitar and drums have a nice solid heft without being overly boomy (no pun intended) and high frequencies like strings and cymbals sound crisp without getting too harsh or brittle. Midrange like vocals and guitars come through clearly and naturally.  For comparison, the Squeezebox Boom sounded significantly fuller and more refined than my similarly sized Proton clock radio (a fairly expensive piece in its day).
Put Some Real Boom in Your Room
In case you want to make the Boom sound even better, you have a couple of options. There is an output on the back that can be used for headphones or as a line out or for an external powered subwoofer (switchable in the set-up menu). If you set it to "headphones" then you can use this output for external headphones or to connect the radio to a stereo or home theater system using a standard minijack to stereo RCA plug adapter.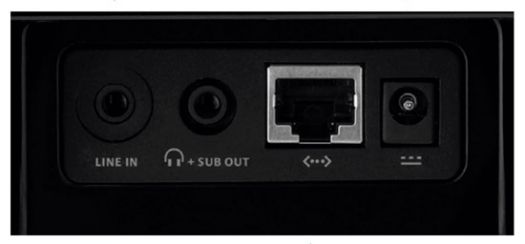 If you set the output to "subwoofer" then the main speakers are still active but low bass information is sent out to an external subwoofer. I hooked up a powered NHT subwoofer from their PC Hifi Pro line (the "s00"), and it blended well with the Boom's own speakers, providing those deep lower registers that small speakers can't possibly reproduce. This brought the sound of the Boom from very good to excellent and made me miss my main HiFi rig downstairs a whole lot less.
The unit also features a line input (standard 3.5mm headphone jack) which you can use to connect a portable media player, CD player, TV or anything else with a line or headphone output. You select the line input from the "Extras" menu using the remote or front panel controls.
But Wait, There's More!
And speaking of extras, in addition to being a full functioned streaming audio player and internet radio tuner, the Squeezebox Boom is also an alarm clock. In the top level of the set-up menu there is an option to set alarms which can be assigned to play back an internet radio station, a playlist or service like Pandora, or you can select one of the sound effects accessible on the Squeeze Network, like a crackling fire or (my favorite) a rooster crowing. The Boom has a fail-safe in that if it cannot connect to the Internet, it will revert to a standard alarm tone instead.
For the most part, the alarm feature works well. You can set multiple alarms and schedule which days they come on, which is nice if you prefer not to be awoken at 6:30 AM on a Saturday by a virtual rooster. I did have one or two occasions where the Boom got into a bit of a tizzy during its operation, saying it was downloading new firmware, rebooting itself and carrying on like this for several minutes. And on one occasion this process caused the Boom to "forget" the alarms that had been set (though they were restored later). Because of this and the relatively complicated alarm setting process, as well as the bizarre 1-minute snooze time, I would not recommend the Boom as your primary alarm clock, unless you have a tolerant boss who doesn't mind you showing up late once in a while. But there's something to be said for waking up to your favorite "local" radio station even if that particular station is 3,000 miles away.
Use it or Lose it
The Logitech Boom does a lot, accessing music from the internet and your home network, as well as displaying news and stock tickers and RSS feeds.  While the music plays you can choose a "screen saver" such as song/album title or a spectrum analyzer or an analog VU meter that displays the music peaks visually like an old-fashioned tube amp (a trademark Squeezebox feature since the early days).  You can also bring up sound effects like crashing surf, a babbling brook or rainfall and easily set a sleep timer using the top button.  This can help mask external sounds as you drift off to sleep.  With all these options and features, usability and menu navigation is critical and Logitech handles this pretty well.
The included remote offers 4-way navigation buttons to move up and down in and out of menus.  On the unit itself a large round dial provides menu navigation while other buttons allow you to quickly store or access favorite internet radio station or services.  Although there are dedicated volume up/down buttons I kept expecting the big dial on the unit to be a volume control instead of menu navigation.  And actually the dial does  transform into volume control while a song or station is playing -- an intelligent choice on the part of the designers.
Turn Ons
Great sound for the size, upgradeable using external powered subwoofer or powered speakers
Easy to navigate through a wealth of content
Simple set-up if you're at last passingly familiar with computers and networking
Built in Wi-Fi
Turn Offs
Unexpectedly entered a lengthy firmware upgrade loop on a few occasions but always recovered
Not the least expensive internet radio on the market
1-minute snooze???
Final Thoughts
The Squeezebox Boom will open you up to a wealth of musical choices from all over the world including your own home network.  It offers excellent sound quality for its size and an easy to navigate user interface.  $299 for a table radio may seem a bit steep but, as they say, you get what you pay for.
System Requirements
SqueezeCenter minimum system requirements:
256 MB RAM and 80 MB available hard disk space
Ethernet or 802.11b/g wireless home network
Broadband Internet connection required for Internet radio and music services
SqueezeCenter suports the following operating systems:
Windows® XP/2000/NT, Windows Vista®, 733MHz Pentium
Macintosh OSX 10.3.5 or later
Linux/BSD/Solaris (Perl 5.8.3 or later)
Technical Specifications
3/4-inch (1.9 cm) soft-dome tweeters and 3-inch (7.6 cm) long-throw woofers
Bi-amplified design with signal processor, class D amplifiers and digital crossovers
Stereo XL™ technology widens the sound stage beyond the physical boundaries of the speaker
6-button presets allow one touch access to favorite radio stations and playlists
7-day alarm clock
Infrared remote control
Bright, high-contrast VFD display with ambient light sensor and automatic dimming
Built-in 802.11g wireless with dual internal antennas
10/100Base-T Ethernet port
Line-in via 3.5 mm stereo jack
Headphone/Subwoofer out via 3.5 mm connector
Plays MP3, AAC, WMA, Ogg, FLAC, Apple lossless, WMA lossless, WAV, and AIFF music files
Connects to your home network to access music stored on your computer via SqueezeCenter, and Internet radio and music services via SqueezeNetwork™
What's in the Box?
Squeezebox™ Boom network music player
AC adapter
Wireless infrared remote with battery
Quick-start guide
2-year limited hardware warranty
Manufacturer's Contact Information:
Logitech Inc.
6505 Kaiser Drive
Fremont, CA 94555
(800) 231-7717
Web site: www.logitechsqueezebox.com
Where to Buy: