LG Adds Netflix Streaming to HDTVs with NetCast Entertainment Access
By Rachel Cericola
Why throw an extra box into your A/V mix? Unless you have your Blu-ray player multitask, you probably don't want to squeeze in another component for Netflix online streaming. LG has your space limitations in mind.

Building on its existing partnership with Netflix, the manufacturer just announced that they are now shipping two HDTVs that can instantly stream the online movie service's titles. First announced at CES in January, the 47-inch 47LH50 LCD ($2,100 MSRP) and the 50-inch 50PS80 plasma ($2,100) each feature LG's NetCast Entertainment Access feature. That means no external device is required to tap into more than 12,000 movies and TV shows in the Netflix library of online streaming titles.

The 42-inch 42LH50 LCD ($1,700) and 60-inch 60PS80 plasma ($3,200) will join that crop this summer.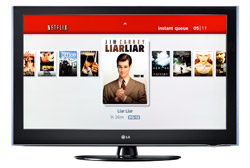 Users can then access an existing Netflix account via an on-screen menu. However, the system won't allow you to add new queue selections at this time; as with other Netflix-ready CE devices, that task needs to be done via the Netflix website. But once added to your "Watch Instantly" queue on the Web, they'll show up just about immediately on your TV, and you can use your TV's remote to browse and make a selection, as well as read about and rate movies.
Of course, if you're in the market for something besides a TV, LG also offers Netflix streaming through two Blu-ray players (the BD370 and the BD390) and two network theater packages (the LHB953 and the LHB977). To tap into Netflix, you will need a subscription, which starts at $8.99 per month for at-home rentals and unlimited streaming.
Aside from Netflix, LG's NetCast Entertainment Access also includes YouTube access and news, stock and weather updates via Yahoo! TV Widgets.
Where to Buy:

For More Information: