LG BD300 Network Blu-ray Player Review
By Chris Boylan
LG BD300 Network Blu-ray Player
Beyond the Blu
It's not easy being a Blu-ray player. With its predecessor, the DVD, all we cared about in a player was picture and sound quality and reliable, smooth operation. Now, just a few short years after the format's launch we expect more from a Blu-ray player: high quality 1080p picture, support for the latest surround sound formats, faster operation, internet access? Sure, we've got all that. But what else ya got? And for LG, that "what else" is Netflix online streaming and, as of a recent firmware upgrade, YouTube access, in the BD300 Network Blu-ray Disc Player.
LG sent out a nice package to reviewers including a box of Junior Mints, a film canister housing a color brochure and a Netflix envelope with Iron Man BD in there as well as a 2 GB flash drive for those who want to take advantage of BD-Live features. (Sorry, next reviewer guy, I ate all the Junior Mints). It would be nice if they included a 2GB flash memory drive in the box for the consumer but few CE manufacturers are doing this, even though the costs are fairly low.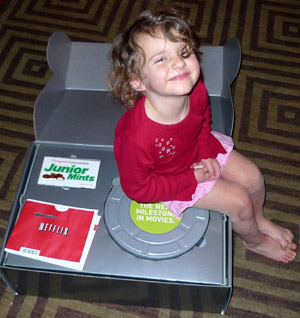 It's a Dessert Topping. It's a Floor Wax. It's both!
Any time a consumer electronics component tries to serve two purposes, I'm reminded of that classic Saturday Night Live skit about Shimmer, the amazing floor wax/dessert topping. Can a Blu-ray player also act as a movie streaming, internet video-viewing set-top box? In the case of the LG BD300, it certainly can, and it makes a lot of sense to incorporate online streaming into a Blu-ray player. The player already has high definition video circuitry, high quality audio circuitry and a network connection. So the only thing LG needed to add in order to support online movie streaming was the Netflix software and YouTube front-end, and that they have done in the BD300.
The Netflix online streaming feature allows Netflix customers to instantly watch movies and TV shows on their internet-connected BD300 player. The selection is fairly limited, compared to the vast library of over 100,000 shows and movies available for rent on DVD and Blu-ray from Netflix. But still, Netflix claims over 12,000 titles are available online, including a fair number of major films and larger independent fare, as well as a good selection of recent TV shows. And the best part? It's all free.
Netflix customers subscribing to one of the "unlimited" rental plans are welcome to watch as many films and shows online as they like, with no "per title" fee. These plans start at $8.99/month for one DVD rental at a time or $9.99/month for one Blu-ray rental at a time. Some of my friends, looking for ways to cut expenses, are cancelling their cable and satellite services, switching over to free over-the-air HDTV channels, combined with a basic Netflix plan for movie rentals and online streaming. In just a few months, they'll save enough to pay for the player as well as a year's supply of popcorn.
If It's Not 1080p, It's Crap! (Or is it?)
In terms of video and audio quality, the Netflix online streaming definitely lags behind Blu-ray but can approach DVD quality on some titles. Generally speaking, online streaming titles exhibit slightly muted colors, some visible compression artifacts and significantly less detail than we see on Blu-ray Disc. There's only so much audio and video information you can fit over a typical home broadband connection. Even still, most of the titles we sampled, from TV shows to recent small and big budget movies, were eminently watchable, even on large high resolution screens.
Most of the Netflix "instant queue" titles are available in standard definition, some presented in 4:3 aspect ratio with black pillar box bars on the sides, and some in 16:9 widescreen. There are a few dozen high definition titles available and these are noticeably sharper with slightly more saturated colors than the SD titles. All of the HD titles are presented in widescreen. Currently sound is limited to two channels (stereo) though you can extract matrixed surround (e.g., Dolby Pro Logic) from some titles. For more details on the quality and operation of the streamed titles, check out our more detailed review of Netflix online streaming.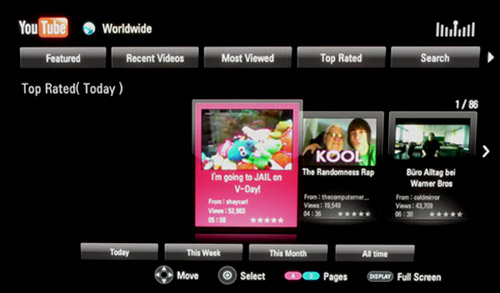 As far as YouTube viewing goes, the YouTube front-end on the LG player is pretty robust, allowing you to view featured videos, most popular, highest rated or search all of YouTube for specific videos. You can even login to view your favorites. By default, videos play in a small viewer (like on a PC or Mac), but by hitting the Display button on the remote you can instantly enlarge the videos to full screen. I was actually surprised at how good some YouTube videos looked, considering how heavily compressed most YouTube material is. LG must be doing some pretty fancy upconversion here. Of course, most YouTube material will look fuzzy when you blow it up to full screen, and the motion can be a bit jerky compared to DVDs, or even to Netflix streamed content, but this is more due to the quality of the actual low resolution YouTube recordings, not a shortcoming in the player.
The Set-Up
The LG's menus are pretty simple and straightforward. I did most testing with HDMI video resolution set to 1080p and 24 Hz (24 frames per second) with an HDMI cable connected through an Integra DTC-9.8 preamp/processor into one of three different 1080p displays (a Pioneer, a Panasonic and a VIZIO, at various times). For audio, I alternated between bitstreamed output (which LG calls "Primary Pass-Thru") and multi-channel PCM, where the player decodes Dolby and DTS codecs to multi-channel PCM over HDMI. Unfortunately the player cannot decode DTS-HD directly to PCM (it uses the lossy DTS "core" instead), but it's perfectly happy streaming DTS-HD to a compatible receiver over HDMI.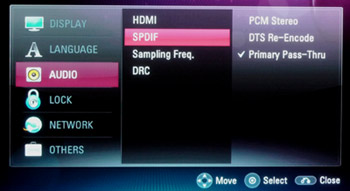 One nice audio feature on the LG player absent from many other players, is "DTS Re-encode." This feature is specifically for use with older surround sound receivers which do not include HDMI audio decoding. With DTS Re-encode engaged, the player will remix multi-channel PCM and Dolby soundtracks to standard multi-channel DTS digital output. This way you can enjoy discrete multi-channel surround sound from any soundtrack using a standard fiberoptic or coax digital connection to your receiver. On most Blu-ray players, the SPDIF outputs (coax/fiber) are limited to 2-channel output when playing back multi-channel PCM soundtracks, but on the LG, you can still get a discrete 5.1-channel digital mix from these tracks. Of course, the output is not "lossless" but it is certainly better than 2-channel PCM. The DTS Re-encode feature is also available for the HDMI output, but the need for this is much more limited.
The only other set-up required was to enable dynamic network addresses (DHCP) so that the player could connect to my home network and out to the internet.  This worked perfectly with my Linksys network router.  I also needed to obtain the unique Netflix code I would need to enable the player on my Netflix account for online streaming. This is generated the first time you attempt to connect to Netflix from the player.  And lastly, I plugged in the 2 GB USB flash drive into the USB slot in order to take advantage of the (mostly lame) BD-Live features available on some Blu-ray Discs.
Oddly, LG chose to put the USB port behind a hidden door on the front of the unit, which means your flash drive will be protruding from the front of the player, breaking up the otherwise elegant lines. LG says they did this for convenience when temporarily viewing photos or listening to music from a flash drive, but I think it looks a little goofy. Hopefully they'll move this to the back, or add a second USB port to the back of upcoming models for those of us who want to leave one connected for BD-Live.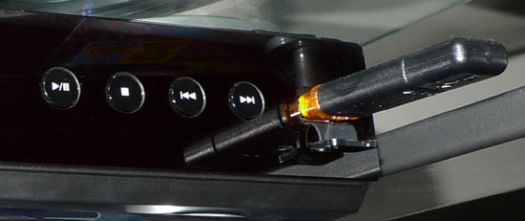 Over the course of my review, I was notified of two firmware upgrades automatically when powering up the player. One added HD support for Netflix online streaming. The other update enabled YouTube. Each update went smoothly and quickly completing in just a few minutes.
It's Also a Blu-ray Player
With all the excitement about the online streaming capabilities, you might forget that the BD300's primary purpose in life is to play shiny silver discs, be they CDs, DVDs or Blu-ray Discs. And as such, it actually serves quite well. What I noticed first, before even settling in for any critical viewing or testing, was just how quick the player loaded discs. Being an early adopter, I remember well the slow load times on first generation HD DVD and Blu-ray Disc players. It got to the point where I'd insert a disc and press play, then take a bathroom break, make some popcorn and maybe do the NY Times crossword puzzle while waiting for the disc menu to load. Not so with the BD300.
Play Time
In terms of boot-up and disc loading times, we timed a few common tasks on the BD300 and compared these to the fourth generation Panasonic player (DMP-BD55) and the Sony PS3 as well as the Netflix-enabled Samsung BD-P2500. The initial boot-up time of the BD300 is about 24 seconds from fully off to the "LG/Netflix" splash screen. And during the start-up, we're treated to a nice animated loading screen, as opposed to some players like the Samsung BD-P2500, which revert to no output during parts of the start-up process.
This 24-second start-up is about 5 seconds faster than the newest Samsung player and comparable to the Panasonic BD55 (but slower than the PS3). When there is a disc previously inserted in the player (basic, non-Java disc - we used Hitch), the combined boot/load time comes in at around 47 seconds - that's 13 seconds quicker than the Samsung player, and just a few seconds slower than the Panasonic.
When the player is already powered on, the disc loading times plummet. Hitch (Blu-ray) loads the disc's Sony Pictures splash screen in a nimble 13 seconds and gets to the disc menu in about 30 seconds, as opposed to 29 seconds on the PS3. Loading a standard DVD (Gladiator) takes just about 11 seconds which is significantly quicker than any other Blu-ray player we've measured, including the PS3.

When you add in a BD-Java menu to a Blu-ray Disc, things slow down a bit, but not as much as you might expect.
Pirates of the Caribbean: The Curse of the Black Pearl
-- a notoriously slow-loading disc -- loads in about 34 seconds, versus the BD55 at 45 seconds, and the PS3 at 40 seconds. We measured this by inserting the disc into the tray, pressing play and measuring until the Walt Disney logo appeared on the screen (after the spinning coin). So, overall, the BD300 is one of the quickest Blu-ray players on the market to load DVDs, standard Blu-ray Discs, and BD-Java-enabled discs.
Testing, Testing
First up for rating the video quality of the player was the Silicon Optix HQV test discs - the standard DVD for rating 480i to 1080p upconversion and the 1080i Blu-ray for testing the player's HD de-interlace processing. On the standard def DVD, the player did pretty well, with good transition between light and dark on the color bar tests and correct reproduction of the narrow detail lines. On the jaggies tests, the player exhibited some stair-stepping distortion on the lowest of three moving bars, but nothing serious. This mild diagonal line distortion was also visible in the waving flag test.
On the motion adaptive noise reduction test, there was some noise visible in clouds and a slight digital haze that is absent on some higher performance players such as the Samsung BD-P2500 with its built-in HQV processing. The BD300 did perform well on the film detail test, locking to the inherent 3:2 film cadence quickly and preventing the moiré that occurs with lesser players. Also, on the mixed content test, scrolling video titles overlaid on a film-sourced background were reproduced cleanly with no sign of tearing or combing. Overall, these results are indicative of good but not excellent upconversion of standard def content to HD resolution. And these results were borne out by actual film content on DVD as well.
Moving onto the Blu-ray version of the HQV test discs, the BD300 did have some problems de-interlacing 1080i test signals into 1080p, on both the film resolution loss test and the video resolution loss test. The result was strobing of the single pixel high lines in the corner boxes of the HQV test patterns. Switching the player over to 1080i output, and allowing our 1080p plasma display to do the de-interlacing produced a rock solid 1080p test pattern. Fortunately the amount of content available in 1080i on Blu-ray disc is fairly small (mostly nature documentaries and many concert titles), but if you do own any 1080i Blu-ray Discs, you'd be best off switching the player's output resolution to 1080i when watching these titles and leave it at 1080p output for the rest.
I Like to Watch
When switching over to regular 1080p Blu-ray movie-watching, the player performed well, capturing the excellent detail, contrast and saturated colors of which the format is capable. We hit the player with a number of Blu-ray Discs, including Disney's gorgeous Sleeping Beauty remaster, The Dark Knight, Blade Runner: The Final Cut, and even some of the recent Bond remasters that have caused problems with some players (e.g., Dr. No, Live and Let Die). Happily the BD300 cruised through all of these titles without a hitch. Well OK one small hitch - when playing Sleeping Beauty's DTS-HD Master Audio 7.1 soundtrack over HDMI in "Pass-Thru" mode, once we got no sound and only "DTS" displayed on our preamp/processor's display. But stopping and restarting the disc eliminated the problem and let the rich multi-channel lossless DTS-HD sound shine through.
Otherwise the player performed well. In comparison with the Panasonic BD55, the LG player was much nimbler at getting in and out of set-up menus while playing a disc and then resuming play on the disc. If this is your first Blu-ray player you may not even notice the difference between a Blu-ray player and a DVD player in terms of loading speed and menu interaction, and this is as it should be. Of course, if you should choose to check out BD-Live content, then all bets are off. But the long delays on viewing and delivering BD-Live content are more dependent on network speeds, sluggish content servers and perhaps less than optimized BD-Live application development. Even the mighty PS3 suffers from significant delays when viewing BD-Live content so it would be unfair to single the LG player out for poor BD-Live performance.
Turn Ons
Netflix Online Streaming and YouTube access without a PC
One of the quickest Blu-ray players to load Blu-ray Discs and standard DVDs
Decent Upconversion of Standard Def content
Turn Offs
Unable to properly de-interlace 1080i content on Blu-ray Disc to 1080p
Odd placement of USB port for BD-Live
No on-board decoding of DTS-HD
Final Thoughts
With Blu-ray players, it's only natural to want to split hairs on video performance, trying to squeeze every last drop of detail out of Blu-ray Discs. But the fact is that the differences between the performance of different players on 1080p/24 Blu-ray Discs (which encompass the vast majority of available titles) are fairly minimal. Even an average Blu-ray player represents a huge quality upgrade over standard def DVD.  The BD300 does have issues with deinterlacing 1080i content and it is bested by some players at DVD upconversion, but it's the added value features -- namely Netflix Online Streaming and YouTube -- that put this player into a different category. And it does this for a list price of only $350 which represents only a minor price premium over more basic players.
If you want a player that makes the most of 1080p Blu-ray Discs and also allows you to watch a large selection of video content on demand, all without the need of hooking up a computer to your TV, then the BD300 is a worthy contender for your high def dollars.
Note: Although the player was only released last fall, it seems fairly hard to find right now, as stock dwindles in preparation for LG's upcoming models, the BD370 and BD390.  If LG can improve the 1080i video performance while maintaining the network features and disc loading speeds, they'll have real winners on their hands in the new models.
Where to Buy:
Manufacturer's Specs:
| | |
| --- | --- |
| TV System | |
| Pal Playback / NTSC Playback | NTSC/PAL |
| Disc Playback Capability | |
| Disc Capacity | 1 |
| Blu-ray Disc™ | Y |
| DVD | Y |
| DVD-R | Y |
| DVD+R | Y |
| DVD-RW | Y |
| DVD+RW | Y |
| CD | Y |
| CD-R | Y |
| CD-RW | Y |
| JPEG | Y |
| MP3 | Y |
| Picture | |
| Progressive Scan | Y |
| Audio DAC | 192KHZ/24bit |
| Video DAC | 108MHz/10bit |
| Sound | |
| Built -in Dolby & DTS Decoder | Y |
| Built -in MP3 Decoder | Y |
| Stereo Speaker Output(R-L) | Y |
| 3D Surround Sound | Y |
| Features | |
| Auto Play | Y |
| Zoom Function | Y |
| Marker & Marker Search | Y |
| Last Condition Memory | Y |
| X2 Soft Scan | Y |
| Smooth Scan & Slow | Y |
| Video Capabilities | |
| Composite Output | Y |
| Component Output | Y |
| HDMI Output | Y |
| Audio Capabilities | |
| Dolby Digital Audio | Y |
| Digital Audio Output | Y |
| PCM | Y |
| Dolby Digital | Y |
| Dolby Digital + | Y |
| Dolby True HD | Y |
| DTS | Y |
| DTS-HD | Y (bitstream) |
| MPEG 1/2 L2 | Y |
| MLP | Y |
| DVD Playback Features | |
| Resume | Y |
| Parental Lock | Y |
| Aspect Ratio Selection | Y |
| Chapter Skip (REW/FWD) | Y |
| A-B Repeat Play | Y |
| Subtitle Still | Y |
| Repeat Play | Y |
| Search/Slow/Step Skip for REW & FWD | Y |
| Rear Panel Inputs & Outputs | |
| Digital Audio Out (Optical) | Y |
| Digital Audio Out (Coaxial) | Y |
| Component Video Out (Progressive Scan) | Y |
| Composite Video & Audio L/R Out | Y |
| Audio L/R Out | Y |
| HDMI Out | Y |
| Dimensions | |
| Width x Height x Depth | 16.9" x 2.3" x 10.9" |
| Weight Out of Package | 6.8 lbs. |
| Warranty | 1 Year Parts |
Company Contact Information
LGE US (LG Electronics U.S.A., Inc.)
1000 Sylvan Avenue
Englewood Cliffs, NJ, 07632
Tel: 201-816-2000
Fax: 201-816-0636
On the web: us.lge.com/bluray