The Site for Home Theater and Movie Reviews
LG 47LE5400 1080p LED HDTV with NetCast plus Wireless Media Receiver Review
By Greg Robinson
Edited by Chris Boylan
It's Also a Television!
Remember when a TV was just a TV and a computer was just a computer?  It's amazing just how little time it's taken for flat panel HDTVs to transform into web-enabled media hubs. With television apps, Netflix streaming and YouTube integration becoming inseparable from the family room TV experience, it's getting to the point where the core function of a display - its ability to tune in "Cheers" re-runs and the nightly dose of "Jeopardy" - has become a yawn-inducing footnote. "Yeah, yeah. It's a 1080p HDTV thinner than this slice of toast - but what ELSE can it do?"

The plain truth is that we as consumers have gotten incredibly hard to please. And that's never been more evident than with the latest generation of flat panel HDTVs. "Will it download movies? Can it browse online photo albums? Does it tweet? Will it walk my dog?" Mind you, I'm not on a soap box here. I'm just as guilty as the next guy. And do I seriously expect us to stop taking so much for granted and start demanding fewer innovations?

Hell no.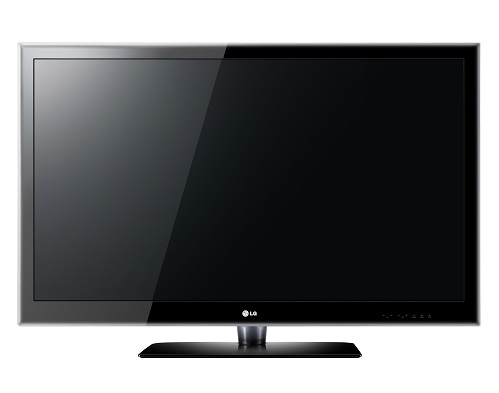 Thankfully, LG's 47LE5400 furthers the television maker's well-earned reputation for creating attractive, affordable HDTVs that deliver a whole lot more than just plain old TV. In addition to LG's latest iteration of their best-in-class NetCast app suite, the 47LE5400 is one of a growing number of LG models compatible with LG's optional AN-WL100W Wireless Media Kit. But let's not get ahead of ourselves. The 47LE5400 is first and foremost an LED-backlit, native 1080p HDTV. So let's start there.

First Impressions

Unlike some of its competitors, LG makes you install its pedestal stand before you can get down to business; it does not come pre-assembled. That's great news if you're wall-mounting the display, but it does add a few minutes to the process for the rest of us. The stand has a manual swivel adjustment and is fairly sturdy once you have it on a flat, level surface.

In my review of LG's 42LH50 last year, I made a big deal about its slick "Knight Rider" -esque power indicator. With this year's crop of models, including the LE5400 series, LG has unfortunately ditched K.I.T.T. in favor of a more traditional, circular power light. It still delivers some cool blink patterns, but I no longer expect to hear William Daniels every time I turn on the television. Ah well, there's always my GPS.



The panel itself is attractively thin, measuring a svelte 1.2 inches thick. It's a bit on the glossy side and the plastic tends to reflect more room light than I care to see, but the touch sensitive controls are a nice, err, touch. As always, a matte black bezel would be my preference, but LG didn't consult with me first. One interesting note regarding the bezel is that LG has foregone its traditional silver stick-on moniker and replaced it with a white LED logo light; this light can be disabled using the on-screen menu. Doing so results in an elegant, black-tie-only appearance that allows you to focus on what you're watching. I like it.
Remote, Control
I rather liked the remotes LG was using on last year's models and I wish I could say the same for the new ones - but I'm not a fan. To be fair, LG has improved a few things: I like the contoured Channel and Volume rockers and it's good to see a backlight option for at least SOME of the buttons. However, the new cursor pad needs work. The Menu, NetCast and Q.Menu buttons are right on top of one another and it's virtually impossible to tell them apart in the dark. The same is true for the Back, Widgets and Exit buttons below the pad. The cursor pad itself isn't bad, with stiff directional keys and a rubbery Enter button at its center.  If the story of The Three Bears is anything to go by, I'm willing to bet next year's remote will be
just
right.
LG is definitely one of my favorite TV makers when it comes to on-screen menus and system navigation. Menus are well organized, colorful and their NetCast interface is impressive to say the least. I spent a fair amount of time going through LG's NetCast content services - which includes Netflix streaming, Vudu, YouTube and Yahoo Widgets - in
my review of the 42LH50
. Not much has changed on this front, so I won't repeat myself here. Suffice to say if you're looking for a display with intuitive and attractive implementations of today's most popular internet apps, you'll want to give LG's NetCast a serious look.
Processing... Processing...
To get a sense for the display's processing capabilities, I connected my Panasonic RP91 DVD player via component video and set the player's output to 480i. I also connected my Philips BDP7200 Blu-ray Disc player with HDMI and set its output to 1080i. Running through IDT's HQV Benchmark 2.0 test patterns - both the standard definition and Blu-ray editions - the 47LE5400 did an average job on most tests but did stumble here and there.
De-interlacing performance on the "Video Resolution" tests was quite good and resulted in passing marks. The waving flag did reveal some minor stair-stepping, but I've definitely seen worse. The "Film Resolution" test was a bit more troublesome, as the 47LE5400 never did fully lock down the 3:2 cadence during the 24fps race car sequence. Pulsating moire artifacts broke up the grandstands, but disappeared immediately when I switched my RP91 to output 480p. If you're using a quality disc player, definitely experiment with your resolution settings; there's a good chance your player's chipset may outperform that of the 47LE5400.

Look Ma, No Wires! (That's nice, dear. Just stay where I can see you.)

One of the 47LE5400's more interesting features is its ability to work with LG's optional Wireless Media Kit, the AN-WL100W. The AN-WL100W sells for $399 and serves as an outboard connection hub for all of your gear. Like the back of the 47LE5400, the AN-WL100W features four HDMI inputs. With the Wireless Media Kit, you can connect your satellite or cable TV receiver, your Blu-ray player and your game console to the outboard box, and the box then beams a full HD 1080p signal to the 47LE5400. Sources are switched using the TV's on-screen display and external equipment can be controlled via two included IR flashers. (You can also use the HDMI and other inputs on the TV itself, but that sort of defeats the purpose, no?)

It should be noted that using the AN-WL100W with the 47LE5400 does require a small wireless receiver unit to be velcro'ed ("magic taped") to the back of the display. Both the receiver box and tape are included with the AN-WL100W kit. Two wires run between the receiver box and the back of the TV: a "wireless control" wire (which resembles mini-USB) and an HDMI connection. Both wires are included and they're appropriately short so as to not hang down visibly when looking at the display from the front.

On paper, the AN-WL100W sounds like a slam dunk. In reality, it's not without its share of issues. The biggest issue is a problem of range.  LG claims a range of 50 feet, with walls and doors posing no major issues. This should have allowed me to place the connection hub 20 feet away (straight line distance) in the top shelf of my basement theater's A/V rack. The display was on a TV stand in the family room, directly above. No such luck. Although I got it to work when keeping the hub inside a 10-foot radius, as soon as I ventured beyond that, the wireless connection was lost. I will submit that my house does have a wireless computer network and more gadgetry than the average household, so it's quite possible my tech-filled house posed some interference-related issues. However, I was disappointed that the AN-WL100W was effectively unusable in my home at a range of less than half its published capability.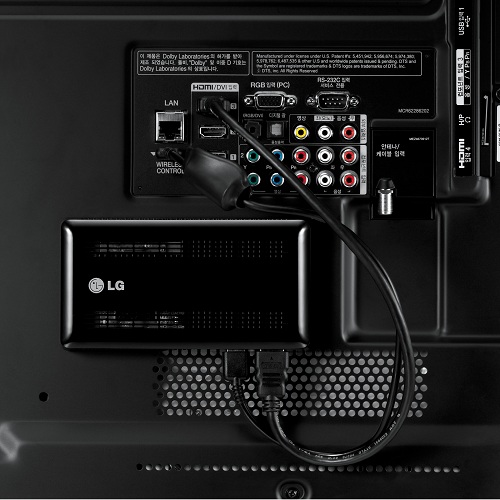 All the Pretty Colors

Attempting to combat motion blur and film judder, the 47LE5400 offers a 120Hz processor, which LG calls "TruMotion." LG has at last splintered out blur reduction and dejudder with separate sliders - which I commend - but neither one did all that much to write home about in my tests. Like many folks I've spoken to, I'm just not a fan of these motion interpolation technologies found on so many 120Hz and 240Hz displays. These hyper reality "enhanced" viewing modes have the unfortunate side effect of making film look like video, or more specifically, a poorly-filmed soap opera. Said another way, it just doesn't look right and it certainly doesn't look like film. For the duration of my evaluation, I left TruMotion turned off.

After a color and grayscale calibration using my SpyderTV Pro, I was relatively pleased with the color accuracy and picture detail in the resulting test clips I examined. Skin tones during HD recordings of "Glee" looked spot-on and the visible detail on display during BBC/Warner's Blu-ray version of Life was nothing short of extraordinary. Oprah's narration on the other hand...

The 47LE5400's LED backlighting certainly helped to create vibrant whites and suitably punchy colors, but black levels proved yet again to be the Achilles heel of this LCD panel. As is typical for LCDs lacking a local dimming feature, the 47LE5400's version of black was more of a charcoal gray and off-axis viewing washed out quickly and lost contrast performance when moving to the far ends of the sofa.

Turn Ons:
NetCast is well-executed and a snap to use
Good color accuracy
Impressive picture detail
Turn Offs:
Black levels leave much to be desired
Remote control's cursor pad needs a redesign
Poor off-axis performance
Final Thoughts

I said it before and I'll say it again: The modern TV buyer is getting harder to please all the time. We now want to do a lot more with our TVs than just... watch TV. If this sounds familiar, and you're on the prowl for an internet-fueled display, definitely give the 47LE5400 a look. It's not the strongestt performer on the block, but nor is it the most expensive.  Its robust feature set combined with remarkably simple operation should not be overlooked.

Manufacturer's Specifications for LG 47LE5400 LCD HDTV:
Video:
Panel Type: 47.0-inch 16:9 widescreen LCD
Display Compatibility: Full HDTV 1080p
Signal Compatibility: 480i, 480p, 720p, 1080i, 1080p
Native Panel Resolution: 1920 x 1080 pixels
Response Time: 2.6 ms
Contrast Ratio: 4,000,000:1 (w/DCR)
Refresh Rate: 120Hz (TruMotion)
Viewing Angle: 178 degrees (horizontal & vertical)
3:2 Pull-down & 5:5 24p Mode (Real Cinema)
Color Temperature: 3 modes
Color Fine Tuning: Independent R,G,B,C,M
Tuner: Integrated NTSC/ATSC/QAM HDTV Tuner
Audio:
Onboard Speakers: 10W x 2
Dolby Digital 5.1 Decoder
Auto Volume Leveler
Inputs:
HDMI with HDCP: 4 (3 rear, 1 side)
Component (YPbPr) Video plus Analog Stereo: 2
Composite Video: 1
PC RGB (D-Sub 15 pin) plus PC Audio: 1
RF (F-connector for internal tuner): 1
RS-232c: 1
USB 2.0: 2
LAN port: 1 (no wireless built-in)
Wireless Media Controller input
Outputs:
Weight and Dimensions:
Weight: 43.2 lbs
Weight with Stand: 50.5 lbs.
Dimensions: 44.4" x 27.2" x 1.2" (W x H x D)
Dimensions with Stand: 44.4" x 30.0" x 11.2" (W x H x D)
Additional:
NetCast: Netflix, VUDU, Yahoo Widgets, YouTube
ISFccc Ready
Energy Star 3.0
SIMPLINK Connectivity (LG)
V-Chip
Removable Base
Warranty: One Year Parts & Labor
MSRP: $1,799.99
Manufacturer's Contact Information:
LG Electronics USA, Inc.
1000 Sylvan Avenue
Englewood Cliffs, NJ 07632
Toll Free: 800-243-0000
On the Web: www.lgusa.com
What did you think?
The Scores for LG 47LE5400 1080p LED HDTV with NetCast plus Wireless Media Receiver
| | |
| --- | --- |
| Overall | |
| Value | |
| Performance | |
| Features/Ergonomics | |
Explore Big Picture Big Sound