How Do I Connect My Sound Bar to My TV?
By Chris Boylan
Dear Big Picture Big Sound,
I just recently got a Samsung LED TV.  It looks great but sounds terrible.  So I picked up a sound bar.  It's a Boston Acoustics TeeVee 26 and came with a subwoofer too.  So what's the best way to connect the sound bar up to the TV and the sub? I want to get the best sound.
Thanks,
-John in Denver
---
Hi, John,
Thanks for writing in.  Sounds like you're putting together a nice system there.  Yes, it's true, the thinner a TV gets, the worse it sounds.  And if you don't want to invest in the money or effort required for a full home theater system, you can get good results from a sound bar. Boston Acoustics makes some nice-sounding ones.
Go Digital or Go Home
In terms of how to hook up a soundbar to a TV, there are usually a couple of choices. Many sound bars these days come with a digital (usually fiberoptic) input and an analog input.  Your Boston Acoustics TVee Model 26 has a fiberoptic digital input plus two 3.5mm aux inputs (which look like headphone jacks).  For best results and simplicity, I would suggest using the fiberoptic digital input. So plug an optical digital cable from the TV's digital audio output to the sound bar's digital input and you'll be good to go.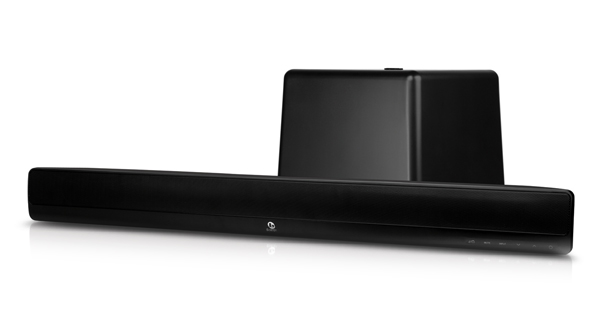 You can then use one of the aux inputs to connect a phone, tablet or media player using a standard 3.5mm male to 3.5mm male stereo cable.  In the unlikely event that your TV does not have a digital output (most do), then you can use the TV's analog output or headphone output to connect to one of the 3.5mm aux input jacks on the TVee 26, but do this only if you can't use the digital input.
If you don't want to hear sound from the sound bar and TV speakers at the same time, then be sure to go into your TV's set-up menu (audio section) to turn off the TV's built-in speakers. This way sound will only come out of the sound bar.
We Have Assumed Control
The BA system is clever in that it can learn your existing TV or cable box remote's codes,  So you won't need to leave another remote lying around to control the soundbar volume, power and input switching.  Check the user manual that came with the sound bar for details on how to get this set up with your specific remote control.
One tip when programming the TVee 26 to respond to your remote: If you program the "input" function on the BA Sound bar to one of your TV remote buttons, do not use the TV remote's "input" button for that!  If you do this, then every time you switch inputs on the TV (like switching between cable box and Blu-ray player), it will also switch inputs on the sound bar, away from the optical input to one of the analog aux inputs.  And this means you will no longer get sound from the active device connected to the TV.
As long as all of your devices are connected digitally to your TV with HDMI cables, you should automatically get sound out of the optical jack for all sources. And this means you never really have to switch inputs on the soundbar while watching TV-based sources. Really the only time you'll need to use the "input" control on the sound bar is if you want to switch over to listen to music from a phone or tablet or portable media player connected to the sound bar's "AUX 1" or "AUX 2" analog inputs, or if you have an older game console or VCR or other device connected to your TV using analog cables.  These may not pass sound through the TV's digital output and may need to be connected directly to the sound bar using an analog 3.5mm cable..
So if you want to map a button on your TV remote to control the TVee 26 "input" function, use a button that doesn't get used too much on the TV remote so you don't accidentally switch inputs on the sound bar when you don't mean to. If you misplace your TV or cable box remote that you programmed to control the system, then you can always use the buttons on the unit itself to adjust power, volume and input selection.

How Low Can You Go?
Once the sound bar is connected to the TV, you will also need to connect your bar to the subwoofer. But you don't use cables for this as the sub is wireless.  In fact, with your system, the wireless sub and sound bar come pre-paired to each other from the factory. In other words they're already set up and ready to go without any additional work. Just make sure both are plugged into power and that the bar is connected to the TV and you should be good to go. If, for some reason you don't hear anything coming from the subwoofer after everything is powered up, you can find a "pair" button on both the sub and sound bar. Press the pair button on the subwoofer until it flashes red, then press the pair button on the sound bar. The light should then turn green to show that the devices have been paired. But again, this shouldn't be necessary unless the subwoofer loses its connection to the sound bar.
You should place the sub near the front of the room fairly close to the sound bar if possible, and not too close to the wall or to furniture or drapes that could block the sound or could make the sub sound a little "boomy." Six to twelve inches from a wall should be fine. The wireless range is about 25 feet in case placing the sub near the TV and soundbar is not feasible.
Once you have the inputs connected, and the sound bar and sub placed more or less in their final positions, plug the power cables into both the sub and sound bar and make sure they turn on. If you're going to wall mount the sound bar, you should probably wait until all connections have been made and tested.
Rock Out!
The last step is to play some movies and music and see how it all sounds.  As long as the TV is on with a device connected (e.g., Blu-rayer or cable box) and the device itself is powered on, you should start getting sound immediately.  Adjust the subwoofer volume dial on the back of the sub until you reach the most natural blend between low and high frequencies then you can leave it there. Test out each of the sources connected to your TV to make sure you get sound then you can place the sound bar is ts final location on a stand or up on the wall (remember to follow the instructions in the manual for wall-mounting).
So that should be it.  Good luck and enjoy that big picture and big sound!
Keep those cards and letters coming!
if you have a question for one of our home theater experts, shoot us an e-mail to "
Ask The Expert
." We'll select among these for future installments in this column. Due to the volume of requests we receive, we cannot reply to each question personally.