How Can I Hook Up My Samsung TV to my NAD Receiver: No Audio Outputs!
By Chris Boylan
Dear Big Picture Big Sound,
I'm trying to hook up my Samsung UN40EH5050FXZA HDTV to my NAD receiver model C720BEE and I don't seem to have any audio outputs from the TV. What can I do? Is it possible? I don't see any headphone output either. Can you help me?
Thanks,
-Al
---
Hi, Al,
In some cases, if your TV has no audio output at all, you can still get sound from your sources (cable box, DVD player, etc.) by plugging those directly into your receiver. But in your specific case, your TV actually does have an audio output. It's a S/PDIF digital audio output: a squarish digital output also known as a "fiberoptic digital out." Look closely on the back of your TV and you should be able to find it.
Unfortunately your NAD receiver lacks any digital inputs. So to connect the TV to your receiver, you'll need a device called a DAC (Digital to Analog Converter). You can spend a lot of money on one of these, but for TV sound an inexpensive DAC like this one should also work fine:
You'll also need an optical digital cable to connect the TV to the DAC and a pair of RCA cables to connect the DAC to your receiver. Once you connect the TV to the DAC, then connect the DAC's stereo output to an available input on your receiver. Be sure not to use the phono input as that won't work well, but anything labeled CD or line or tape input would be fine.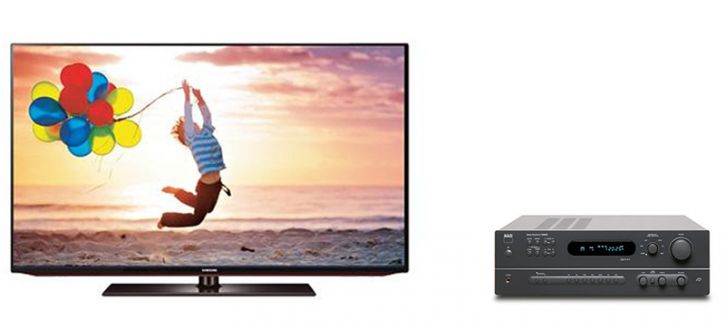 Good luck and let us know how it goes.
Regards,
-Chris
Follow-up (from the reader): "Thank you, Chris I got what you said to get and it worked. I really appreciate your help. Thanks again, Al"
Related Article: