Hands-On with DISH Network's Voice Remote
By Rachel Cericola
When it comes to home control, does anyone really seek out buttons anymore? It seems like people are over pushing buttons. Touchscreens have been a slick (and sometimes pricey) option for quite a while. Now, thanks to Siri and Alexa, voice commands are becoming a really popular method of control. The latest company to put voice recognition technology into a home product is DISH Network.
Back at CES in January, DISH was promising a voice-enabled remote for the new Hopper 3 Whole-Home DVR. Now they are delivering on that, making the Voice Remote available to subscribers today.
The highlight of the new remote is certainly the voice recognition, but the entire remote has been revamped. With the launch of the Hopper 3 came a new remote, which eliminated a lot of unnecessary buttons and condensed features into others. The Voice Remote looks like the last remote's little cousin, because it's smaller and has done away with even more buttons. Instead, it has a clickable touchpad.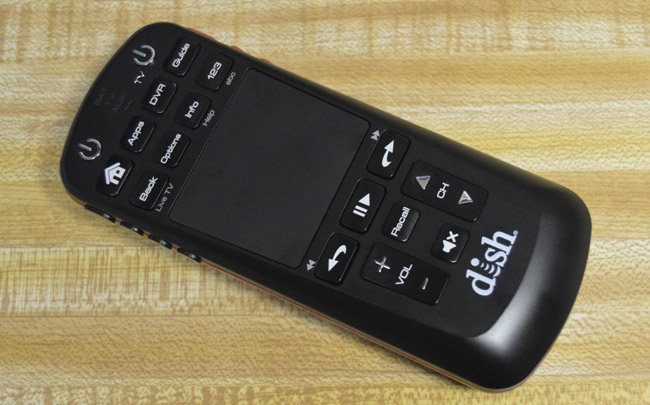 Measuring 5.59-by-2.25-by-1.02 inches, the Voice Remote looks a lot like a smartphone. The remote is specifically designed to work with the Hopper 3 and 4K Joey boxes. It won't work with standard Joeys, but it will work with the Hopper 3 even if you don't have a 4K Joey elsewhere in the house.
DISH Network has made it easy to swap out your old remote for the Voice Remote. It can be purchased today for $30 by calling DISH or ordering it online. Once you have the remote, pop in the included batteries and turn your receiver and TV on. Press the System Info button on your Hopper 3 or 4K Joey, press the SAT button on your remote, and the two will instantly pair.
The setup may be insanely easy, but there's definitely a bit of a learning curve with the Voice Remote. The touchscreen is... well, touchy. You can swipe to navigate through, tap the edges to move, and click in the middle to make selections. It's not bad, but it's definitely different and may take a day or two to get used to. Just know that DISH designed the thing to be easier and more intuitive.
Also, there's absolutely zero clutter here. The arrows and Select button are gone, as are all of the number buttons. However, if you really miss those, press the 123 button in the upper-right-hand corner, and the numbers will appear in the touchpad area. The little magnifying glass Search button has also been removed, because it's now part of the voice features.
Speaking of which, if you flip the remote to the right side, you'll see three new buttons. One is the Microphone/Search button. It's sort of funny that you have to push a button to deliver voice commands, but this is a good thing. After all, no one wants a shouting match to determine who gets to control the remote. Hold it down, speak your mind, and you'll see your command acknowledged on-screen. For instance, you can say things like "Turn on Channel 7," "Watch ESPN," "Tom Cruise," or even "Record This." The Voice Remote seemed to understand everything we were saying and responded quickly to my family's every command.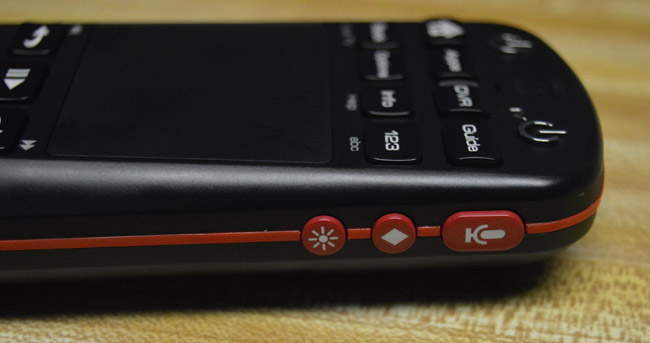 The second new button on that side panel is for shortcuts. This basically allows you to record quickly. The last remote required multiple pushes to do that. The remaining button is to enable a feature that has been long overdue: backlighting. Yes, the Voice Remote allows you to easily navigate through your TV in the dark!
Otherwise, all of the remaining buttons should look familiar, including the SAT, TV, AUX, and Input on the left side of the remote.
If you've been wanting to add voice control into your DISH setup, this is an easy, affordable way to do it. According to DISH, the Voice Remote can control up to two IR devices (TV/AUX models). It's available now for $30 by calling 1-800-333-DISH or visiting the DISH Network website.
For More Information: