HDTV Deals: Panasonic 65-inch VIERA TC-P65ST30 1080p 3D Plasma: $1689.76 shipped
By Rachel Cericola
Ready to step into the third dimension? While there are a lot of people still waiting to make that leap to a 3D home theater, Amazon is certainly making it enticing. The retailer has been featuring a lot of discounted 3D TVs lately, and we just found a doozy.
Right now, Amazon is discounting Panasonic's 65-inch VIERA TC-P65ST30 1080p 3D Plasma HDTV. This HDTV can deliver a full 1080p HD image in both 2D and 3D, with a nice 65-inch screen.
This is the perfect size to watch those eye-popping images, and now it's got a perfect price to match. We just found the TC-P65ST30 listed for $1689.76, which is over $1300 off the list price. This purchase also includes free shipping, making it an excellent deal. Find out more about this set and this discount on Amazon's product page: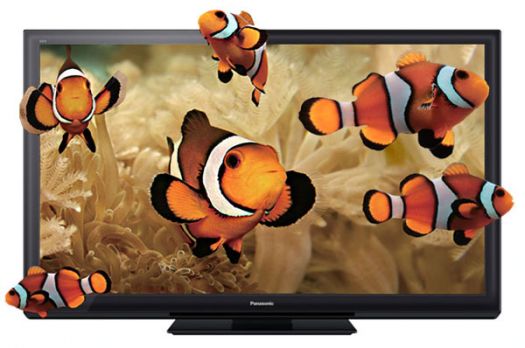 The ST30 was a Big Picture Big Sound favorite in 2011, earning a BIGGIE Award for our experience with the 50-inch version from this series. Our own Ian White got to sample the TC-P50ST30 saying, "you can achieve some jaw-dropping picture quality out of it if you calibrate it properly." Find out more about his experience with this specific model and the ST30 Series in his Panasonic TC-P50ST30 3D HDTV Review.
Bigger is better, right? Of course! That said, it does have that same active shutter 3D TV technology, which means that it can do 1080p in both 2D and 3D. To use the set's 3D features, you will need to add in 3D glasses (and a Blu-ray 3D player!). However, this is also an excellent 2D TV, promising deep, bold blacks and other gorgeous colors. It also has the Infinite Black 2 panel, the 600Hz sub-field drive, VIERA Link support, and the 3D Image Viewer feature.
If you're looking for more from your TV, the TC-P65ST30 can certainly deliver via Panasonic's VIERA Connect platform. Just add the HDTV to your home network, and you can stream services such as Netflix, Amazon Instant Video, Pandora, Skype, YouTube, and more, right from the remote.
Just remember that when you order this HDTV, you need to buy directly from Amazon (not one of the retailer's third-party merchants). They are the ones offering this discount, as well as free shipping and free 30-day returns. Also know that Amazon has applied its TV Low Price Guarantee to this purchase. That means if you can find this exact set for less within 14 days of the ship date, Amazon will refund you the difference in price. Enjoy!
Other Great 3D TV Deals:
Also Check Out:
Please note: all deals posted on Big Picture Big Sound are current as of the posting date and time. These deals are frequently time- or stock-limited and generally do not last. Final pricing and stock are determined by the individual deal provider, not by Big Picture Big Sound so you will need to click through on the offer link to see if it is still available. Through our affiliate relationships with many online vendors, Big Picture Big Sound may earn a small commission on any referred sale.