Fully Immersed: Best New Dolby Atmos and DTS:X Blu-ray Discs: Hitman's Bodyguard, Transformers, Valerian, Westworld
By Greg Robinson
Fully Immersed, Volume 16
We've just had our first major snowfall here in Connecticut so winter is definitely upon us. With snow on the ground and the calendar reading December, my kids are now putting the finishing touches on their holiday wish lists; I'm sure they're not alone. Odds are good you may be on the lookput for a few great-sounding discs for the home theater lover in your family. To that end, here are a few titles making their way to disc in the final days of 2017 packing a Dolby Atmos or DTS:X soundtrack:
Men in Black Trilogy - Dolby Atmos, Sony (4K UHD only)
American Assassin - Dolby Atmos, Lionsgate
Jumanji (1995) - Dolby Atmos, Sony (4K UHD only)
Despicable Me 3 - DTS:X, Universal
Kingsman: The Golden Circle - Dolby Atmos, Fox (4K UHD only)
Mother! - Dolby Atmos, Paramount
I plan to cover at least a few of the above titles soon. Until then, here's what I've listened to most recently...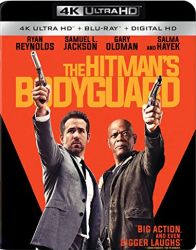 The Hitman's Bodyguard
Lionsgate | Buy Now | Dolby Atmos available on Blu-ray and 4K UHD
The Hitman's Bodyguard is a filthy-mouthed, action-packed, buddy road movie with a star-studded cast including Ryan Reynolds, Samuel L. Jackson, Salma Hayek, and Gary Oldman. The film is directed by Patrick Hughes, who made his directorial debut on the little seen though underrated modern western Red Hill. Here he's working with a much bigger budget and a pair of A-list stars; the action is well-executed and Reynolds and Jackson have surprisingly good (and funny) chemistry if you don't mind the plethora of F-bombs. Lionsgate's Dolby Atmos soundtrack is quite impressive and features an expansive, immersive sound stage. There are two excellent chases in the film's third act and they both take every advantage of the additional channels afforded by Atmos. One chase features a high speed boat and every time the boat passes through a tight tunnel, the overhead channels create a convincing whoosh to place the listener inside the tight space. Dialogue is crystal clear throughout and the low end is gut-punchingly robust when called for (which is often).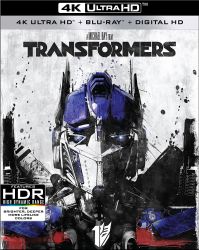 Transformers 4K
Paramount | Buy Now | Dolby Atmos available on 4K UHD only
To get a feel for Paramount's new 4K Ultra HD re-releases of the Transformers films - all of which feature a new Dolby Atmos soundtrack - I immediately skipped to the best scene in the franchise, when Sam (LaBeouf) first encounters Barricade, the Decepticon police car. It's a thrilling scene full of awe and tension and when Barricade leaps to transform back into a car to pursue Bumblebee, every Transformers fan surely shared a squeal of joy. This has long been a go-to demo scene in my home theater and I've heard it countless times - but I've never heard it sound this good. Paramount's new Atmos soundtrack is stellar, giving everything a much broader and taller sound stage. When Barricade transforms into robot form and stands, he looks and sounds taller and even more impressive thanks to clever integration of the overhead channels. My second favorite demo is the opening scene, where a Decepticon helicopter transforms into robot form and obliterates a desert Army base. This is another scene I've heard countless times and the energy and clarity (and the bass!) present in this new Atmos mix are head and shoulders superior to what I've heard previously. I remain supremely disappointed by Michael Bay's visual overload approach to these films, but they've always sounded amazing if nothing else. If you're a fan of the films, or at least the surround sound experiences they offer, these new Dolby Atmos soundtracks are not to be missed.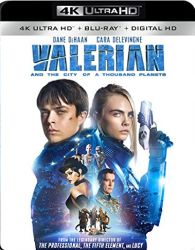 Valerian and the City of a Thousand Planets
Lionsgate | Buy Now | Dolby Atmos available on Blu-ray and 4K UHD
Luc Besson's The Fifth Element (1997) is a modern sci-fi classic with a huge, richly-deserved cult following. It's also a go-to reference disc for many a home theater fan, thanks to its bold and gorgeous color palette and eye-popping visuals. (And we're not just talking about Leeloo's "thermal bandages.") Given the film's popularity, it should be no surprise that Valerian and the City of Thousand Planets had many sci-fi fans intrigued, it being Besson's first hard sci-fi film in 20 years. Unfortunately, Valerian is a bit of a mess and if you ask me, the blame falls squarely on the shoulders of the horribly miscast Dane DeHaan. Although this may eventually change, DeHaan just isn't leading man material and he has almost zero chemistry with the lovely Cara Delavinge - a critical misstep given that their romance anchors the film. On the plus side, Besson hasn't lost his touch when it comes to weird, wonderful imagery accompanied by a compelling sound mix. Lionsgate's Dolby Atmos soundtrack is largely very good, though there were multiple occasions during the film where I expected to be wowed more than I was. Dialogue is clear and intelligible throughout and bass is sufficiently deep when appropriate, but use of the overhead channels and panning within the surround channels were more restrained than I would have hoped for on a film like this.
Westworld: Season One 4K
HBO | Buy Now | Dolby Atmos available on 4K UHD only
During the last few years, HBO has, for many viewers, become known first and foremost as the home of Game of Thrones (GoT). The worldwide phenomenon that is GoT continues to be appointment television - to the extent that such a thing is still possible in this age of DVRs and bottomless streaming options. Seeking to capture that same massive audience for another appointment, HBO dug up Michael Crichton's heady sci-fi western, Westworld, and adapted it for the small screen with the help of writer/director/showrunner Jonathan Nolan (brother of Christopher Nolan). Like GoT, Westworld goes a bit overboard on the gratuitous sex and violence, but also like GoT, the series offers a dense and carefully constructed world full of complex stories, richly-drawn characters, and gorgeous feature-film-worthy visuals. As HBO did with their most recent GoT releases, Season One of Westworld has been given the Dolby Atmos treatment, albeit on the 4K Ultra HD release only. If you have the proper setup, the Atmos upgrade alone is definitely worth the 4K upgrade. Westworld features a fantastic score and the Atmos track makes great use of the additional channels to create a vastly more immersive listening experience. That aforementioned violence sounds great on the broader sound stage, with the combination of gunshots and breaking glass exhibiting tremendous dynamic range and clarity. Surround activity is frequent and often subtle but there are plenty of moments that had me grinning. Especially fun is picking up the show's use of contemporary music that's been Old West'ified, such as the pilot episode's use of "Black Hole Sun" on a saloon piano, softly tinkling in the background behind the listener while a conversation happens up front. Sonically and dramatically, there is a lot to like here and I'm eager to see where Season Two takes things. Highly recommended.
More Information:
Reviewed Using: