Fully Immersed: Best New Dolby Atmos and DTS:X Blu-ray Discs: Blade Runner, Cabin in the Woods, The Mummy, Red
By Greg Robinson
Fully Immersed, Volume 12
With It deservedly devouring the box office, and nothing else particularly interesting on the cinematic horizon until Blade Runner 2049 lands on October 6, it seems like a good time to spin a few discs at home. And what better place to start than the original Blade Runner? Warner's new 4K release is well worth your time, as you'll see below. Would you like to know more? Here's what's just been released or is coming soon to disc featuring a Dolby Atmos or DTS:X soundtrack:
Starship Troopers 4K - Dolby Atmos, Sony
Wonder Woman - Dolby Atmos, Warner
Transformers: The Last Knight - Dolby Atmos, Paramount
Kick Ass 4K - Dolby Atmos, Lionsgate
Warm Bodies 4K - Dolby Atmos, Lionsgate
Pirates of the Carribean: Dead Men Tell No Tales 4K - Dolby Atmos, Disney
I plan to cover at least a few of the above titles soon. Until then, here's what I've listened to most recently...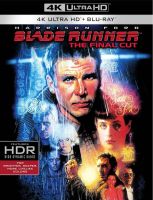 Blade Runner: The Final Cut 4K
Warner | Buy Now | Dolby Atmos available on 4K UHD only
Ridley Scott's pioneering science fiction classic has seen no shortage of disc releases throughout the years. Between the multiple cuts of the film, the various anniversary edition DVDs, and the stellar 5-disc Collector's Edition which saw release on both HD DVD and Blu-ray Disc in 2012, one could safely assume there isn't still room for improvement on the at-home experience of Blade Runner - but one would be wrong. Put simply, Warner's new 4K Ultra HD release of Scott's "Final Cut" is nothing short of a revelation. Apart from the new HDR-encoded 4K disc looking absolutely gorgeous, the new Dolby Atmos soundtrack is simply mind-blowing. Vangelis' haunting score completely saturates the space and emanates from every surface of the room. The ever-present rain is beautifully rendered, completely immersing the listener in this bleak, futuristic cityscape - interrupted intermittently by a flying car passing directly overhead. Moving indoors, that same rain can be heard pattering on the roof of Kowalski's apartment in a diffuse, muffled, and completely realistic fashion. Even if you're not a fan of the film, this Dolby Atmos soundtrack deserves to be heard. Highly recommended.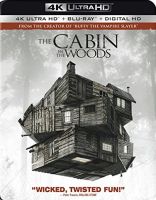 Cabin in the Woods 4K
Lionsgate | Buy Now | Dolby Atmos available on 4K UHD only
Horny teens and/or 20-somethings drive deep into the woods to spend a weekend at a remote cabin by the lake. What could possibly go wrong?  If you've seen one "cabin in the woods" movie, you've seen them all - and that's precisely why this clever and twisted film has the brilliant title it has. Rest assured you haven't seen this story yet.  Penned by the "Buffy" and "Angel" brain trust of Joss Whedon and Drew Goddard (who also directs), Cabin turns this tired genre on its ear. And if you've somehow managed to avoid having the film's big surprise and central conceit spoiled, don't read the box (?!?), don't watch the trailers, just go in cold and enjoy the fun. Lionsgate's already excellent DTS-HD soundtrack is taken to the next level with an aggressive and fantastic-sounding Dolby Atmos mix on this new 4K release. The insane climax is a non-stop barrage of surround activity with the overhead channels layered in beautifully to round out the madness. Fun stuff.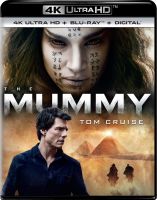 The Mummy (2017)
Universal | Buy Now | Dolby Atmos available on Blu-ray, 4K Ultra HD
The first twenty minutes of The Mummy, right up through a thrilling and beautifully-executed plane crash - which we all had spoiled for us in the trailer - had me thinking that my cynicism and disinterest in this seemingly unnecessary reboot were misplaced. Unfortunately, it's around this point that Tom Cruise adopts a dull, confused, faraway stare for the remainder of the film - and he's not the only one.  Although the film won't win any awards for originality, it does feature several ambitious action set pieces made all the more impressive thanks to Universal's highly capable Dolby Atmos soundtrack. (If only this was the first time we've seen Tom Cruise outrun a sandstorm.) The aforementioned plane crash is the sonic high point (and low point) with the surround and overhead channels used to superb effect as Tom Cruise and Annabelle Wallis are tossed around all sides - and the ceiling - of a downward-spiraling plane's cargo hold. Panning and directionality is excellent and fully immerses the listener in the action.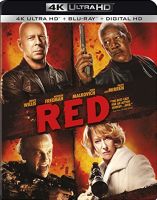 Red 4K
Lionsgate | Buy Now | Dolby Atmos available on 4K UHD only
Retired. Extremely Dangerous. RED. That's what Bruce Willis, Helen Mirren, Morgan Freeman, and John Malkovich have been labeled by their former employer, the Central Intelligence Agency. And as many retirees can surely attest, retirement can be boring. Sometimes you need to do a little wetwork on the side to keep things interesting. Based on a short-lived comic book series written by Warren Ellis, RED is a ton of fun and it's one of those rare films the entire family can enjoy - those with older kids at least; it truly offers something for everyone. And if you have the right gear, everyone will thrill over Liongate's gangbusters new Dolby Atmos soundtrack on this 4K Ultra HD release. Dialogue is crystal clear, surround and overhead channels are extremely active, and a tight, deep low end beautifully supports the film's myriad gun fights, grenade launches, and one hugely entertaining office fist fight. RED 2 is missing much of the magic of the original, but it too has received a Dolby Atmos upgrade with its recent 4K release (sold separately).
More Information:
Reviewed Using: