Edge of Darkness Blu-ray Review
By Rachel Cericola
The Film
The only thing Mel Gibson has been starring in lately is the tabloids. With the exception of those incidents, it seems that the only good Mel is an angry Mel, at least in the case of Edge of Darkness.

Based on the '80s BBC miniseries of the same name, Gibson stars as Thomas Craven, a Boston detective without a proper Boston accent -- or a family, for that matter. Although we never quite find out what happens to his wife, we do see his daughter Emma (Bojana Novakovic) gunned down in the first eight minutes of the movie.

While most of the department is busy shuffling papers and thinking Thomas was the intended target, the grieving father discovers that daddy's little girl is not all sugar and spice. He soon starts to conduct his own investigation.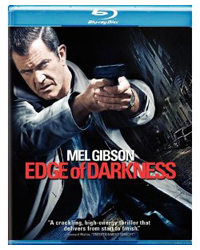 That is, if you can call bitch-slapping and shooting people an investigation.
We don't think it really is, but it's definitely a lot more interesting. However, it's also a bit slow-paced. We went into this movie hoping for a good old-fashioned revenge flick, a la Liam Neeson's
Taken
. It's a lot more complex, which is good and bad. Overall though, the real show here is Mel, who gives a darn good performance. That's a good thing, too, because the movie is otherwise a little hard to follow.
To shine a little more light on the movie, check out Karen Dahlstrom's review of the theatrical release of
Edge of Darkness
.
The Picture
Director Martin Campbell, who also directed both the original BBC Edge of Darkness as well as the Bond reboot of Casino Royale, is very subtle with this imagery here. Most of the scenes are dark to help convey the subject matter. Black levels are deep, but don't expect a lot of other amazing colors to be popping from this 2.40:1 transfer. That said, it's extremely sharp looking. Every line on Gibson's frowned face is very detailed and very powerful. The background imagery is not as special, but there are some nice shots of the Boston backdrop.

The Sound
Despite the subject matter, Edge of Darkness is surprisingly quiet, which builds a thick layer of suspense throughout the movie. So just when steam blows, thunder crackles, tires spin, or shotguns blast, the DTS-HD Master Audio will have you jumping sky-high from your seat. Otherwise, much of the film is filled with dialogue, which sounds excellent, even as Gibson and the underused Ray Winstone mumble their way through a few key scenes.

The Extras
Viewers wanting more from the film's many subordinate characters can take a peek at the 5.5 minutes of deleted scenes. There's nothing that stellar, but you will get a little extra Ray Winstone, which is appreciated. His character was way too much of a blip in the actual film. That said, it's sort of annoying that the scenes aren't labeled and can't be accessed individually through the menu. Otherwise, there are nine production featurettes. Each one is a bit too quick, but worth the 30 minutes it takes to whip through them. Other features include auto-resume on the disc, BD-Live and a digital copy.

Final Thoughts
Edge of Darkness didn't break any box-office records. That could have been due to Avatar. However, it could be because audiences were expecting Taken-lite. Either way, the film was poorly marketed. Overall, it's a nice comeback vehicle for Mel Gibson. It just could have been a whole lot better. A sometimes convoluted plot and slow pace weigh down this film in more than a few spots. Still, Gibson's performance, coupled with a nice Blu-ray transfer should keep you gripping the seat for the better part of two hours.

Product Details
Actors: Mel Gibson, Ray Winstone, Danny Huston, Bojana Novakovic
Director: Martin Campbell
Audio/Languages: DTS-HD Master Audio 5.1 (English), Dolby Digital 5.1 (English, French, Spanish)
Subtitles: English SDH, French, Spanish
Aspect Ratio: 2.40:1
Region: A
Number of Discs: 2
Rating: R
Studio: Warner Home Video
Blu-ray Disc Release Date: May 11, 2010
Run Time: 117 minutes
List Price: $35.99
Extras:

Mel's Back
Making a Ghost Character Real
Scoring the Edge of Darkness
Revisting the Edge of Darkness Mini-Series
Adapting the Edge of Darkness Mini-Series
Thomas Craven's War of Attrition
Boston as a Character
Director Profile: Martin Campbell
Edge of Your Seat
Deleted & Alternate Scenes
Digital Copy
BD-Live