Casino Royale Collector's Edition on Blu-ray Disc Review
By Brandon A. DuHamel
The Film

This is the film that was meant to reboot the flagging James Bond franchise, exposing the origins of Bond's career as a "00" -- a secret agent with a license to kill. In order to do this, producers went back to Ian Fleming's first Bond novel, Casino Royale, a story that the "official" Bond team had been wanting to gain the rights to for many years.
Through a series of serendipitous events that began several years ago when Sony obtained Columbia Pictures and a share in MGM, the team was finally able to negotiate a deal that would bring them the rights to the story, bringing it to the screen with all the grandeur it deserved. In order for an origin story to make sense, the film-makers needed (another) new Bond. It wasn't that Pierce Brosnan was incapable of carrying the franchise, but he had been saddled with silly scripts and storylines that just kept getting more and more outlandish. It was time for a fresh start.

In stepped Daniel Craig, the first fair-haired Bond, who rose to the challenge gracefully and rather successfully. The producers eschewed the over-the-top CG special effects and science fiction-like gadgets that came to define the franchise, reaching new heights of absurdity in Die Another Day, which saw villains genetically altering their ethnicity and manipulating death rays from space. Instead they concentrated on the man himself, his character and his raw power.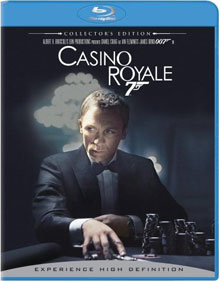 In
Casino Royale
, Daniel Craig is a more rugged, realistic James Bond, the "blunt instrument" that Ian Flemming first envisioned the character to be. After racking up his requisite two kills to become a "00" Bond is sent on a mission to Montenegro to take on the international criminal Le Chifre in a poker game at the
Casino Royale
. The idea is to bankrupt Le Chifre, putting him in trouble with the people he owes money to and shutting down his criminal operations. Funding the operation is the British government itself, who sends its beautiful agent Vesper Lynd to tag along and make sure Bond doesn't blow their £10 million buy-in with no results.
Bond and Lynd strike up a romantic relationship -- of course, this is a James Bond film after all -- which will become very important as events unfold and it is revealed that Lynd has an agenda all her own.
The film succeeds in redefining the character of James Bond for a new era and the franchise is all the better for it. There are enough arguments back and forth between Bond diehards about who the best James Bond is and most people seem to land on Sean Connery. I grew up knowing Roger Moore as James Bond and witnessed the franchise change hands three times now, going to Timothy Dalton, then to Pierce Brosnan, and now on to Daniel Craig. I was one of the people who was very unhappy with Dalton as Bond following Roger Moore and although I was pleased with Pierce Brosan's abilities and his style, the films he was given left me cold. It is far too early to jump on the bandwagon and hail Daniel Craig as the greatest Bond ever, but if he continues to make films as strong as
Casino Royale
and act as brilliantly in them as he did in this one, he may very well rival Connery for that crown someday.
The Picture
Casino Royale Collector's Edition
comes with the same AVC/MPEG-4 1080p/24 encoding as the previous Blu-ray release and it looks just as good. From the opening sequences in grainy black and white to the lushly saturated hues of the scenes filmed in the Bahamas, the transfer looks spectacular. Though sometimes the contrast is a little hot, that is down to filmmaker's artistic intent.
The black levels and shadow detail are superb and the encoding displays absolutely no artifacts, leaving nothing but pure, fine detail and a completely film-like presentation. The film's climax underwater shows no macroblocking, and when there is so much water involved without macroblocking that's always a sign of a good encoding.
The Sound
For this release Sony switched from an uncompressed PCM 5.1 (48kHz/16-bit) soundtrack to a Dolby TrueHD 5.1 (48kHz/24-bit) losslessly encoded mix, which should theoretically result in better sound quality because of the increased bit-depth. However, they have also added +4db of DialNorm (Dialog Normalization) to the TrueHD mix and, to my ears, the new TrueHD mix sounded slightly less dynamic than the PCM. I discovered, however, that on my Onkyo TX-SR805 A/V receiver, TrueHD with DialNorm defaults the "Late Night" mode (dynamic range compression) to "Auto", when normally I have it set to off. So, I turned "Late Night Mode" off and listened again, comparing the two releases, and they sounded nearly identical.
Casino Royale
has a lively mix, whether it's PCM or TrueHD. Its low frequency extension is superb. The opening scenes in Madagascar at the embassy when Bond blows up the propane tanks are thunderous, as is the scene where he rolls the Aston Martin over. Engines roar, bullets fly directionally -- it's brilliantly designed. The one flaw I find with
Casino Royale's
sound is a slightly tweaked high end that can sometimes sound brittle and grating during some of the more active scenes, but otherwise it's flawless. Dialogue is clear, the surround channels are lush with reverberation and atmospheric sound effects and the score sounds expansive and robust.
There is also a French Dolby TrueHD 5.1 dubbed version of the soundtrack offered as an option, mais
ça,
ce n'est pas pour moi.
The Extras
There is one reason and one reason alone to repurchase
Casino Royale
on Blu-ray Disc this early and it is for all the extras that Sony loaded onto this so-called "Collector's Edition." The question is, is it worth it? All supplemental materials offered up are rendered in 1080p/24 high definition except the
Bond Girls are Forever
featurette and Chris Cornell music video. Although the extras provided do give a detailed history of the long and convoluted road to this authentic cinematic rendition of Ian Fleming's original literary vision, I am hard pressed to say that this release is worth purchasing if you already own the previous version of
Casino Royale
on BD.
The extras available on this release are:
Disc 1:
BD-Live -- This is the first BD-Live enabled Sony title I have come across that actually offers some material relevant to the title. In addition to their typical previews and trailers of upcoming Sony films and Blu-ray releases, Sony offers sneak peeks of Quantum of Solace, the forthcoming 007 film, via BD-Live in both SD or HD versions:

Start of Shooting
Locations
Meet the New Bond Girl -- Olga Kurylenko
Director Mark Forster

Picture-in-Picture Commentary with director Martin Campbell and Producer Michael G. Wilson --- This BonusView (Profile 1.1) commentary offers the usual relevant commentary and anecdotes from the filmmakers as well as some behind-the-scenes visuals of the production.
Crew Commentary
Know Your Double-0: The Ultimate James Bond Trivia Quiz -- This is a BD-Java based trivia game. Players can select single player or multi-player games of 10, 15, or 20 questions. The object is to answer the multiple-choice questions about James Bond before the time runs out. Some questions come with visual clues from Casino Royale.
Previews (high definition):

Hancock
21
Vantage Point
Coming to Blu-ray
Disc 2:
Deleted Scenes (2.35:1/high definition/MPEG-2/Dolby Digital 5.1) -- Four deleted scenes:

Rescue and Recovery -- This scene picks up after the infamous torture scene and shows Bond being rescued and rushed to the hospital.
Squandering Government Funds
Gettler Raises Bond's Suspicions

The Road to Casino Royale (1.78:1/1080p) -- This nearly 30-minute long featurette details the long and winding journey that Ian Flemming's novel Casino Royale has taken over the years. From its first screen adaptation for US television on CBS' Climax series in the 50s with the lead character renamed "Jimmy Bond" through the spy-spoof theatrical version starring Peter Sellers created in 1967, Casino Royale has changed hands many times and been the subject of legal disputes.
Ian Flemming's Incredible Creation (1.78:1/1080p) -- In this featurette, the James Bond phenomenon is examined and how Ian Flemming came to create the character is explored.
James Bond in the Bahamas (1.78:1/1080p) -- For Casino Royale, the James Bond crew returned to one of the favorite locations for the 007 series, The Bahamas. Many locations used in Casino Royale were used in the previous Bond films Thunderball, For Your Eyes Only and The World is Not enough.
Ian Flemming: The Secret Road to Paradise (1.78:1/1080p) -- This featurette looks at Ian Flemming's life on Paradise Island, The Bahamas.
Death in Venice (1.78:1/1080p) -- A look at filming on-location in Venice for the film's dénouement.
Becoming Bond (1.78:1/1080p) -- This looks at the journey to choosing Daniel Craig as the 6th actor to play James Bond.
James Bond: For Real (1.78:1/1080p) -- In this featurette the film's special effects crew discuss filming the opening action sequences and the desire of producers to move away from much of the CG visual effects employed in more recent Bond productions towards using more practical effects in Casino Royale.
Bond Girls are Forever (2006) (4:3/standard definition) -- This featurette narrated by past Bind girl Maryam D'Abo is all about the women of the James Bond films.
The Art of Freerun (1.78:1/1080p) -- This is all about Sebastien Foucan, the inventor of Freerunning, which is featured in Casino Royale's opening action sequences in Madagascar.
Catching a Plane: From Storyboard to Screen (1.78:1/1080p) -- This is a behind-the-scenes look at the storyboarding process for the big scene where James Bond must stop a terrorist from blowing up an airplane at the airport.
Storyboard Sequence: Freerun Chase -- View the storyboard sketches for the Freerun Chase scene. Viewers can optionally select the sketches alone or a storyboard-to-film comparison.
Filmmaker Profiles (1.78:1/1080p) -- Profiles of the director, producers and crew.
Chris Cornell Music Video (4:3/standard definition) -- "You Know My Name"

Final Thoughts

Casino Royale Collector's Edition is hardly worth a double-dip if you've already purchased the original Blu-ray release of this film. For anyone who missed this release the first time around, however, I say dive in. Casino Royale is one of the best Bond films to come around in decades and the video transfer and audio mix from Sony are true reference quality all the way.

Where to Buy
Product Details

Actors: Daniel Craig, Eva Green, Judi Dench
Audio/Languages: English Dolby TrueHD 5.1, French Dolby TrueHD 5.1.
Subtitles: English, French, Spanish
Aspect Ratio: 2.40:1
Number of discs: 2
Rating: PG-13
Studio: Sony Pictures
Blu-ray Disc Release Date: October 21, 2008
Run Time: 144 minutes
List Price: $38.96
Extras:

Disc 1:


New BonusView Picture-in-Picture Visual Commentary with Director and Producer
Crew Commentary
Blu-ray Exclusive: Know Your Double-0: The Ultimate James Bind Trivia Quiz
BD-Live Enabled

Disc 2:

Never-Before-Seen Deleted Scenes
The Road to Casino Royale
Ian Flemming's Incredible Creation
James Bond in the Bahamas
Ian Flemming: The Secret Road to Paradise
Death in Venice
Becoming
Bond Documentary
James Bond: For Real Documentary
Bond Girls Are Forever (2006)
The Art of the Freerun
Catching a Plane: From Storyboard to Screen
Storyboard Sequence -- Freerun Chase
Filmmaker Profiles
Music Video: Chris Cornell "You Know My Name"