Details on Panasonic's 2012 Blu-ray Home Theater Systems: SC-BTT490, SC-BTT195, SC-BTT190
By Rachel Cericola
For 2012, Panasonic is going to be putting a lot more into some of its compact theater systems. Instead of having to put together a home theater with lots of separate components, the company says that its new Blu-ray 3D home theater systems should have everything you'd need. More importantly, all three are promising to deliver that instant home theater experience at an affordable price.
At last week's Consumer Electronics Show, the company unveiled the SC-BTT490, SC-BTT195 and SC-BTT190. All three are brand new Blu-ray 3D theater systems for 2012, and promise both 3D support and theater-like surround sound. Features across the entire line include smartphone control (via Panasonic's free Smartphone Remote Control app), DLNA support, integration with the iPod and/or iPhone, and Panasonic's own VIERA Connect service.
Another new standard feature is 3D Cinema Surround. This is Panasonic's own technology, which is what delivers that sound -- through about 30 real and virtual speakers. We're not sure what the ratio is of real to virtual, but Panasonic is adding in something called "direction perception control technology," which actually allows sound to be perceived as coming from the correct direction.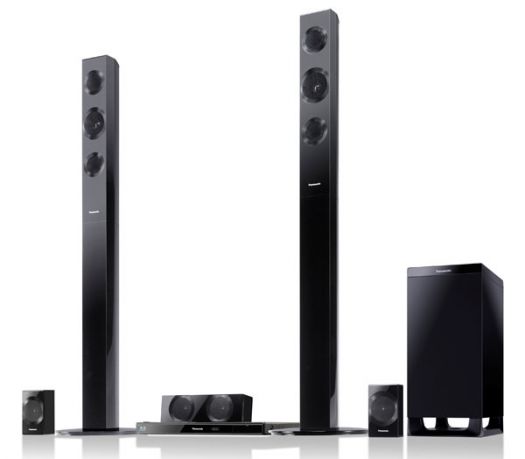 Panasonic also says that each of the new products will feature Anti-Jitter Digital Amplifiers, to reduce jitter and distortion, which can affect how your audio sounds.
Of course, a nice perk is that the 2012 home theater systems also have plenty of options for added entertainment. Each one includes access to VIERA Connect, as long as the system is hooked up to a broadband connection, of course. This opens up a wealth of web-based entertainment to each user. Some of the most popular VIERA Connect features currently include Netflix, YouTube, Facebook and Skype (expect to need a camera for that one).
While Panasonic has not released specs on each model yet, we do know that the SC-BTT490 will have built-in Wi-Fi, so users don't need a hardwired connection or wireless LAN adapter. It will also come packing two HDMI inputs and one HDMI output, for adding in an extra AV device. It's also important to note that the signals from connected devices can pass through the unit, which means you don't need to have the theater system on to use that set-top, gaming console, or other connected component.
Panasonic has yet to announce pricing on any of the new systems, as well as release dates.

Related Articles:
Where to Buy: