Denon DP-200USB Turntable Review
By Chris Boylan
Your Vinyl Destination
Uniting old and new technology is all the rage these days.  Panasonic is offering a high def 1080p Blu-ray player that plays VHS tapes, and now Denon has released a turntable that converts old-fashioned vinyl LP records to new-fangled MP3 files.  It's not the first component to offer this functionality, but this one has a twist: it doesn't require that you connect the turntable to a computer.  The Denon DP-200USB will allow rip your beloved LPs directly onto a USB thumb drive via its built-in MP3 recorder and USB port. And if you want to separate whole albums into individual songs, complete with artist, song and genre tags to help organize and catalog your music, it comes with the software for that as well.
For those who still own a collection of vinyl albums, there is one major factor standing in the way of joining the members of the iPod generation, with their small carbon footprints and their fully transportable music libraries: complexity.  It seems like converting all these vinyl records to files that can be stored and played back on a computer or portable media player is an overwhelming task, requiring a doctorate in computer science just to get started. Denon designed the DP-200USB with this in mind.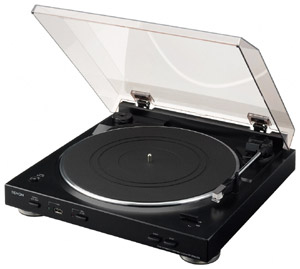 Instead of requiring you to plug the turntable into your PC, the DP-200USB includes a built-in MP3 encoder and USB port, into which you plug a flash drive or supported portable media player.  To capture the songs from a record into MP3 files, you place your album on the platter, select playback speed (33 1/3 or 45 RPM), and press Start.  Once the tone arm descends onto the platter, hit the Record button to begin encoding the song or songs to MP3 files.  When you're done, just hit the Record button once more to pause recording.  And that's it. Well... mostly.  Now you've got MP3 files, but chances are you're going to want to clean them up a bit before loading them onto your player and this is where Denon's Trans Music Manager software comes in.
Assuming you want to transfer whole records into MP3 at a time, separating the recording into individual songs, or you if you just want to trim out the blank space at the beginning and end of a recorded song, you'll need to bring that USB drive to your computer and copy over the files for further processing.  Denon's Trans Music Manager application allows you to chop the album or album side into individual songs, either automatically (based on silence detected between tracks) or manually.  Also, with the help of Gracenote's online music database and MusicID feature, the software can identify artist and album name, song, genre and other meta data into each file's MP3 tags.  This will allow you to effectively store, search and play back these songs later on your computer or media player.
It's Also a Turntable
For those who prefer to listen to their vinyl in its purest form while at home, the Denon DP-200USB also serves as a perfectly functional stand-alone turntable.  You can opt to use its built-in phono preamp, plugging it into any available line input in your receiver or home theater system.  Or if you prefer, you can disable the on-board preamp/EQ and use it with your receiver or preamp's phono input.  The hefty aluminum platter and included moving magnet cartridge can produce some sweet rich vinyl sounds if you're in a nostalgic or "analog purist" kind of mood.
OK, So How Does it Work?
For the most part, the DP-200USB delivers on its promise of easy conversion of vinyl albums to MP3 files.  Set-up was a breeze.  I simply placed the aluminum platter on top of the drive unit and made sure to stretch the included rubber belt onto the motor drive spindle.  Unlike higher end manual turntables there are no tracking or tonearm weighting adjustments needed and the cartridge itself was pre-installed so I was ready to rock. I inserted a 4GB USB drive into the front USB port, hit the Record button and then pressed Start which swung the needle out and lowered it onto the record. Quicker than you can say "Vinyl Rules," we were rocking out to the sounds of Meco's disco version of "Star Wars and Other Galactic Funk."  Soon after came more vinyl classics from ZZ Top, Styx, Genesis, Men at Work, Ultravox, Journey and more I ( know, I know... "the eighties called, and they want their music back!").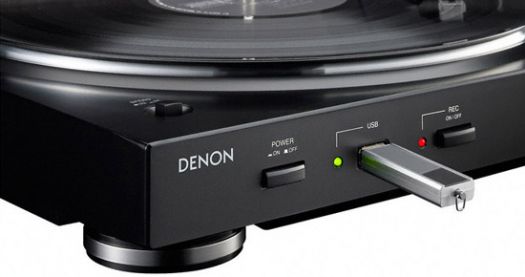 The Trans Music Manager software and USB drive allowed me to create MP3 files fairly quickly and easily from my small collection of vinyl LPs and singles though the process was not without its hiccups (more on that later).  The MP3 sampling rate is locked in at 192 KBPS which represents a decent trade-off of quality to file size.  I would have liked to see a 320 KBPS option or even a lossless capture option using FLAC (Free Lossless Audio Codec) or something similar, but 192 KBPS works well enough for most purposes.  The built-in preamp was convenient as many modern home theater receivers lack phono inputs -- with this turntable you can use any available line input on your receiver or preamp/processor.
The Nitty Gritty
While I was ripping various records, the turntable seemed to be pretty resistant to pounding footsteps and vibrations, though I wouldn't recommend tapping on the turntable cover while it's playing as all turntables are a little bit microphonic and this may translate to audible sounds or skips in your recording.  The cartridge did skip on a couple of slightly scratched records, but no more so than other turntables.  I had hoped the included software would allow me to edit out the skipping segment within a track but alas, this was not to be - Trans Music Manager is really just for editing out the blank spaces between songs, not editing out a skipping section within a song (there is other software available from third parties for that).
Depending on what kind and what capacity USB drive I used, the recording process took somewhere between four and eight seconds to engage after hitting the Record button.  Timing this incorrectly could cause you to miss the beginning of a song or end up with extra blank space.  If you make sure the red light is flashing shortly before the music starts then you'll be fine.  Oddly, the unit does not stop recording after it finishes playing a record.  The tonearm does automatically return to its resting place and the platter stops spinning but the encoder keeps right on going encoding dead silence until you manually hit the Record button again to stop the recording.  This means you can't really leave the unit running unattended otherwise you'll end up with a huge file full of empty space.
Also, the machine seems sensitive to the specific USB flash drive used.  For my first LP ripping session, I used a 4 GB unbranded (promotional) USB drive.  While the recording seemed to work, when I tried to copy over these files to my PC for editing I found that three of the eight files were corrupt and unusable.  And those that transferred over OK caused all manner of problems in the Trans Music Manager software. Switching over to a Victorinox 8GB USB thumb drive, the files were created more reliably.
In terms of audio quality, my old albums sounded pretty good when played back on the Denon, though they were missing a little of that high-end sparkle and clarity from my regular analog rig.  And the good sound carried over to the MP3 files with some fairly minor congestion and brittleness due to compression.  When listening to the ripped MP3 files on headphones, I did notice a very slight pulsing, buzzing sound in the background between songs - something akin to a barely audible alarm clock.  It was completely inaudible while music played but was a minor annoyance between songs.  This will most likely only be an issue for those who enjoy classical music with extremely quiet passages or songs with extended fade-ins or fade-outs to silence, and then only if listening through a good pair of headphones.  The sound was subtle enough to be masked by the surface noise of older vinyl and is not likely to be objectionable to casual listeners.
Working with Trans Music Manager
For the most part, the Trans Music Manager software did serve its designated purpose.  If your songs have very clear and precise starts and stops, then the auto-split mode will probably work without any adjustments to split up an album side into its individual tracks.  But if you have songs that run together or have slow fade-ins or fade-outs then things can get tricky as the beginnings and/or endings of songs will get clipped.  You can set the level and timing thresholds manually (using slightly cryptic and undocumented settings) but it may be easier just to split the tracks manually.  I found that manual splitting was required for most of the albums I ripped on the turntable.
Unfortunately splitting manually just plain didn't work for a few of my recordings.  In one case, a 16:00 song was analyzed in manual mode as 3:25 with the rest of the song truncated.  In another case a twenty nine minute album side simply went into an "analyzing" loop from which it never returned.  After this endless loop, the software would no longer function properly, immediately saying "split finished" when attempting to split any additional tracks, though it clearly had not done any splitting.  I had to actually reboot the PC in order to restore program operation.
Upon further testing, it seems that the files that had the most problems were the ones from that earliest ripping session on the unbranded USB drive so it may come down to an incompatibility with the turntable and this specific USB drive.  However the files that caused problems in Trans Music Manager did open up properly in another WAV/MP3 editor (Audacity) so the Denon software is at least partially at fault here.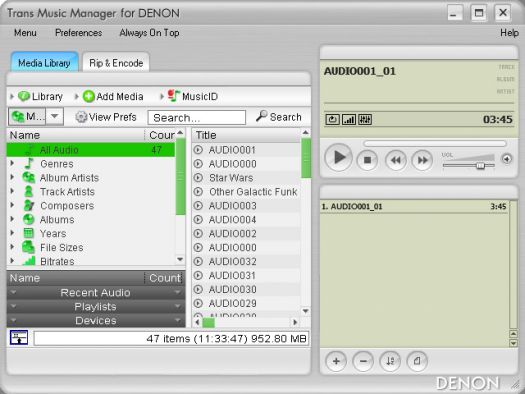 The Gracenote-powered MusicID software built into Trans Music Manager did work well in providing track identification information for MP3 files once they had been chopped into individual songs, particularly if I had identified the artist and album name in advance.  In these cases, the software polled its online database to identify the song which then gives you song name, genre, track number and other useful information.  I found that the software did not work very well with a dial-up connection (yes, some people still have those) but was solid on a broadband internet connection.
A tip: if you have a whole album worth of songs to deal with, select them all and then right click to select the "identify songs from album" feature to hasten along the process.  This will allow you to tag multiple tracks at one time.  In cases where a song could not be clearly identified by MusicID, the software may tag the track as "needs resolution" where you can then select from a list of likely choices.
Overall, the Trans Music Manager software can be useful, though it's not all that intuitive.  For example, accessing the Gracenote MusicID function can be done by right-clicking on the filename in the main window, but accessing the "split tracks" function must be done by loading the track into the preview pane first, then right clicking from there.  But make sure you hit "stop" before entering the manual split function otherwise the song will begin playing over itself when you try to identify the gaps between tracks.   If you run into trouble, you may find the software is poorly documented, with error messages such as "File AUDIO001_01.mp3 has been existed.  Do you want to overwrite it?"I would hope that Denon will provide upgrades to this software over time as this is clearly the weak link in the package.
Turn Ons
Simple solution for ripping your vinyl collection to MP3s
Decent sound quality
Simple set-up
Built-in USB drive and ripping software eliminates need for turntable to be plugged directly into a computer
GraceNote MusicID software is useful in identifying song meta data
Turn Offs
No high quality lossless ripping option (fixed at 192 KBPS encoding)
Requires that you manually stop recording after record stops playing
Trans Music Manager software is flaky and not entirely intuitive
Some low level "hash" in the encoding/ripping process
Final Thoughts
I had great expectations for the Denon DP-200USB turntable, perhaps greater than I should have, given the low $250 price point (low for Denon, that is).  I absolutely love the idea of ripping my old vinyl to MP3 files without having to plug the turntable into a computer and the set-up and operation of the unit itself were a breeze.  But I think analog purists are going to want the option of lossless encoding instead of being locked into 192 KHz lossy MP3.  And I think the Trans Music Manager software could use improvement.  If the 192 KBPS encoding is good enough for you, and you don't mind a few rough edges in the software, then the Denon DP-200USB may be just what you need to bring those old records into the new millennium.
DP-200USB Specifications
Drive System: Belt Drive
Motor: DC Servo Motor
Speed: 33 1/3 RPM, 45 RPM
Wow and Flutter: 0.15% (WRMS)
Tonearm: Dynamically balanced straight tonearm
Catridge specs:

Type: Moving Magnet
Replacement Stylus: DSN-84
Output voltage: with EQ OFF 2.5 mV; With EQ ON: 150 mV

Digital Recording Media: USB memory (Mass Storage Class)
Digital Recording File Type: MP3 @ 192 KBPS encoding
Power Supply: AC 120 V, 60 Hz
Power Consumption: 12 Watts
Dimensions:

Dust Cover Open: 14-11/64 x 16-11/32 x 14-19/64 inches; 360 x 415 x 363 mm (WxHxD)
Dust Cover Closed: 14-11/64 x 3-55/64 x 14-3/32; 360 x 98 x358 mm (WxHxD)

Weight: 7 pounds, 0.88 ounces (3.2 kg)
Trans Music Manager Software requires Windows OS (Vista, XP or 2000)
MSRP: $250
Where to Buy:
Company Information
Denon Electronics (USA), LLC
100 Corporate Drive
Mahwah, N.J. 07430-2041
201-762-6500
On the Web: www.usa.denon.com