Panasonic DMP-BD70V VHS/Blu-ray Player Review
By Chris Boylan
Panasonic DMP-BD70V Review
Something Old, Something New, Something Borrowed, Something Blu
No, I'm not getting married (again), I've gathered you here today to talk about Panasonic's latest entry into their 2009 Blu-ray player line-up. And considering the fact that this combo Blu-ray/VHS player was loaned to me for the review (borrowed) and it unites cutting edge next generation Blu-ray playback (new) with antiquated VHS cassette technology (old), I couldn't think of a more appropriate title for the review.
Why on earth would anyone want to buy a combination VHS/Blu-ray player, you might ask? Well it turns out there are still people with massive libraries of VHS tapes who have neither the financial wherewithal nor the inclination to re-purchase this library on Blu-ray Discs or even DVD. And some of these folks have purchased large screen HDTVs which only serve to magnify the flaws of the resolution-challenged VHS format. What if you could buy a player that not only makes the most out of new Blu-ray Discs with their lossless sound and 1080p high definition picture, but it also actually performed advanced high definition upconversion on your old collection of VHS classics so they look eminently watchable on that 50-inch flat panel TV? Enter the DMP-BD70V Blu-ray/VHS Player from Panasonic.

A Modern Multi-Media Marvel
Panasonic is positioning this more as a multi-format media player than a combo Blu-ray/VCR. And it's important to note that this is in fact a player only. There is no recording function, neither on the Blu-ray deck nor on the VHS side. But it plays a whole lot more than just Blu-ray Discs and VHS tapes. It also plays (and upconverts to 1080p) regular or home-made DVDs, and it plays back standard music CDs as well. On the digital format side of things, the unit also plays MP3 music files (on SD or USB drives) as well as JPEG digital photos. It also can play back AVCHD files (e.g., from a Panasonic HD camcorder), on either DVD-R or SD card.
There are a couple of missed opportunities here however. Unlike the BD80, the BD70V does not play back Divx videos. Doing so would have made it a more flexible and more powerful media player. Also, while the deck does upconvert the image from VHS tapes all the way up to 1080p resolution, the deck does not support S-VHS recordings in their native 400+ line resolution. Oddly, the deck plays S-VHS tapes back in SQPB mode (approximately 240 lines of resolution) which it then upconverts up to 1080p. This is not an issue to those who buy store-bought VHS tapes, but it can be relevant for serious video hobbyists who may have a collection of home-made S-VHS tapes.
The Set-Up
With its on-board HDMI output, set-up was a fairly painless affair. As with the BD60 and the BD80, the first time through on the BD70V, the unit walks you through a simple set-up wizard where you select menu language, TV shape (4:3, 4:3 letterbox, 16:9 or 16:9 full) and other basic settings. For me, network set-up was also a breeze. I simply selected Dynamic IP addressing (DHCP) and the player was able to find my network router, obtain an IP address and get the necessary Domain Name Servers (DNS). It is important to note that the BD70V lacks WiFi capability. You will need to plug a network cable into its RJ45 network port if you want to take advantage of fun stuff like YouTube, Picasa, Weather and Stock widgets, automatic firmware updates and BD-Live. If you'd like to add WiFi capabilities, you can do so via a wireless bridge or wireless gaming adapter. See our forum article for some specific suggestions on adding WiFi to your Blu-ray Player.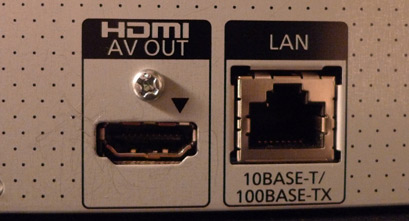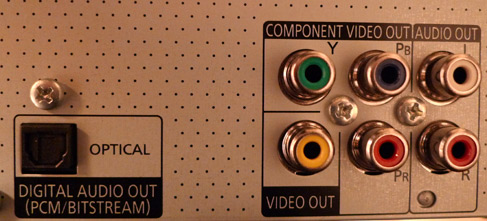 Connecting the BD70V to my review system did prove to be a bit problematic however. With my Blu-ray players over on the opposite side of an A/V rack from my preamp/processor, I use a Monoprice 4-port HDMI switch so I can select among 4 separate source components all connected through the switch to an Integra DTC-9.8 preamp/processor, which is then connected to the TV. Attempting to connect the DMP-BD70V to the system this way resulted in a U73 error code on the player. If I bypassed the HDMI switch, this problem went away. You could blame the switch for this, however, I have not had this problem with any other Blu-ray players or HDMI source components passing through this switch on their journey through the so-called HDMI/HDCP "handshake," including the DMP-BD80 Blu-ray player, also from Panasonic. So it's the combination of player and switch that seems to cause the problem. For the purposes of the review, I bypassed the switch and plugged directly into the receiver which worked fine.
The last thing I needed to do was insert an SD card (at least 1 GB) into the SD card slot. Without one, the BD-Live feature will not work. It would be nice if the unit had at least one gigabyte of on-board storage (like Samsung's BD-P3600), or if Panasonic would include an SD card in the box as I'm sure more than one new Blu-ray owner has been disappointed when trying to use BD-Live only to learn that an additional purchase is required.
Virtual Entertainment
With the HDMI connection workaround in place, and network connection up and running, I explored some of the online content offerings of the BD70V in using the player's VIERA Cast feature. Not surprisingly the VIERA Cast interface on the BD70V is identical to that of the BD80 we previously reviewed, including the annoying and un-defeatable beep that occurs with every step you take through YouTube navigation. YouTube content varied in quality but was generally pretty watchable, even in full screen mode. But this definitely ain't Blu-ray -- in fact, most of the YouTube quality isn't even up to VHS standards. But this is more a limitation of the source material than anything else. VIERA Cast also includes access to Picasa online photo sharing, weather and stock information.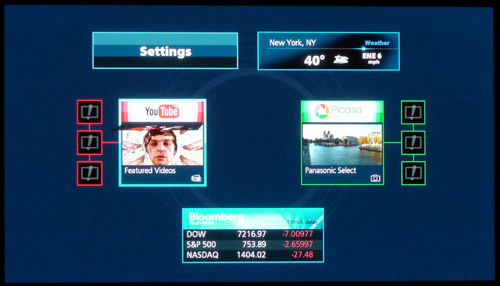 Although Amazon's movies-on-demand functionality was originally expected in May, it is still absent from the VIERA Cast menu on the BD70V, though it is already available in certain VIERA HDTV models (such as the G10 and V10 series). Panasonic reps tell us Amazon Movies on Demand will be available on the players later this Summer via a firmware upgrade.
I Like to Watch
Moving onto more traditional media, I started out with some VHS tapes -- some home grown S-VHS transfers from Laserdisc, and some store bought tapes. It's important to realize that the 1080p upconversion process isn't going to magically turn your 4:3 aspect ratio VHS movies into widescreen high definition movies. The player will upconvert the VHS signal to 1080p, but you'll still get grey or black bars on the right and left of your screen. Using the submenu button on the Panasonic remote, you can zoom in or stretch the image to fill the screen, but either way you will be missing part of the picture. If you happen to own any widescreen VHS tapes, you can zoom these in to fill the screen and this will not lose any picture information or distort the image, but the results are going to be pretty grainy and not too pretty as you're taking a very low resolution original signal and making it larger which only makes it look worse.
On regular full screen (4:3) VHS material, the DMP-BD70V does a nice job cleaning up and sharpening the standard def picture into something that actually can look pretty good. I put on a Scooby Doo movie for the kids and noticed how color bleed was virtually non-existent, video noise was dramatically lower and black levels appeared richer than they ever had before. We got similar results on Disney's Fantasia and Dumbo on VHS as well as other store-bought VHS tapes from he 80s and 90s. Again, this ain't Blu-ray, but it may be the best your VHS tapes have ever looked or will ever look.
As for the sound, some older tapes did have mild tracking issues which caused a slight buzz in the audio but this varied from tape to tape. Newer store-bought tapes suffered the least from this effect. As a point of comparison, I tried these same tapes in a dedicated JVC S-VHS VCR and that deck was better able to track these titles without audio or video distortion. Panasonic used to build some of the most advanced professional and prosumer S-VHS editing decks "back in the day" but the VHS transport in the BD70V isn't one of them. It seems to be much more in line with the garden variety inexpensive VCRs that were sold toward the end of the format's lifespan.
We did try a second sample of the BD70V after publishing this review and found that it was better at tracking old tapes than the original player so it's possible that there is some sample to sample variation here.
Moving over to DVD and Blu-ray, I started with the usual test discs: HQV Benchmark on both DVD and Blu-ray. Unsurprisingly, the BD70V made short work of the 1080i Blu-ray tests, performing virtually identically to the DMP-BD80 we reviewed several months ago. The only minor glitch (and it was minor) was a flicker of moiré in the grandstands during the HQV "Film Detail Test" as the camera panned around the stadium. Other tests such as the jaggies tests and video resolution loss test passed with nary a hiccup suggesting that the player has a good diagonal filter and is perfectly capable of de-interlacing the full resolution of 1080p content when retrieved from a 1080i Blu-ray Disc.
Continuing on to the DVD version of the HQV test, the player continued its winning streak, with excellent reproduction of the jaggies tests both in the single rotating line and the three moving line segments tests. On the film resolution loss test, the player locked to the underlying 3:2 cadence in a little under a second, then eliminating the moiré in the grandstand that occurs when a player has faulty 3:2 detection. This means the player works well with film-based (24 frames per second) material on DVD. In a mixed cadence test with scrolling video titles over a film-based background, the player exhibited some tearing in the text for a split second then presented both vertical and horizontal text cleanly.
Noise reduction tests on the BD70V were about average, but these tests are more relevant for a display than for a source component. Yes there are some DVD and Blu-ray transfers that benefit from noise reduction, but noise reduction is far more relevant when working with analog and digital broadcasts, e.g., from an over the air tuner.
As with the BD60 and BD80, the BD70V offers a 24p (24 frames/per second) mode for standard DVDs, which is ideal if you have a TV that displays 24p material at a multiple of 24 Hz. You need to switch this on during playback using the "Display" menu. This feature is quite rare on DVD and Blu-ray Disc players and will appeal to video purists. 24p mode is not available for VHS playback.
Welcome to the Real World
Test patterns and cadence tests are all well and good, but where performance matters is on real world discs. And the performance from the test discs carried through to the player's behavior on actual movies on DVD and Blu-ray Disc. Upconversion on Gladiator's Chapter 12 flyover sequence showed the diagonal roofing titles of these CGI-enhanced models very cleanly without any stair-stepping distortion. High quality DVD transfers such as Star Wars Episode 3 and The Fifth Element Superbit Edition captured excellent detail and decent color saturation, certainly about as good as can be expected from standard definition sources.
As expected, the player really shined on Blu-ray Discs. The Legends of Jazz disc, with its 1080i/60 transfer was presented with excellent detail as the player internally de-interlaced the image to generate 1080p/60 output. Nature's Most Amazing Events (another 1080i disc) also looked wonderfully detailed on the player. From a Polar Bear's fresh meal (a seal), to a Narwhal's spiral tusk, to a Bald Eagle plucking a salmon out of a river, details and colors were rendered wonderfully on the BD70V. And on 1080p Discs, the performance is equally impressive. The player's integrated Uniphier video processor can even restore color detail lost in the Blu-ray mastering process, outputting enhanced 4:4:4 color to compatible high performance HDTV displays.
About the only glitch I encountered with Blu-ray playback was one that I knew could happen but wasn't entirely expecting. Apparently some or all players in this current generation of Panasonic Blu-ray player have a sporadic freezing issue. The picture and sound can freeze for up to 10 seconds, then resume playback. It's a seemingly random occurrence, never happening in the same place twice, and you can go through many discs without ever seeing it occur. In fact, in our extended review of the DMP-BD80, it didn't happen once. However, on the BD70V, while watching Step Brothers on Blu-ray Disc I experienced the dreaded freeze - picture and sound stopped for about 10 seconds then the film resumed on its own.  This happened again about 40 minutes into Watchmen: The Complete Motion Comic.

This is an issue that has been mentioned on some online discussion forums including the BD60/BD80 owner's thread over on
avsforum
as well as our own
discussion thread on the BD80
, but it's something I've only experienced myself on the BD70V. Fortunately it only happened twice during our review, but its sporadic nature makes it difficult to identify the cause. I've contacted Panasonic about it and they say they are looking into it. I hope they will be able to address this issue via a firmware update, but its unpredictable nature makes it a difficult problem to reproduce.  if you see this problem yourself, you should contact Panasonic support and report the problem so they are aware of how many are affected.
Update (12/09): Panasonic has corrected the above Blu-ray freeze issue with firmware 2.2.  When purchasing this player, we recommend upgrading the firmware as soon as possible which you can do in the set-up menu if your player is connected to the internet.  You can also download the updated firmware from Panasonic's support site and burn an upgrade CD if your player is not connected to the internet.
Ergonomics
As a versatile multi-format player, it would have been possible for the BD70V to become unwieldy and cumbersome. Happily the designers of the BD70V have avoided this. A simple "Drive Select" button on the remote allows you to choose among the CD/DVD/Blu-ray drive, the VHS deck, or files stored on a connected SD card or USB flash drive. Playback of all media is fairly responsive with a very quick Fast Forward and Rewind time on the VHS drive.
In terms of Blu-ray and DVD disc load times, the BD70V is similar to the BD60 and BD80 in this respect. With the player already on, a standard DVD (Gladiator) displays its first screen in about 21 seconds, a non-BD-Java Blu-ray Disc (Hitch) gets to its first on-disc screen in about 41 seconds, and a BD-Java Blu-ray title (Pirates of the Caribbean 1) loads its first on-disc screen in 52 seconds. The new "Quick Start" feature shaves off some initial boot-up time over earlier players. Starting with the player powered off (with Quick Start engaged) only added 1 to 4 seconds to the above times: the DVD loads in 22 seconds, standard Blu-ray in 45 seconds and BD-Java Blu-ray in 53 seconds. If you're not too concerned by a few extra watts of power usage, then keep the player in Quick Start mode for the nimblest start-up times. These load times are acceptable, but are a bit slower than the latest players from Samsung and LG.  Note: these times have been improved about 20% with firmware release 1.9 and above.
The remote control is identical to that offered with the DMP-BD80 and DMP-BD60. It lacks backlighting but is intuitively laid out for everyday use with comfortable access to the 4-way navigation controls and a dedicated VIERA Cast button at the bottom for accessing online content. The one notable omission from the remote is a subtitle button. In order to turn subtitles on or off you actually have to go into the Display menu and click a couple of times to navigate to your choice of subtitle text.
A Few Words About the Sound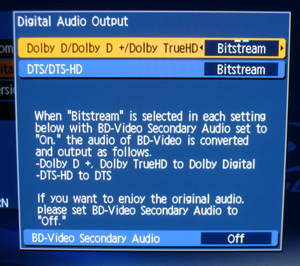 The DMP-BD70V, like the BD60 and BD80, features on-board decoding of all of the new surround codecs, including DTS-HD Master Audio, DTS-HD High Resolution Audio, Dolby TrueHD and Dolby Digital Plus. This means you can set the player to PCM output mode in the Digital Audio Output menu if you have an HDMI-equipped receiver with multi-channel PCM support, but no decoder for the new formats. For everyone else, your best bet will be to set the player to "bitstream" mode so that the sound is carried to your receiver in its native bitstream format over HDMI or S/PDIF (fiberoptic, in this case). The fiberoptic S/PDIF digital output format cannot handle the bandwidth of the new lossless surround formats, so the player will automatically send standard DTS or Dolby Digital over the digital output for compatibility with older non-HDMI receivers. This doesn't quite capture the full quality of the new lossless codecs, but it sounds at least as good as (and in many cases a little better than) standard DVDs.
We tested a number of Blu-ray Discs in virtually all formats (Dolby TrueHD, DTS-HD MA, DTS-HD HR, Multi-channel PCM, etc.) and the player passed the bitstream properly to our Integra preamp for decoding. However, on discs where there is menu clicking audio or BonusView (PiP) commentary tracks, you will need to set BD-Secondary Audio to OFF (in the digital audio output menu), if you want to take advantage of these new codecs. Otherwise, the player will prepare to mix in the various secondary audio tracks and sound effects, which requires it to step down to the lossy standard Dolby and DTS mixes. If you want to listen to the BonusView commentary tracks, then you will need to go back into the set-up menu to enable BD-Secondary Audio.
Turn-Ons
Versatile, integrated playback of CDs, DVDs, Blu-ray Discs, VHS tapes and select electronic media from USB drives and SD cards
Excellent performance on Blu-ray Discs and DVDs
YouTube and other online content on your TV with no PC required
Turn-Offs
Lacks native S-VHS support
Lacks Divx media playback
Some tracking issues on older store bought and home-made tapes (this was better on our second review sample)

Random BD playback freeze (fixed with firmware 2.2)

Final Thoughts
If you've still got a sizable collection of VHS tapes and want the simplicity of a single component to play back CDs, DVDs, VHS tapes and Blu-ray Discs, then the DMP-BD70V is pretty much your only choice, and it does do justice to the various media in the quality of its playback. However, you may get better quality VHS playback using a dedicated high quality VCR connected to your TV via s-video, assuming your TV includes a high performance upconversion processor. With the tracking issues, lack of Divx support and the mysterious (but admittedly rare) freezing issue, the DMP-BD70V falls a bit short of earning an enthusiastic recommendation. The player does offer excellent playback quality on standard DVDs and Blu-ray Discs, though, so if this is your primary use for the player, with occasional use of the VHS deck, then you're likely to be happy with your purchase.
Update: With enhanced VHS performance on a second review sample and with Panasonic's fix of the random Blu-ray freeze in firmware 2.2 and above, we have updated the score from 2.5 to 3 stars and would recommend this player without hesitation to those who still have a sizable library of VHS tapes.
Where to Buy
Also worth considering (units without VHS playback):
DMP-BD70V Key Features:
1080p output for VHS, DVD and Blu-ray Discs

BD-Live: enjoy additional content via Internet (requires optional SD card)
PHL Reference Chroma Processor Plus
High Precision 4:4:4 color processing
P4HD: Advanced Picture Processing for 1080p, including 1080p/24 (24 fps) output for Blu-ray and standard DVD
7.1-channel Lossless Decode to multichannel L-PCM

On-board decoding or bitstreaming of Dolby Digital, Dolby Digital Plus, Dolby TrueHD, DTS, DTS-HD High Resolution Audio and DTS-HD Master Audio
96KHz Surround Re-Master
VIERA Cast™: instant access to online content such as YouTube, Picasa, Weather Channel and Bloomberg Stock quotes
AVCHD Video playback via DVD and SD card
MP3 music playback (USB, CD, DVD)
JPEG photo display (SD card, USB, CD, DVD and BD-RE)
VIERA Link™: control all of your HDMI-connected AV devices with one remote
MSRP: $399.95
Manufacturer's Contact Information:
Panasonic Corporation of North America
One Panasonic Way
Secaucus, NJ 07094
Web Site: www.panasonic.com
The DMP-BD70V is also known as: DMP-BD70VK, BD70, BD70V, BD-70, BD-70V, DMPBD70V, DMPBD70VK