Here's the Scoop on Denon's New AVR-X1400H and AVR-X2400H AV Receivers
By Chris Boylan
X Series Home Theater Receivers Get HEOS Whole Home Audio, Dolby Vision, Dolby Atmos, DTS:X and Audyssey MultEQ Editor Support
Denon has established itself as a maker of high performance affordable home theater receivers and the new models announced today appear to be no exception. With advanced features like Dolby Atmos and DTS:X immersive sound, Dolby Vision HDR, Audyssey MultiEQ Editor support and built-in HEOS whole home audio, about the only thing missing is a high price tag. All these features can be yours in the AVR-X1400H ($599) and the AVR-X2400H ($799).
Senior correspondent Ken Sander and I got a sneak peak at the new receivers at a press event in the Morgans Hotel in Manhattan last week where the receivers were on silent display. Yoshinori Yamada, Global Business Team Leader from D+M Group, was on-hand to provide all the juicy details on the new gear.
The new receivers are fully equipped for Ultra HD 4K video sources with High Dynamic Range, including HDR 10 and Dolby Vision. Mr. Yamada told us that both receivers will be upgradeable to HLG (Hybrid Log Gamma) HDR -- an upcoming standard expected to be used for Ultra HD broadcasts -- via a future firmware update. You'll also find Audyssey MultEQ room calibration software on board, with support for a new Audyssey MultEQ Editor app that the company recently released. The app is available for purchase in Apple's app store and the Google Play Store (currently $19.99). Audyssey's MultEQ Editor app allows you (or your installer) get jiggy with the setup parameters and tweak your system for its highest possible performance in your specific room.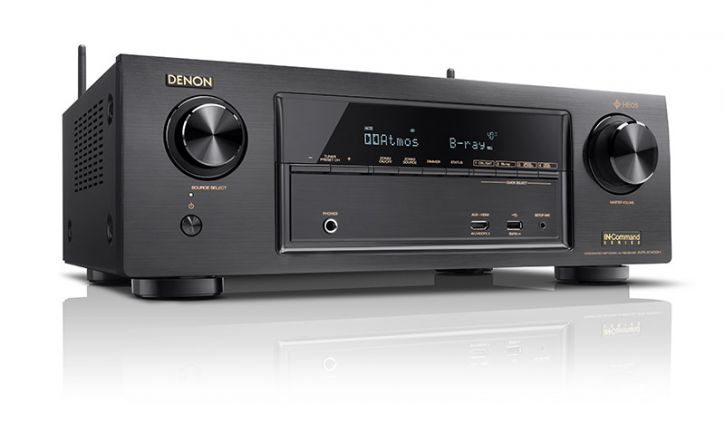 With built-in HEOS multi-room music streaming support, your home theater or living room sound system can now be a HEOS zone. This means you can wake up your receiver remotely with the free HEOS app, and stream music to it from digital files within your home network, or from a variety of music streaming services such as Pandora®, Spotify®, Amazon Prime Music, iHeart Radio, Sirius XM, Sound Cloud®, Tidal, Napster and Deezer. You can also synchronize music playback throughout your home by adding other HEOS-compatible speakers, receivers or amplifiers.
Both receivers include seven channels of amplification on board and can decode all of the lossless audio formats as well as DTS:X and Dolby Atmos immersive sound. You can configure either receiver for a traditional 7.1 channel surround system or for a height-enabled 5.1.2 system with two dedicated height speakers. Both receivers have dual subwoofer outputs so you can supplement the bottom end with a second sub if desired. And both receivers offer native support for high-resolution audio files including FLAC, ALAC and DSD (up to 5.6MHz).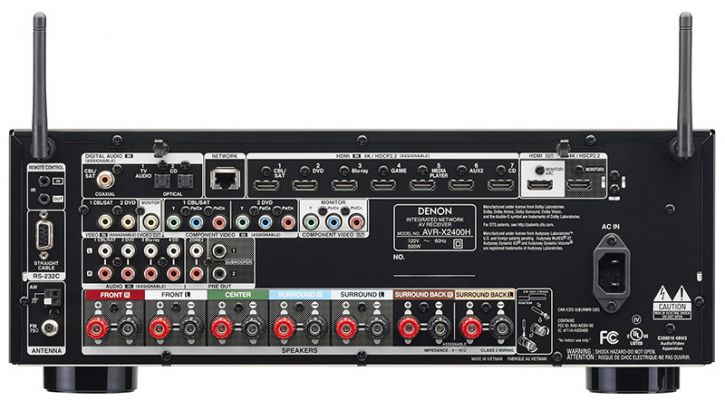 If you're trying to reduce your Carbon footprint, you'll appreciate Denon's advanced ECO Mode which enables either receiver to tailor its power consumption to the way it's being used, reducing energy use by as much as 50% when playing at low levels. You can switch the ECO Mode on, turn it off for full-power use at high levels, or set it to Auto and allow the AVR-X2400H to make the decisions based on the content being played and volume levels. An on-screen Eco meter can be displayed to monitor the amount of energy the receiver is using.
As far as sound quality and performance goes, we expect good things from these receivers. The X1400's predecessor from 2015 (the AVR-X1200W) wowed Rachel Cericola enough to earn it a coveted BIGGIE Award. She even bought the review sample.
In terms of differences between the two, the more expensive AVR-X2400H has a bit more power (95 Watts/Channel vs. 80 WPC on the X1400), it has eight HDMI inputs compared to six on the X1400H and it offers advanced video processing with scaling of SD and HD sources to 4K Ultra HD resolution. The X2400H also adds a second HDMI output so you can connect your sources to two displays concurrently (e.g., a flat panel TV and a projector). If you're planning on integrating your receiver with a Crestron or other custom home automation system, you might want to pony up the extra cash for the AVR-X2400H as it also gets an RS-232 control port as well as an IR output port, neither of which is included on its little brother.
At the event, I also learned that Denon's parent company D+M Holdings was recently acquired by Sound United, who also own Polk Audio and Definitive Technology, makers of fine loudspeakers since the 1970s. So now, Denon, Marantz, Boston Acoustics, Polk Audio and Definitive Technology are all under one roof. This could make for some "interesting synergies" as well as some killer package deals.
Denon's AVR-X1400H and AVR-X2400H are expected to be available in stores and online later this month (May, 2017).
Related Articles: