CES: Monster Attacks with New Headphones, New UPS and New HDMI
By Chris Chiarella
At their CES press conference and beyond, Monster came on strong with a variety of new product announcements. Several revolved around their lineup of HDMI cables: "The Need for Speed" seems to be ever-increasing, and so the rating of their Ultimate High Speed has been upped from 14.93 to 15.8 gigabits-per-second, but since that's still not enough for today's high-bitrate devices (according to Monster), a new Hyper-Speed HDMI cable will also be launching, able to handle a whopping 21 Gbps.
The M Series M2000 Hyper-Speed Cable for HDMI will retail for $200-$1,800 depending upon cable length. Lest we dismiss these ratings as meaningless, Head Monster Noel Lee told the story of a recent Pioneer Blu-ray player which automatically tests the connected cable, and actually downgrades the quality of the output signal if necessary if the cable can't support the full bitrate. At the same time, they will be introducing an entry-level "HDMI Basic" cable at $39 for a one-meter length.
Another interesting product due later this year will be Monster's HTUPS 3700 Home Theater Uninterruptible Power Supply ($999.95). Monster Power has been a a part of many a high-end home theater, and there are plenty of other UPS devices currently out there, but the HTUPS 3700 sets itself apart in two key ways. Instead of a technical data readout, the HTUPS 3700 utilizes Monster CountDown, which displays the actual time remaining in minutes for a specific home theater system in case of a blackout. In addition, supplemental batteries can be added to the UPS to further extend its available life.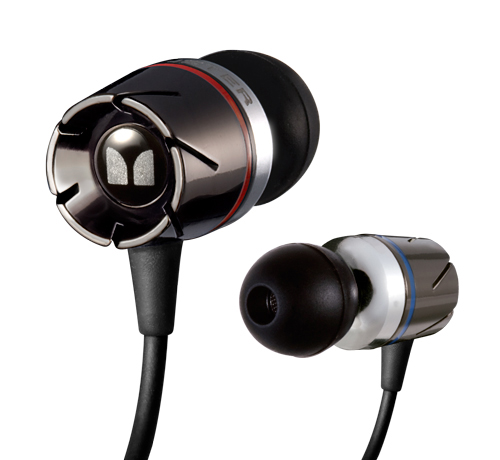 Two new sets of in-ear headphones also received a lot of attention. The high-performance Turbine In-Ear Speakers (they sound so big, they didn't want to call them headphones) flaunt a clever design that mimics the notched, twisty look of Monster's Turbine plugs which grip onto the audio and video jacks of our components. And the Beats Tour is the lightweight but still impressive in-ear descendant of the popular Beats by Dr. Dre headphones, designed in close cooperation with hip-hop icon Dr. Dre. Among its many refinements, Tour offers a flat, tangle-free cable. Look for a hands-on review here on the site soon. Turbine and Tour each retail for $149.95.
More Information:
Where to Buy: