Budget Home Theater Speaker Deal: Polk RM705 5.1 Speaker System for $149.99
By Chris Boylan
As part of our Black Friday/Cyber Monday bargain hunting, we've found great deals on an excellent budget home theater projector and screen from Epson, a Yamaha A/V receiver and a Harmony remote. But your home theater system isn't going to make much noise without speakers. Fortunately, Amazon has a great deal on these as well.
For Cyber Monday week, Amazon is offering the Polk RM705 compact home theater system for just $149.99 with free shipping. This deal is exclusively for Amazon Prime members, but if you're not already a member, you can sign up for a free trial.
UPDATE: Most recent price (12/12/17) was $174.99 which is still an excellent deal on this compact 5.1 speaker system.
Here's the link:
The list price of the RM705 system is $599.99, but the real street price is normally between $199 and $250. Anything below that is a steal. We've recommended the system to readers (and friends and family) many times over the years. For the price, it's really difficult to beat. It's punchy and dynamic and creates a real sense of space without taking up much room.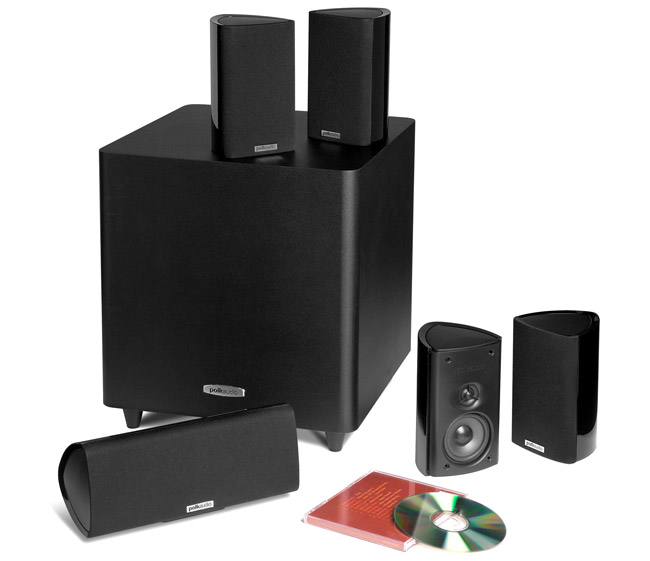 The RM705 is a complete 5.1-channel surround sound speaker set that features four compact RM7 satellite speakers, an RM7C center channel, and a 50-watt powered subwoofer. It's an excellent choice for movies, sports and even daily TV watching.
Each of the heavy-duty, non-resonant composite speaker enclosures has a sharp high-gloss finish and a "Reuleaux Triangular Polygon" shape, which minimizes reflections and looks pretty cool at the same time. On the inside, each speaker has a 2.5-inch bass/mid driver and one 0.5-inch tweeter. The separate powered subwoofer has a compact vented enclosure, with an 8-inch long-throw driver and a built-in 50-Watt power amp.
It's also important to note that this package includes mounting brackets and other necessities, in case you want to mount the satellites on the wall. There's also a shelf cradle for the center-channel speaker.
If you want to expand the system for Dolby Atmos or DTS:X immersive surround, we'd recommend adding a pair of these for the ceiling. For under $100, you can bring your home theater system to the next level (literally). And since they're also made by Polk, the tonality is a good match for the RM705 system:
When you order the RM705 system, make sure that you buy directly from Amazon -- not one of the retailer's third-party merchants. Amazon is offering the discounted price as well as the free shipping, but only for a limited time, and only for Prime customers. The offer is limited to stock on hand and may expire at any time.
Related Links:
Please note: all deals posted on Big Picture Big Sound are current as of the posting date and time. These deals are frequently time- or stock-limited and generally do not last. Final pricing and stock are determined by the individual deal provider, not by Big Picture Big Sound so you will need to click through on the offer link to see if it is still available. Through our affiliate relationships with many online vendors, Big Picture Big Sound may earn a small commission on any referred sale.