Bowers & Wilkins (B&W) Zeppelin Mini iPod Dock Speaker System Review
By Rachel Cericola
B&W Zeppelin Mini Review
The Song Remains the Same; It's Just A Little Smaller

Just two years ago, B&W redefined the iPod accessory market with the Zeppelin. Aside from having one of the funkiest designs we've seen on an extra, when we tested out the Zeppelin, it really knew how to get the Led (or any other musical choice) out.

This is not surprising. After all, it's from Bowers & Wilkins. The company prides itself on good sound from any source and any genre. They eat your favorite bands for breakfast. What is surprising is that despite the $600 price tag, people really went for the Zeppelin. Of course, if the price were lower, more people could rock houses of all shapes and sizes. Hence, the Zeppelin Mini.

The Mini is sparkly, but doesn't have that same torpedo shape, which means it's not quite as funky fresh as its predecessor. Sure it's stylish, but it's probably not going to stop any office traffic. However, this newbie is no slouch either, offering a shiny, compact design for a slightly more affordable $400.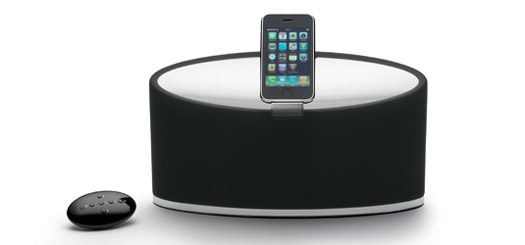 Unwrapping & Unleashing
Inside the box, the Zeppelin Mini is wrapped up in soft, snuggly packaging. If we were B&W, we'd wrap this baby in a blanket because it's truly precious. At just under 6 pounds, it's a little smaller than your average newborn, but it's a little more durable. That said, like your average newborn, it also seems easy to smudge and possibly scratch.

Outside of the protective packaging, the entire oval unit is wrapped in black grille cloth. The top is super shiny. However, don't expect to check your hair in this unit; the top gives off reflections reminiscent of a funhouse mirror. In the middle of that mirror, there's a 90-degree rotating arm, designed to twist and turn your iPod or iPhone for horizontal viewing -- a nifty feature for bedside placement. The design is very clean, with just power and volume controls tucked into the side. The back is almost as bare, with slots for power, as well as auxiliary and USB hookups.

Setup could not be any easier. This is an iPod dock, not a projector. Just plug one end of the power cord into the Mini and the other into your outlet. Then, pop your (compatible) iPod of choice onto its 30-pin connector. Once everything is plugged in, a red light appears from behind the grille cloth on the front of the unit. As mentioned before, the Mini can be turned on manually or you can use the included egg-shaped remote. Once it's turned on, that light changes to blue.

Remote Rants & Raves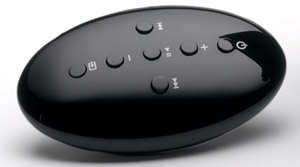 B&W decided to stick with remote design they gave the original Zeppelin. This is both good and bad. It's cute and compact, but it's going to be difficult to fish out of your couch -- which we're guessing you will have to do at some point. That said, it's very sharp. However, fun doesn't always translate into function.
If you are familiar with the previous remote, you'll know that the Mini's remote is very limited. It allows users to turn the unit on and off, play and pause, and control volume. There's no way to get back to the iPod's main menu, so unless you are into one album, artist or just want to leave things up to the fate of song shuffle, plan to interact manually with the iPod.  But sonic adjustments you make on the iPod itself (such as EQ) will be reflected in the sound of this dock.
Another troubling thing about the remote: It has a "mystery" button on the bottom. Since the Mini only comes with an illustrated Quick Start guide, it was very little help. This thing is shrouded in as much mystery as Carly Simon's "You're So Vain," because we couldn't find one word about it on the web, either. We put in a question to B&W and found out that the button is for choosing between the USB input and the iPod. We'll get to more on that feature in a bit.
We're not saying that the remote is a wash; not even close. It delivers the basic functions, and it delivers them from a distance. We placed the Mini in our dining room, while we rested comfortably 20 feet away on the couch. Even though it was around a slight corner, we only had to extend our arm slightly to boost volume and flip through songs.
Big Sound, Small Package
Unlike the Zeppelin, the volume controls here actually adjust the iPod, not anything inside the Mini. So once the device is tapped out, so are the volume possibilities. That said, this thing gets pretty darn loud. Using headphones, we cranked some of our music to the iPod's breaking point, only to still not have it loud enough for a bout on the treadmill. However, those same songs had no problems at full volume on the Mini. This unit cranks them to the point where it scared our dog out of the room.

The Mini offers automatic DSP (Digital Signal Processing), which can't be turned off or adjusted. In fact, nothing on this unit can be tweaked beyond the volume levels. Thanks to "Flowport" technology, lower frequencies sounded super. Some of the higher ones were a little distorted, but the listening experience was still enjoyable. Even the bass was even surprisingly good. Overall, there were a lot of surprises -- in a good way. We heard effects on Grandmaster Flash's "White Lines" that we had completely forgotten about. We tested out everything from punk rock to country and were pretty pleased with the unit's performance, especially when compared with what we are used to on the iPod itself using headphones.

After going once around the dial, as well as through much of our iPod playlist, we found that the unit performed best when the volume level was set around the middle. It provided nice detail and crisp clear vocals. However, the louder the unit got, the scarier the sound was. This thing can get loud. However, louder isn't always better. In fact, it hurt a little.
We plugged a cassette player (Yes, we still have one of those!) in through the AUX jack and it did play -- over whatever was already cranking out of our iPod. This input is a "mix" input - in that it mixes in whatever is connected to the aux in with iPod playback.  If you decide to use the AUX jack and want to hear that on its own, you will have to unhook or pause your iPod. There's no button for that.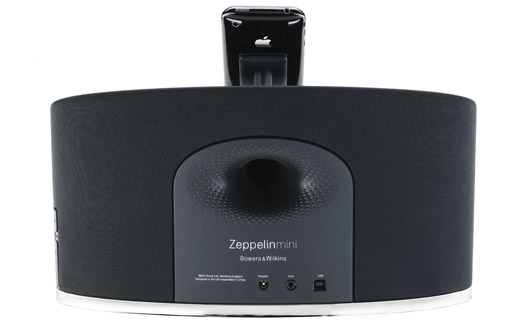 Playing with the PC
This iPod dock doesn't limit itself; instead, it can actually make for nice computer speakers. Using the USB port on the back, the Mini hooks to any PC or Mac for playback of any and all music on your computer.

It's a neat option, but not an easy one. It took us a while to make beautiful music, and what was going on in between, again... scared the dog. This feature should be plug and play, so to have it take hours to figure out was a bit disheartening. If you decide to add this feature into your Mini's repertoire, here's a tip: Remove your iPod before trying to play anything from the computer.

We hooked our respective USBs up, and it was easy to add songs to our iPod. However, we just couldn't master music playback from the computer. The iPod itself played fine and even the Mini made noises we were used to hearing from our computer. We could play music from Windows Media Player. It just wouldn't do iTunes.

We removed the iPod, restarted iTunes, and thankfully, the music finally played -- and it sounded nice too. All it took was some thinking, time and a few fistfuls of hair.

Swing Baby, Swing!
Aside from killer sound, the Mini has another nifty hook: the rotating arm dock which allows you to rotate your iPod Touch, nano or iPhone to horizontal viewing. If you own one of those devices, it's a nice little perk to park this bedside and view widescreen video at the proper angle. 

Turn Ons
Oh-so-pretty
Nice audio experience overall
Remote reaches pretty far
USB connection makes computer upgrades easy
Rotating dock for proper video playback
Ability to play and control iTunes
Turn Offs
Limited remote control
Mystery button on the remote
Chassis & controller are cruisin' for a bruisin'
Doesn't always sync right away
Sound can break up at higher volumes
Final Thoughts
Even though it doesn't stand out as well as its predecessor, the Zeppelin Mini is mighty nice. At $400, it's still slightly expensive for an iPod dock. However, B&W don't come cheap, and it shows in this unit's performance at reasonable volume levels. That said, the unit does have a few sound and control glitches. B&W could do better -- or at least cheaper. Still, if you can't go bigger in price and size and splurge on the Zeppelin, this is still one of the better iPod docks out there. 

Where to Buy:
Manufacturer's Specifications:
Dimensions: 6.8 x 12.6 x 4 inches
Color: Black/Silver
Net Weight: 5.8 pounds
Warranty: 2 Years, Limited Parts and Labor
MSRP: $399.95
Inputs/Outputs
30-pin iPod connector
3.5mm mini-jack (Aux In)
USB 2.0 (for PC connection)
What's in the Box?
Zeppelin Mini Loudspeaker System
Remote Control
Cradle for horizontal docking
AC power cord
Manual
Manufacturer Contact Information:
B&W Group North America
54 Concord Street
North Reading, MA 01864

978-664 2870
Web: www.bowers-wilkins.com