Bowers & Wilkins (B&W) Zeppelin iPod Dock Speaker System Review
By Chris Chiarella
B&W Zeppelin Review
Let Your iPod Take Flight

There are at least two very different categories of iPod speaker docks. There's the ubiquitous "lifestyle" variety that fits neatly on a nightstand, is available in the latest Chinese-toy-grade black or white plastic and can be found on the shelves at Bed, Bath & Beyond. They usually work, although I've never been impressed by the sound quality. I am consistently surprised by BB&B's fine selection of Tassimo coffee pods, however. But when a high-end speaker manufacturer commits the requisite elbow grease to create an Apple-certified "Made for iPod" accessory, that's something else again. The price goes up certainly, but so should build quality and performance. There are reputations at stake, after all.

Designed by Native Design Ltd. of London, Bowers & Wilkins' massive Zeppelin powered speaker system with iPod Dock is undeniably eye-catching, but its unusual shape is not strictly for show. The symmetrical curved configuration incorporates a midrange/tweeter array similar to B&W's distinctive standalone 800 Series loudspeakers, which start at over $1,000 per speaker. This "Nautilus" tapered-tube absorbs the rear waves of the one-inch aluminum-dome tweeters, improving clarity and delivering smooth response that's actually beyond the range of human hearing. The three-and-a-half-inch glass-fiber-cone midrange drivers meanwhile benefit from well-placed slots filled with resonance-absorbing compounds. Audiophile-grade film capacitors and air-core inductors are also used for the passive crossovers between midrange and tweeter to maintain the purest signal. A five-inch Kevlar/pulp-fiber-cone subwoofer is located in the center of the unit, aided by twin rear-firing ports.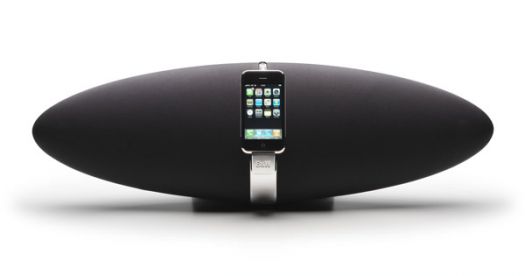 The broad silhouette of the Zeppelin also represents the ample distance between the two tweeter/midrange combos, for proper stereo separation. Three different channels of amplification make the most of the five drivers, 50 watts to the woofer and 25 to each of the mid/high sections. The 100 watts play loud--painfully so at times, if that's how you like it--yet the polished stainless steel back, which cleverly reflects any environment, never becomes particularly hot, even after long stretches.
i Got the Hook Up
A "universal support bracket" with a 30-pin connector holds the iPod up and away from the front of the Zeppelin. This bracket could easily be mistaken for a handle, but multiple drawings in the package warn even the illiterate that grabbing and lifting the hefty unit thereby would be a really bad idea apparently, so do resist the urge. (Although perhaps B&W should consider reinforcing it against such a likely contingency...?) Turns out that the compact remote control--also blimp-shaped, more or less--cannot navigate the iPod's internal menus, we need to do juggle music and videos the old-fashioned way, and this arm facilitates one hand wrapping around the iPod while the other touches and clicks in familiar fashion. It's padded to protect the player's finish, spring-loaded for a secure grip, and it also charges the battery when docked.
The Zeppelin authenticates the iPod for total functionality of even the newest models, including video pass-through to connected displays via composite or S-video. One way or another it will work with any iPod, including the newest shuffle, by virtue of it's Aux In mini-jack and a double-male headphone cable, so it will accept all MP3 and portable CD players, or even that old cassette Walkman. Serious source components with RCA-type analog stereo out can be adapted with a common cable. (Neither of these aforementioned accessories is included.) There are varying degrees of compatibility between different iPods and the Zeppelin, with the latest models like the classic (5th-generation), nano, touch and iPhone enjoying the broadest support, although the iPhone requires an extra step whenever it's plugged in.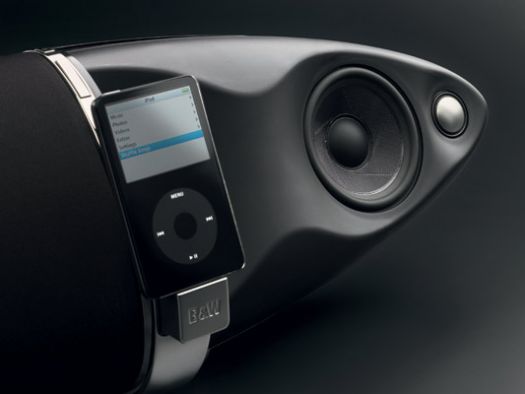 Upon connection to AC power, the single LED appears as if from nowhere, behind the left speaker's acoustically transparent grille cloth, with an elaborate series of codes depending upon the light's color and action. It's a long list on Page 7 of the manual but worth memorizing because it all means something, with some valuable feedback such as "approaching max volume" and "auxiliary input selected." This dot is the Zepplin's only readout per se, no LCD, although it displays the volume level on the iPod's screen. Hard power and volume buttons are located at the center of the unit. What we're actually doing is adjusting the output level of the Zeppelin, not the iPod. A new, specialized "Speakers" sub-menu also appears within the iPod when connected, under "Settings." The "Tone Control" defaults to Bass being set at "0" (that is, no enhancement), with +1, -1, -2 and -3 options offered.
A One Piece Symphony
Digital Signal Processing is applied (and this DSP cannot be turned off) to the three amplifier channels, tuned to the specific characteristics of the five drivers, for optimal dynamics and response from this non-traditional form factor. Lurking beneath all the tuneful goodness is a faint, barely perceptible tint of resonance, a small price to pay for what proves to be stellar performance. In other words, the proprietary DSP helps without calling attention to itself.
Fiddling extensively with the Tone Control gave me the opportunity to really evaluate the parameters of the sound quality, emphasizing the bass or allowing the treble to shine. Detail is outstanding across the full range, and MP3s didn't sound compressed or in any way compromised. Bass is killer, natural, without any obnoxious, distracting thumping, rather a full, rich low end. At 100% volume and with the iPod's Sound Check limiter turned on, the Zeppelin fills the entire first floor of my house with music, enjoyable even in secluded corners. With Sound Check switched off, the output level of the iPod--and therefore the Zeppelin--was higher still, and this is where maximum volume can actually become painful, but through it all the audio simply did not distort, and I detected only the most modest roll-off of vocals. No matter what I asked of it, the performance was ceaselessly amazing, every note faithfully, effortlessly reproduced. All that music shoehorned into my iPod never sounded so good.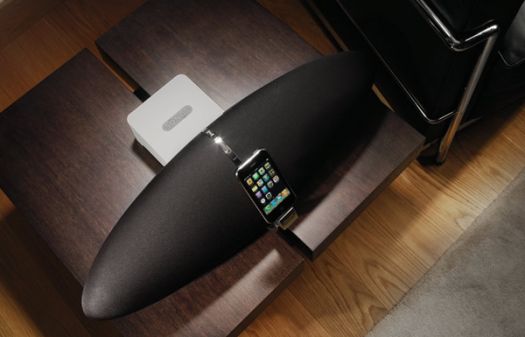 I used a wide variety of material for my demos, but ironically few tracks from Page/Plant/Jones/Bonham [editor's note: if you don't get the joke, then try Google... and get thee to a lifery]. The remote has a good 20-foot range, and both iPod and LED register that it's working. An optional rubber base is included to help to angle the speaker as well as sonically isolate it from the tabletop, depending upon where it's set up.
Turn-Ons
Oh my heavens, does this thing sound good!
Incredibly gorgeous, artistic design including a stainless steel derriere...
Turn-Offs
...that collects fingerprints better than a CSI
Remote provides only basic functionality, we still need to handle the iPod
Final Thoughts
A marvel of design and performance, the B&W Zeppelin is almost an oxymoron, as a truly high-end iPod dock. A full three-way stereo speaker system in a single-piece device, it delivers music better than a lot of people have ever heard, and looks badass while doing it.
Where to Buy
Manufacturer's Specifications
Dimensions: 6.8 x 25.2 x 8.2 inches
Color: Black/Silver
Net Weight: 16.5 pounds
Warranty: 1 Year, Limited Parts and labor
MSRP: $599.95
Inputs/Outputs
30-pin iPod connector
3.5mm mini-jack (Aux In)
S-video out
Composite video out
USB 2.0 (for firmware upgrades)
What's in the Box?
Zeppelin Loudspeaker System
Remote Control
AC power cord
Rubber tilt pad
Manual
Manufacturer Contact Information:
B&W Group North America
54 Concord Street
North Reading, MA 01864
978-664 2870
Web: www.bowers-wilkins.com