Aperion Signature SLIMstage30 Soundbar by Soundmatters Review
By Rachel Cericola
Edited by Chris Boylan
Aperion Signature SLIMstage30 by Soundmatters Review
Putting the Sound in Soundbar

Back in the day, audiophiles measured the power of their setups by the size of the speakers. The bigger the better, and if you had to sacrifice a sofa or other seating, or even a family member, so be it.

Well, things have changed. In case you haven't noticed, TVs no longer have that giant tube hanging out of the back. Also, as much as some audiophiles still hate to admit it, big sound can come from a small package. At its best, the soundbar is one of the slimmest solutions for sound, providing the type of audio we'd expect from a full speaker array in a cabinet that can be tucked neatly under that flat-panel TV.

Aperion's latest entry into the soundbar category is the Signature SLIMstage30 by Soundmatters. The nod to Soundmatters is for the Linear Magnetic Drive speaker array that they created. Whatever the two companies have agreed upon to bring this speaker system to market equals a good thing. This is a nice little setup for the basement, the bedroom, or even your main listening area if space is at a premium or décor is a priority.

All in One
At 16.5 pounds, the SLIMstage30 is a slight beast. It's obviously made well and could take out a toe or two ir you're not careful carrying or placing it. Part of the unit's girth is due to the four front speakers, two woofers, 4 passive bass radiators and all the required amplifiers packed into the unit. Cranking out a total of 140 watts of amplification, and packing digital and analog audio inputs, the unit promises 5.1 channel simulated surround sound from Dolby Digital, DTS, PCM digital and analog inputs.  Those who prefer their surround sound discrete, can use the rear speaker outputs to connect a second bar (or a pair of powered speakers) for installation in the back of the room.
If you want to wall-mount the soundbar above or below your flat panel TV, you'll be happy to hear that all the necessary mounting hardware is included in the box, with options to angle the bar toward the listeners.  We weren't about to affix a review unit to our wall, so luckily Aperion also includes a stand that can be angled to point directly at the listening area as well.  We like having options, particularly when everything is included right in the box.



Another great thing about the SLIMstage30 is that it does not need a receiver to make the sonic magic happen. It can connect directly to the TV, your Blu-ray player, and/or any other device that needs an audio boost. Of course, if you want to spread the love to your entire A/V setup, it can be connected a receiver, although Aperion suggests consulting the manual for that job for best results setting the various speaker levels.

Otherwise, the setup is pretty self-explanatory. Just slide the top cover off the SLIMstage30 to reveal a plethora of connection options. There are three analog inputs in the form of 3.5mm stereo phone jacks (they look like headphone jacks), and three digital inputs: one coax and two fiberoptic (Toslink). There are also outputs for the optional subwoofer and optional rear channel speakers, in case you get a hankering for discrete surround. Note that if you do go the external rear speaker route, you'll need to provide powered speakers as the external speaker jack offers no built-in amplification.  The unit comes with an optical cable, a mini phone jack cable, a mini-to-male stereo RCA cable and a digital coax RCA cable. That should be plenty to at least get you up and blasting in minutes.
By the way, if you own a Wii, all you'll need is a pair of female to female RCA barrel connectors or a female RCA to 3.5mm miniplug cable (available at Amazon for under $3) to connect to the proprietary Wii output cable.  Alternatively you can connect the Wii's audio and video to your TV and connect the TV's audio output to the soundbar using one of the included cables.  Overall, the Slim Stage 30 has plenty of connections so users can forego buying a receiver.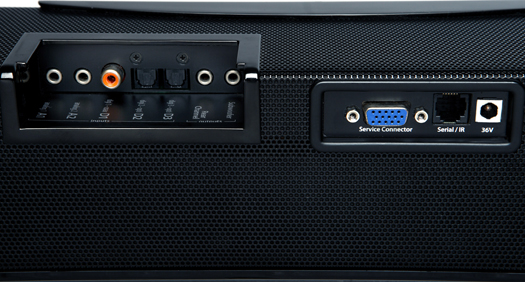 For testing purposes, we used the optical inputs to hook up our Samsung Blu-ray player and Dish Network ViP622 HD DVR. The SLIMstage can be purchased alone, but we had the pleasure of testing out the bundle, which includes Aperion's Bravus 8A subwoofer. One weird mention: even though the sub is an option, it doesn't come with its own cable. So expect it to suck up one of the freebies from the SLIMstage package, or buy your own 3.5mm miniplug to RCA cable. We used the included mini jack RCA cable, following the set-up guide's instructions to wrap the right red connector in electrical tape to avoid shorting the signal. It turns out this step is unnecessary: the Bravus 8A subwoofer includes stereo input connections, so you can just plug in both red and white RCA connectors of the cable found in the SLIMstage30 box.  We confirmed with the Aperion rep that this would be fine.  Hopefully they'll address this error in the set-up guide in the future.
Crank It Up
Aperion says that the SLIMstage30 will work with most third-party remotes. However, we have to imagine that it's easier to use the remote that comes with the package. It has independent buttons for the speaker and subwoofer, as well as the unit's many other functions. Yes, there are a lot of options with this system, which means that even though the buttons are laid out really well, there will be a bit of a learning curve.
One gripe is that the remote is not backlit. Also kind of weird is that Aperion has dedicated two separate buttons for headphone volume (up and down), instead of using the main volume up/down controls. However, it's otherwise easy to tell what's what. Again, it might take a few uses to get used to some of the buttons. For instance, the surround sound buttons flip through a few modes and our aging eyes couldn't really read these options on the display screen from across the room.
That's not the norm, however. For instance, you should know when you are flipping sources, when sound gets loud, and when you mute. Those are just a few of the typical features we'd expect and the SLIMStage30 didn't let us down. We were happily surprised to find a Night Listening mode, which cuts down on the dynamic range, so you don't scare (or annoy) family and neighbors during late-night viewing sessions.
In addition to a pure stereo listening mode, the SLIMstage30 features three surround modes, which can be flipped through via the remote. The mode displays briefly on the LCD screen, then permanently on the slim blue LED readout next to the LCD screen.  Wide Stereo (one LED) is good for adding some spaciousness to music; Games (two LEDs) is obvious, but also plays well with TV programming; and Movie (three LEDs) is also pretty self-explanatory, ideal for bombastic action movies. There's no need to set any additional options for DTS, Dolby 5.1 or PCM, since the unit automatically detects the signal and displays the format of the current selection on the speakerbar's LCD display. 
The LCD screen also displays which input is being used, as well as the current volume level. After about 10 seconds, the screen automatically dims, so as not to distract from your viewing enjoyment.  The green power button stays illuminated and the blue LEDs tell you which surround mode is active.
Sound Off
After an uneventful set-up, we popped in the Armageddon Blu-ray. The opening meteor attack shook our hardwood floors when cranked to 45, but none of the audio was ever distorted or congested. The content seemed to take full advantage of the SLIMstage30's capabilities, topping off the action with the thump from the Bravus sub. We flipped over to HBO for a few minutes of the comedy, I Love You Man, which was mainly low dialogue. It sounded clear, but was nothing special. Then we threw Nick & Norah's Infinite Playlist into the Blu-ray player, which probably woke a few people up -- on our block. The music was loud (in a good way), the dialogue was clear, and all of the background sounds of a city street popped really well, creating a believable sense of space and immersion.

We found that overall, the SLIMstage30 really shined when delivering action movies and music. For every day TV viewing, it was certainly better than what our TV was attempting to do, but the improvements here were not as obvious and perhaps may make it a little hard to justify the $799 package price.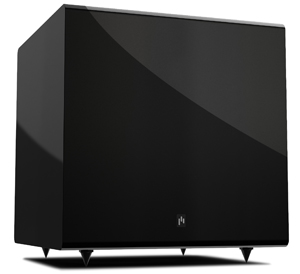 Turn Ons
Big improvement over standard TV audio
A variety of connections for every component
No amplifier or receiver needed
Powerful remote offers lots of options
Everything you need to get started is included in the box
Turn Offs
Relatively expensive with or without subwoofer
No HDMI inputs
Sub doesn't come with dedicated cable
Final Thoughts
Aperion Audio has put together a nice little package with the SLIMstage30 and Bravus sub. Even without the subwoofer option, it's a nice-looking and great-sounding product -- just a bit on the expensive side for a soundbar.  However, we don't dispute the fact that you "get what you pay for."  The SLIMstage30 is built well, it looks sharp, sounds great and offers more inputs and outputs than we've ever seen on a product of this type.  We also love the fact that it comes with everything you need to get started, even wall-mounting hardware and cables.  A lower list price would be great but even at $599, or $799 with a beefy powered sub, we think the SLIMstage30 offers excellent performance and usability at a fairly affordable price.
Manufacturer's Specifications:
MSRP: $599 (without Bravus 8A), $799 (with Bravus 8A)
SLIMstage: 50x50mm Speakers (4), 3-inch Woofers (2)
SLIMstage Total Output: 140W (RMS)
Dolby Digital decoding: Yes
DTS decoding: Yes
Bravus 8A Woofer: Single 8" Aluminum Cone Driver
Bravus 8A Amplifier Power: 100 Watts
Dimensions: 31.1 x 3.5 x 3.7 inches (SLIMstage); 15 x 13.5 x 13.5 inches (Bravus 8A)
Net Weight: 16.5 pounds (SLIMstage); 33 pounds (Bravus 8A)
Warranty: 2 years (SLIMstage), 10 years (Bravus 8A), 3 years (Amplifier)
SLIMstage Inputs/Outputs:
Analog 1 -stereo 1/8" (3.5mm)
Analog 2 - stereo 1/8" (3.5mm)
Analog 3 - stereo 1/8" (3.5mm)
Digital 1 - SP/DIF coax
Digital 2 - Optical / TosLink
Digital 3 - Optical / TosLink
Analog: Subwoofer out - stereo 1/8" (3.5mm)
Analog: Headphone (Euphony Virtual Surround) -stereo 1/8" (3.5mm)
Rear Channel Outputs (normal/default off)
What's in the SLIMstage Box?
Soundbar
IR remote control
Power supply with cables and mounting strap
EZ-tilt leveling feet with height insert
Wall-Mount Bracket with mounting hardware
3m optical cable
3m 1/8 ̋ mini phone jack cable
3m 1/8 ̋ mini phone jack to male stereo RCA cable
3m digital coax RCA cable
Setup manual
Manufacturer Contact Information:
Aperion Audio
18151 SW Boones Ferry Road
Portland, OR 97224
888-880-8992
On the Web: www.aperionaudio.com
Where to Buy: