I Love You, Man on Blu-ray Disc Review
By Rachel Cericola
The Film
I Love You, Man
takes all of the successful elements of a Judd Apatow movie, without actually inviting the director himself to this party. Instead, John Hamburg (
Along Came Polly
) is behind the wheel of this "bro-mantic" comedy starring two Apatow regulars, Paul Rudd and Jason Segal.
Hamburg did a little work on Apatow's defunct Fox comedy,
Undeclared
. Obviously, a few things have rubbed off. Aside from Rudd and Segal, he's got the goofy/geeky main character and a crazy supporting cast, which includes Rashida Jones, Andy Samberg, J.K. Simmons, Jane Curtain, Jon Favreau, Jamie Pressly, Thomas Lennon, Joe Lo Truglio, and the Hulk himself, Lou Ferrigno. There's even an homage to an aging rock band -- except instead of Asia, we have Rush.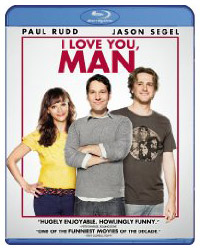 The band is different, but the song remains very much the same. Peter Klaven (Rudd) is a schlub much like
40 Year-Old Virgin
's Andy Stitzer. He puts hos before bros -- by not calling them "hos," for one thing. In fact, Peter seems to be way too in touch with his feminine side, which becomes an issue after he gets engaged to Zooey (Jones). During an effort to get a life and find his best man, he crosses paths with Sydney Fife (Segal), who has a zest for living -- if your idea of zest includes fish tacos, your very own masturbation station, and rocking out the aforementioned Rush. However, it's not just that Sydney is a man's man, but he actually seems to like Peter for who he is, lame nicknames (Jobin! Totes Magotes!) and all.
So the story isn't exactly an award-winner, unless you count Rudd and Lennon's MTV nomination for "Best Kiss." It's also sort of a head-scratcher, considering that Peter's brother (Samberg) is a good enough bud to set him up on man dates, but not to stand by his side at the altar. Then we wouldn't have a movie, which really is all about the funny, extremely natural bond between Rudd and Segal.
Looking to bond more with the movie? Check out Lexi Feinberg's review of the theatrical release of
I Love You, Man
.
The Picture
There are no doilies, pinks or other bright items in the man cave, but the 1.85:1 transfer does deliver a lot of right-on colors and fleshtones. If you want to see something a little bolder, the wedding and other outdoor scenes and even Lou Ferrigno's house all have the brightest, clearest moments. There is some occasional grain, especially when Peter is pouting around his brother's gym, but those quick scenes just keep your focus on the main characters and less on the glistening biceps in the background.
The Sound
Don't even think of messing with the sound in a film where Rush is so prominent. Yes, the band pops up more than once in the comedy, but even during the moments where they aren't featured and Rudd isn't "slappa de bass mon," there are plenty of other sounds detailed by the Dolby TrueHD used here. The clinking during fencing scenes, the car noises, and weights being lifted are all there for your background enjoyment. First and foremost, though, it's a comedy, and the dialogue is crisp and clear. Also,
hello
-- Rush is in the movie. Name another comedy that has
that
going for it.
The Extras
It's true; this cast is very funny, and they have the outtakes to prove it. Most of the special features on this release run like one giant blooper reel. The making-of featurette gets semi-serious for a whole 18 minutes, to talk about the origins of the movie and allow cast members to delve into characters a bit. It's worth a look, but some of the jerky camera movements are slightly distracting and completely unnecessary. The rest is funny, but fairly run-of-the-mill, with deleted and extended scenes and shots of everyone cracking up in between takes.
Final Thoughts
I Love You, Man
continues to legitimize the term "bromance" -- and we don't hate them for it. That really says something. However, it's the two leads and the supporting cast that really make this film work. Don't you owe them the Blu-ray for that kind of effort?
Where to Buy:
Product Details
Actors: Paul Rudd, Jason Segal, Rashida Jones, Andy Samberg, J.K. Simmons, Jane Curtain, Jon Favreau, Jamie Pressly
Director: John Hamburg
Audio/Languages: Dolby TrueHD 5.1 (English), Dolby Digital 5.1 (French, Spanish)
Subtitles: English, English SDH, Spanish, French, Brazilian Portuguese
Aspect Ratio: 1.85:1
Region: A
Number of Discs: 1
Rating: R
Studio: Paramount Pictures
Blu-ray Disc Release Date: August 11, 2009
Run Time: 104 minutes
List Price: $39.99
Extras:

Commentary by Director John Hamburg, Paul Rudd and Jason Segal
The Making of I Love You, Man
Extras
Extended Scenes
Deleted Scenes
Gag Reel
Red Band Trailer