Nick & Norah's Infinite Playlist on Blu-ray Disc Review
By Rachel Cericola
The Film

Back in my day, we had films like The Breakfast Club, Say Anything and even Footloose to serve as the Gen X cinematic calling card. Today's teens have Nick & Norah's Infinite Playlist. Although the styles, music and curfews may have changed, the thrill of young love (and angst) remains the same.

Nick (Michael Cera) is cooler than your average teen, because he plays in a mostly gay punk band, makes the most excellent mixed CDs, and uses The Cure's "Boys Don't Cry" as his ringtone. After he gets dumped by one of the cast-offs from Mean Girls (Alexis Dziena), he heads out on a boy-band's night out, in search of favorite group Where's Fluffy? During the quest, he comes across straight-edge sweetie Norah (Kat Dennings), who has a complex despite being an emo boy's wet dream. The two soon bond over a love for hip music and the need to track down Norah's drunken friend (Ari Graynor), who spends the night stumbling around town and, at one point, fishing her gum out of a puke-filled toilet.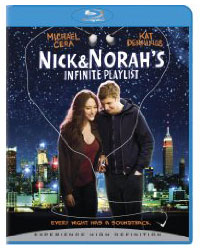 Cera nails the nerdy-yet-nifty teen to a tee. After all, he's had plenty of practice, thanks to his roles in
Superbad
,
Juno
and TV's
Arrested Development
. Denning, best known for her role in
40 Year-Old Virgin
, is the perfect punk rock cutie. Despite the sugary plotline, the two make a nice team in this
Superbad
meets
16 Candles
meets
Lost in Translation
rom-com.
Want a second opinion, see Joe Lozito's review of Nick and Nora.

The Picture

That gum has surely seen some better days, but not a better image transfer. The 1.85:1 format provides a lot of great little details, in the clubs, on the street, and even on the ladies' room floor. A lot of the film is dark (cool kids don't wear bright colors!), but the sharp image is as sweet as this love story.

The Sound

Without the music, Nick & Norah's Infinite Playlist is basically the story of a nerdy kid that drives a Yugo. Of course, the film uses its TrueHD 5.1 audio track very well. You will be able to catch a few details out on the street, but it's really the music as well as the on-screen club bands that allow the technology to shine. Also, big ups for having Devo's Mark Mothersbaugh score the film's soundtrack. Can you get cooler than that?

The Extras

Fans of the movie won't be disappointed in the disc's many extras, which include cast interviews, the ability to chat with friends, and a puppet show. However, one of the best features is "Nick & Norah's Interactive Playlist," which allows viewers to create and share favorite songs from the movie. Did I mention the movie is all about music?

Final Thoughts

Not everyone will appreciate Nick or Norah's night to remember, and they shouldn't. If you can't belt out a few bars from bands such as Vampire Weekend and Bishop Allen, you probably aren't the target audience anyway. Do something nice for the kids and buy them a Blu-ray for once, ya cheap old bastard!

Where to Buy:
Product Details
Actors: Michael Cera, Kat Dennings, Alexis Dziena, Ari Graynor, Aaron Yoo, Jay Baruchel
Director: Peter Sollett
Audio/Languages: Dolby TrueHD 5.1 (English, French, Porteguese), Dolby Digital 5.1 (Spanish)
Subtitles: English, English SDH, French, Spanish, Porteguese, Arabic, Dutch
Aspect Ratio: 1.85:1
Region: A
Number of Discs: 2
Rating: PG-13
Studio: Sony Pictures
Blu-ray Disc Release Date: February 3, 2009
Run Time: 90 minutes
List Price: $39.95
Extras:

Outtakes
Deleted Scenes
"Middle Management" Music Video by Bishop Allen
A Nick & Norah Puppet Show by Kat Dennings
Storyboard Animations with Optional Filmmakers' Commentary
Faux interview with Michael Cera, Kat Dennings and Eddie Kaye Thomas
Photo Gallery
Commentary with director Peter Sollett, actors Michael Cera, Kat Dennings and Ari Graynor
Commentary with Peter Sollett, authors Rachel Cohn and David Levithan and screenwriter Lorene Scafaria
Cinechat
Nick & Norah's Interactive Playlist
Telestrator Commentary with Peter Sollett, Michael Cera, Kat Dennings and Ari Graynor
Digital Copy