Angry Birds Now Available for Free Download to Select 2012 Samsung Smart TVs
By Rachel Cericola
Just last week, we were talking up Samsung SpaceFest, a five-day celebration of the arrival of the Space Shuttle Enterprise at the famous Intrepid Sea, Air & Space Museum. More specifically, we were drooling over one of the SpaceFest announcements, the Samsung 75-inch ES9000 LED Smart 3D TV.
One of the perks to the ES9000 is the ability to play a new Angry Birds App, designed specifically for Samsung's Smart Interaction-enabled TVs. Well, you may have to wait a bit for the TV, but the app is available today.
Samsung just announced that the Angry Birds App is now officially available, as a free download through the Samsung Smart Hub. The app allows users to get into the game via gesture controls -- without the need for controllers, consoles or discs. It works with Samsung 2012 LED 7500 and up models, as well as Plasma 8000 models.
The company has been showing off the app at Samsung SpaceFest, on the 75-inch ES9000 LED Smart 3D TV. The new set comes packing 3D support and four pairs of 3D glasses, as well as a built-in camera. It also has Samsung Smart TV features, including Smart Interaction, Smart Content and Smart Evolution. These new additions allow viewers to use voice, gesture and face recognition controls, share content across different devices, and even upgrade the TV (via the optional, soon-to-be-released Smart Evolution Kit). The ES9000 also has Sound Share, which automatically and wirelessly connects TV audio to Samsung's Series 6 and Series 7 Wireless Audio with Dock Systems via Bluetooth.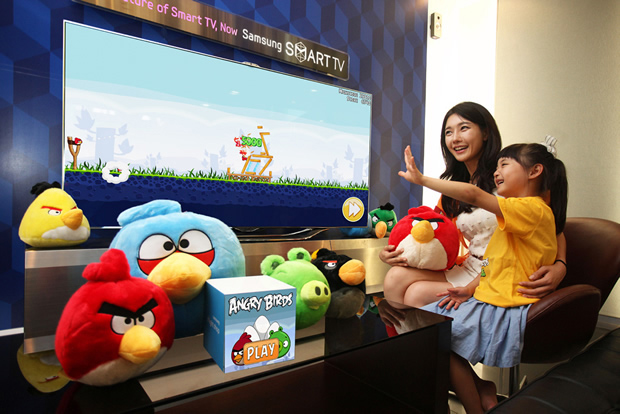 Other features include a dual-core processor, Micro Dimming Ultimate and Precision Black Local Dimming technology, a rose-gold-colored finish, and super-slim 0.31-inch bezel.
"We couldn't imagine a better way to unveil our new flagship TV and a literally game-changing new app, then here at the Intrepid alongside the Space Shuttle Enterprise," said Joseph Stinziano, senior VP of Samsung's home entertainment division. "The Intrepid and Space Shuttle are each iconic symbols of innovation and discovery and Samsung also is driven to push boundaries and deliver a sense of wonder and delight."
The Samsung ES9000 will be available in August, with an MSRP of $9,999. If you already have one of the Samsung 2012 LED 7500 and up models or one of the plasma 8000 models, you can download the Angry Birds App today through the Samsung Smart Hub.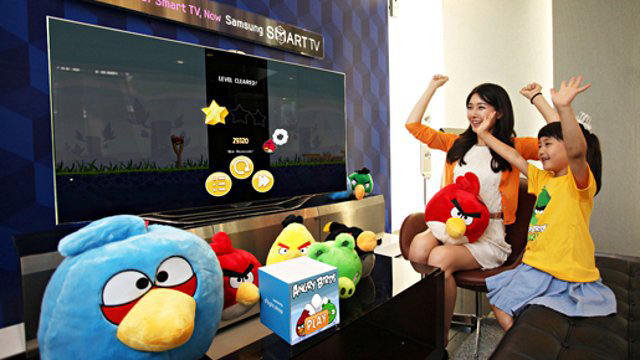 Where to Buy: