Samsung Unveils 75-Inch HDTV with Gesture-Controlled Angry Birds App
By Rachel Cericola
Samsung is taking its product lineup to new heights. This week, the company is out at Samsung SpaceFest, a five-day celebration of the arrival of the Space Shuttle Enterprise at the famous Intrepid Sea, Air & Space Museum in New York City. The event is inviting consumers to check out a ton of tech innovations, including the latest in the company's TV lineup.
That spotlight belongs to the newly announced Samsung 75-inch ES9000 LED Smart 3D TV (model UN75ES9000), which is making its debut as the largest set in the company's 2012 lineup. It's not just big, but it's also pretty beautiful, boasting a rose-gold-colored finish and a slim 0.31-inch curved bezel with no visible seams.
The ES9000 will also feature the entire Samsung Smart TV suite, including Smart Interaction, Smart Content and Smart Evolution. That means that the set will be compatible with voice, gesture and face recognition controls, and can share content across multiple devices. The Smart Evolution part, which is available on select Samsung Smart TVs, will allow users to upgrade TV performance, content and features with a Smart Evolution Kit -- an optional product that should be coming in early 2013.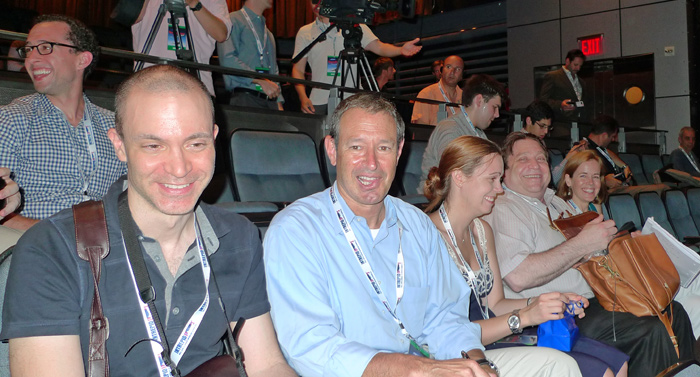 Other features on the ES9000 include Micro Dimming Ultimate and Precision Black Local Dimming technology and a dual-core processor for whipping through apps and/or surfing the web. Samsung has also introduced Sound Share, a new feature that can automatically and wirelessly connect TV audio to Samsung's Series 6 and Series 7 Wireless Audio with Dock Systems via Bluetooth.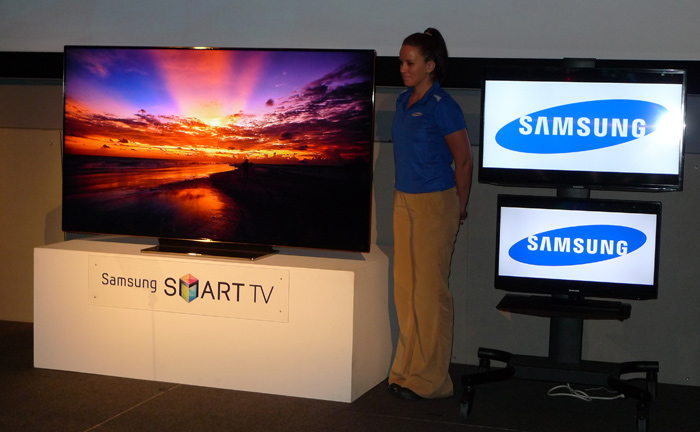 The ES9000 also features a built-in camera, which comes in handy for Skype. When you're not making calls, it can be tucked away in the top of the bezel. Also, so you can enjoy some of the set's 3D features right away, the ES9000 will come packing four pairs of 3D glasses.
Be the Bird, Danny
However, it's not just the size and pretty package on this set that's impressive. Because this is one of Samsung's Smart Interaction-enabled TVs, it will support gesture controls. Maybe you'll want to test out some of those goodies on the new Angry Birds App, which will be available as a free download later this month for Samsung 2012 LED 7500 and up models and plasma 8000 models.
That basically means you'll be flinging yourself (or at least your arms) while you are flinging those crazy birds. No controller, discs, or consoles are needed.
Besides the game, Samsung says that a dedicated app for Angry Birds animated content will be coming later this year.
"We couldn't imagine a better way to unveil our new flagship TV and a literally game-changing new app, then here at the Intrepid alongside the Space Shuttle Enterprise," said Joseph Stinziano, Senior Vice President of Home Entertainment, Samsung Electronics America. "The Intrepid and Space Shuttle are each iconic symbols of innovation and discovery and Samsung also is driven to push boundaries and deliver a sense of wonder and delight."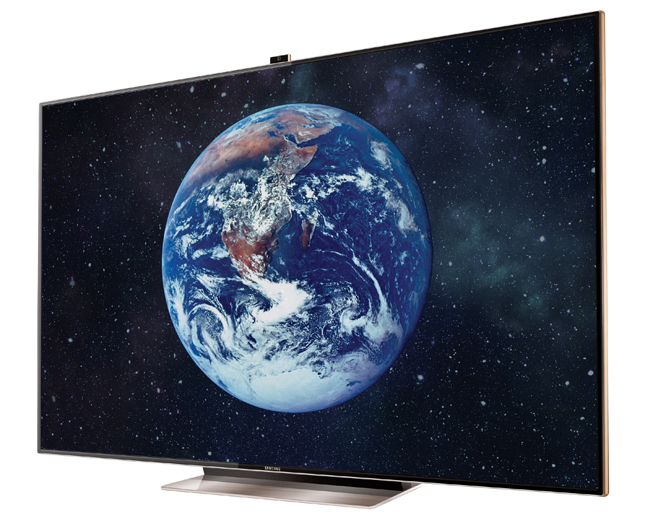 Samsung expects to start selling the 75-inch ES9000 in August 2012, with an MSRP of $9,999. Until then, you can check out the Samsung Smart TV Space Station from July 19 to 22 at the Intrepid Sea, Air & Space Museum in New York City. For more info about the event, check out the Samsung SpaceFest website.
Where to Buy: