7-inch Android Tablet Face Off: Galaxy Tab 2, Kindle Fire, Nook Tablet
By Chris Boylan and Chris Chiarella
Three Sevens
With Samsung's recent introduction of the Galaxy Tab 2 7.0 at $249, the battle of the compact budget tablets has become considerably more interesting. The space which is currently dominated by Amazon's Kindle Fire ($199) with a strong showing by Barnes & Noble's Nook Tablet ($199) now has a powerful new competitor.
The 7-inch form factor offers a nice compromise between a full-size tablet and a smartphone, with a screen that's big enough to enjoy a movie or eBook, or browse the web while the device still fits neatly in a large pocket or a small handbag. We've tested (and lived with) all three of these petite powerhouses and would like to offer our opinions on the relative merits of each.
Beyond the screen size and resolution (1024x600 pixels) and the fact that each runs a version of Google's Android operating system, there are many additional similarities among the three devices. All three feature the same reasonably fast dual core processor (TI OMAP 4430 CPU running at 1 GHz) for smooth handling of video, games and other multimedia tasks.  Each can run popular audio and video streaming apps, such as Pandora and Netflix. All three include built-in web browsers with some degree of Flash video support. All three can read and store eBooks in a number of different formats. And finally, all three devices can also run a wide variety of games, productivity tools and other apps. However, we'd like to concentrate on what's different among the tablets so prospective buyers can make an informed choice.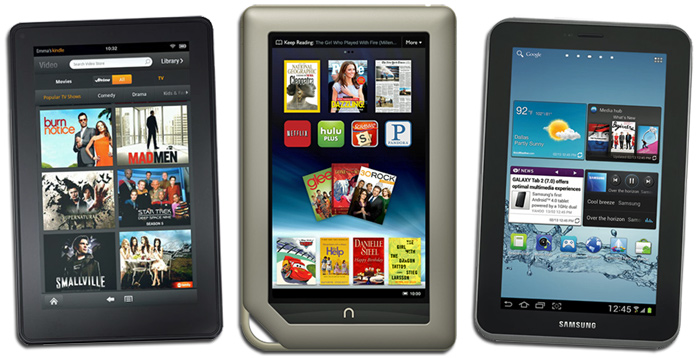 Amazon Kindle Fire
The Kindle Fire was the first major tablet to hit the sub-$200 price point and it did so in a big way with over 5 million sold in its first six weeks. More recently, comScore has reported that the Kindle Fire has grabbed over 50 percent of the Android tablet market in its first four months of existence. Other than the price, its integration with Amazon is perhaps its strongest feature. Of course, the Kindle app comes pre-installed for reading books and magazines, but the Kindle Fire is more media-friendly than any of its current Kindle brethren.
Amazon Prime members can stream an unlimited number of movies and TV shows (albeit from a fairly limited selection), or rent and/or purchase videos from a large selection of titles for a fee. Where the Kindle Fire differs from the Nook Tablet and Samsung Galaxy Tab 2 is that you can actually download rented or purchased Amazon video content to the Fire itself for viewing when you are disconnected from the Internet. On non-Kindle tablets, these titles rented or purchased from Amazon can only be streamed from the cloud. Amazon Prime streaming titles cannot currently be downloaded to any device (including the Fire).
While the Kindle Fire is not currently supported on the Google Play app store, Android apps are available for purchase via Amazon's own Appstore for Android. Here you'll find a small but significant subset of what's available via Google Play. Angry Birds, Where's My Water?, Fruit Ninja, Netflix, QuickOffice; there is a wide selection of games and productivity tools here. Also, Amazon offers a different free app every day, as well as nice discounts on several popular apps.
Kindle Fire runs a custom version of the Android 2.3 ("Gingerbread") operating system and a custom "cloud-enhanced" web browser called Silk. These proprietary extensions mean that you may find certain things lacking in the operating system, and you also may run into a few quirks when browsing the web. We've seen various web browsing problems on the Fire when accessing Flash video content and using web-based content management apps, neither of which presents any problems for the Samsung's web kit-based browser. Web apps like the Facebook versions of Words with Friends and Bejeweled Blitz are painful to run on the Fire, though the native Words with Friends app for the Fire does work fine
The Kindle Fire lacks a camera, Bluetooth support or expandable storage. The lack of Bluetooth support means you will not be able to add a Bluetooth keyboard or mouse, which comes in handy if you want to get real work done. And the lack of expandable storage limits the device's usefulness as a media player during times when a high-speed wireless Internet connection is not available. It doesn't take that many movies, apps and music files to fill up the 6GB of available on-board storage (about 2 GB is reserved for system files and software). It took me less than six weeks to fill it up, so I now I have to juggle content and apps between the device and the cloud, and this is certainly not ideal.
The Kindle Fire is the smallest of the three devices at 7.5 x 4.7 x .45 inches.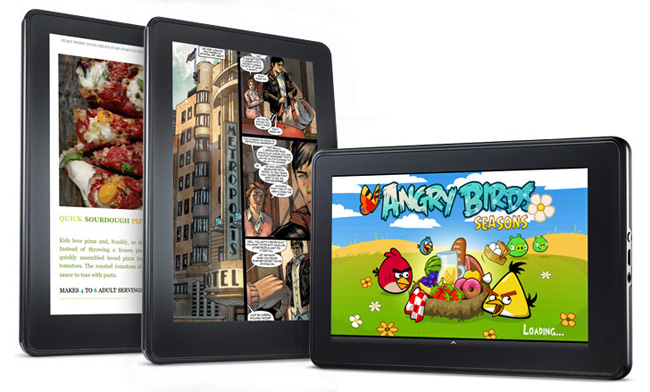 Turn-Ons:
Inexpensive
Well-integrated with Amazon ecosystem
Turn-Offs:
Limited app selection (no access to Google Play Store)
Some limitations in web browsing
No expandable storage, no camera, no Bluetooth
Barnes & Noble Nook Tablet
Similar to the Kindle Fire, Barnes & Noble's Nook Tablet runs a custom version of the Android 2.3 OS and is not enabled to use the Google Play store. Unless you root the tablet, apps for the Nook must be purchased via Barnes & Noble's app store, which offers a fairly limited selection. Like the Fire, the Nook lacks Bluetooth support or a camera, but it does offer expandable storage (up to 32GB) via the integrated microSDHC card reader. This makes it a better choice for road trips with the kids, as you can load up a lot of content on that card.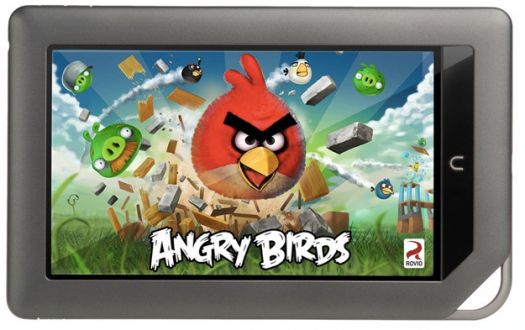 While many malls, coffee shops, etc. offer free WiFi to their customers, the Nook Tablet plays extra-nicely when hopping onto Barnes & Noble's complimentary in-store network. The "Read In Store" feature invites us to jump into one of 100 specially selected bestsellers for a maximum of one hour per day. "More In Store" serves up even more free samples, of lesser-known titles. Each of the tablets in the group offers something unique, and since B&N stands alone as the winner of the brick-and-mortar bookstore wars, it's no wonder that its most distinguishing bonus exploits that strength. They also promise free live customer service in the store.
We actually reviewed the Nook Tablet in its 16GB version, which sells for $249. However, to level the playing field a bit, let's focus on the more recently introduced 8GB model, which is identical except for having less RAM (512 MB vs. 1 GB), less on-board storage (8 GB vs. 16 GB), and a lower $199 price tag. Worth noting is that five of those eight gigabytes are available to hold content, while one gig is reserved exclusively for B&N purchases. That leaves only four gigs total for our personal MP3s, videos, photos and what-not. Also, even the free downloads via Barnes & Noble require a valid credit card on file. That said, it all looks terrific on that bright, sharp LCD screen. Netflix and Hulu Plus arrive pre-installed, suggesting that we will have plenty to watch. The web browsing experience has also always been nimble and rich, with support for Adobe Flash video.
The Nook Tablet is the largest of the three devices at 8.1 x 5 inches x .48 inches (a little over 1/2 inch longer and about 1/3 inch wider than the Kindle fire).
Turn Ons:
Inexpensive
Expandable external storage (up to 32GB)
Unique in-store experience, including free in-person support
Turn Offs:
No camera or Bluetooth
Credit card required for most downloads, even some freebies
Limited app selection (no access to Google Play Store)
Samsung Galaxy Tab 2
With Android's latest Ice Cream Sandwich OS (4.03) on board, the Samsung Galaxy Tab 2 is the only full-fledged Android tablet in the bunch. This gives it access to the full Google Play store and its rich selection of apps. For example, if you like to use a tablet to operate A/V components, Google Play has Logitech's Harmony remote app, as well as apps from Denon, Panasonic and Samsung. Those apps are not currently available through the Amazon or Barnes & Noble app stores. That said, you may not even need those, thanks to another feature of the Samsung Galaxy Tab 2: the Peel Smart Remote app. The Peel app uses the Tab 2's integrated IR (infrared) transmitter to control an entire A/V system with just a few simple configuration steps and some device customization. Even if these other tabs could get the Peel app, it would be useless without the IR port, which is not available on the Fire or Nook.
Also not available on the Kindle Fire or Nook Tablet but present on the Galaxy Tab 2 is a GPS radio that can be used for geolocation and navigation. It seemed to work as expected in rudimentary testing though we did not explore this feature too deeply (we've got dedicated devices for that). For apps like Google Maps to work properly with real-time navigation you will need an internet connection (e.g., a phone's wireless hotspot). But there are apps such as NavFree USA that store maps locally on the device. If your phone and car lack GPS, and you don't own a dedicated GPS unit, the Tab 2's GPS feature may be a nice bonus.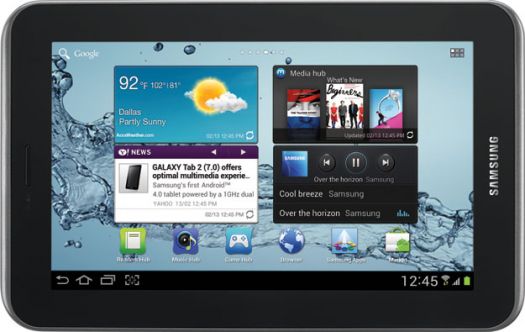 Like the Nook Tablet, the Galaxy Tab 2 features a microSDHC port so you can expand your content storage up to 32GB with the addition of a microSD card. It is not currently possible to install apps on the external card, but you can use it for photos, movies, music and other files. That would free up the Tab 2's internal storage for apps. If you spend extended periods of time with no WiFi access (e.g., on a subway or long car drives), this extra storage is a godsend as it allows you to pack tons of content onto the device and frees you from the need to access the Internet at all times.
If you plan to use your tablet for work (email, writing, etc.) or like the option of using wireless stereo headphones, you'll appreciate the Galaxy Tab 2's built-in Bluetooth support. You can pair a standard Bluetooth keyboard or even a Bluetooth mouse with the Tab 2 and free yourself from the tablet's functional but screen-robbing virtual keyboard. Also, with Bluetooth 3.0 support, you can pair the Tab 2 with a high-quality pair of wireless Bluetooth headphones and enjoy your content anywhere without a tether and without bothering those around you. If you prefer a standard pair of wired headphones, there's a jack for those too, wisely placed on the top of the device (when held vertically). That's much more comfortable and convenient than the Kindle Fire's headphone jack, which is somewhat bizarrely placed on the bottom.
The last differentiating feature on the Galaxy Tab 2 is the dual front/rear-facing cameras. The front-facing camera sports a lowly 640x480 resolution, but this is good enough for Skype video calls or Google+ Hangout sessions. The 3-megapixel rear-facing camera won't compete with a dedicated digital camera, but it will certainly do in a pinch, although the lack of a flash makes it fairly useless in low-lighting situations. Still, it's a "nice to have" feature if you don't have your primary camera and want to snap a quick picture or grab a bit of 720p video.
Like Apple, Samsung uses a proprietary data access/charging port, which is a bit inconvenient as it means you'll need to buy extra proprietary cables if you want spares in your car, office or computer bag. The Nook and Kindle use standard microUSB ports for data transfer and charging. However, the benefit of Samsung's proprietary port is that can output full HD 1080p video via an optional adapter.  That's something you can't do with microUSB, without something called MHL (Mobile High-Definition video Link) support which the Kindle Fire and Nook Tablet lack.  Bottom line? If you want to output the video on your tablet to a larger screen, go with the Samsung.
The Samsung Galaxy Tab 2 is only slightly larger than the Kindle Fire, measuring in at 7.6 x 4.8 x .46 inches.  The Tab 2 also features an extra 512 MB of RAM (1 GB vs. 512 MB on its two competitors).  This should improve its ability to multitask and run memory-intensive apps.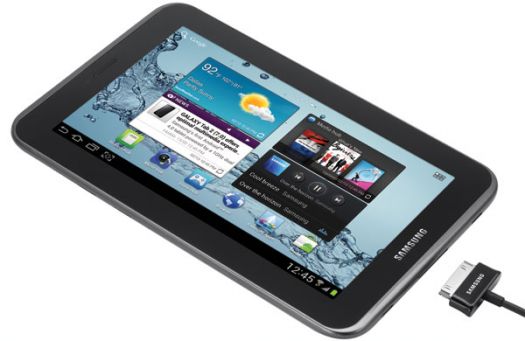 Turn Ons:
Full fledged Android tablet with Android 4.03 (Ice Cream Sandwich)
Expandable storage for content (up to 32GB)
Dual cameras, Bluetooth and even GPS!
Access to full Google Play app store
Turn Offs:
Slightly more expensive than Kindle Fire or Nook Tablet ($249 vs. $199)
Non-standard data/charging port requires proprietary cable (a minor deal, granted)
The Winner?
One distinct impression we took away from this side-by-side comparison: The Amazon Kindle Fire and the Barnes & Noble Nook Tablet are both sponsored by book/media purveyors, and as such, they seem to exist for the purpose of selling us more content. Consumer electronics giant Samsung on the other hand -- while still making plenty of premium video, audio, games and reading matter available to us for a fee -- has made a device that stands ready to do plenty, right out of the box, at no additional cost.
If you're looking for a competent 7-inch tablet with support for eBooks, games, music and videos, any of these three devices is likely to satisfy. Amazon Prime and VOD customers may prefer the Kindle Fire for its integration with the Amazon ecosystem and cloud. Barnes & Noble customers might prefer the Nook Tablet for its ability to browse a large selection of ebooks at any Barnes & Noble. However, for those who want the greatest flexibility, the most productivity and the best selection of apps, the Samsung Galaxy Tab 2 is the clear choice. It's 25 percent higher in cost, but worth every penny.
Where to Buy:
Full Reviews: