Kindle Fire Review
By Rachel Cericola
Edited by Chris Boylan
Let's get Fire-d up!
These days, everyone and their mother has some type of app. (It's true; there's a free "Yo Mamma" app.) There are apps for everything from weight loss to remote control to video games, and people are looking to do those things beyond the small screen of a cell phone -- as well as beyond a big-screen HDTV. When the consumer electronics world looks back on this year, 2011 will surely be remembered as the year of the tablet.
One of the hot tablet sellers right now is the Amazon Kindle Fire. That's probably because it has an MSRP of just $199. It's also because the Kindle Fire isn't technically a full-fledged tablet, but more of a glorified e-reader with a selection of apps and the ability to playback multi-media files, such as music and movies. This isn't necessarily a bad thing; it just depends on what you want to do with your device.
The Kindle Fire is certainly Amazon's most powerful effort to date. Featuring a full color 7-inch touchscreen and a customized version of the Android 2.3 Gingerbread operating system, the tablet is more about the content it can offer -- most of it from Amazon. There are plenty of books, magazines and apps, as well as movies, TV shows, games and even web browsing. Yes, it's another opportunity for Amazon to sell its wares. It's also a less expensive way to enjoy universal wares, such as Netflix, Pandora, Facebook, Angry Birds, Flixster, Words with Friends, and pretty much anything else you'd like to be able to carry around in a pocket-friendly portable form factor.
On the technical side, the Kindle Fire boasts a 1 GHz Texas Instruments OMAP 4430 dual-core processor, 512MB of RAM, 8GB of internal storage and Amazon Silk, the retailer's own "cloud-enhanced" variation on the web kit web browser.  We would really have liked to see the option to expand the storage (like the microSD card, found on its closest competitor, the NOOK Tablet), but Amazon's push toward the "cloud" (centralized server-based media storage) would suggest that they believe 8 GB of local storage is plenty of room for your apps, music, and whatever else you are able to physically store on the device.
Into the Fire
Out of the box, the Kindle Fire has a smooth feel, almost like soft skin. The device features just one button, for power. Push that to wake up the unit, slide the yellow arrow across the screen to unlock it, and get ready to start the registration process.  We simply cannot fathom why they put that power button and headphone jack on the bottom, where they are likely to get in the way.  Some apps and games will reorient themselves depending on how you are holding the device (so "top" and "bottom" are relative), but some will not. Take for example the game Night of the Living Dead Defense. This is one game that cannot be rotated. The bottom is the bottom, and the bottom is where the headphone jack is. So if you play it with headphones on and want to rest it on a stand or against your body, you can't because the headphones are sticking out of the bottom.  And similarly, when playing this and other games, it is far too easy to accidentally hit that power button and shut yourself down in the middle of watching a movie or playing a game. Eventually you will learn to work around these little quirks, but these are fairly significant examples of poor ergonomic design.
Our Kindle Fire came charged, which was a nice little bonus. After all, who likes waiting to play with new toys? That perk took us through the setup process and days' worth of playtime. It was a good amount, too, since we were anxious to check out the Fire's many features.
Before you can experience the same, you're going to need some type of wireless network. Unlike previous Kindle models, the Fire has no 3G option available. Its connection to the Web, and to that lofty cloud, is stricly via Wi-Fi.  However, more free Wi-Fi networks are popping up at public places. We connected at Starbucks, a mall, a local sandwich shop, and even a shoe store. Once connected, add your Amazon account info (you have one of those, right?). If you don't have an Amazon account, you'll need one, as well as a credit card to purchase apps, music and movies -- even the free ones. From there, the Kindle Fire doesn't just leave you to figure out the thing on your own. Instead, it takes you through a little tour of how to discover new items and even find the ones that you like later on.
Once logged in, you'll receive instant access to books you've previously bought or borrowed -- yes, Amazon Prime members can now borrow a book at a time through Amazon, or even borrow books from some public libraries. If that number is zero, you can easily buy or borrow new books. However, there's a slew of other things you can do as well.
Before we get into what you can do, let's touch a little bit on how you do it. This 7-inch touchscreen features a 1024 x 600 pixel resolution, promising 16 million colors. It isn't high-def, but it looks darn good, whether viewing books, videos, photos, app screens or web pages. It also has IPS (in-plane switching) technology. Similar to the iPad, this perk means that you can twist and turn the touchscreen for the perfect angle, without having to contort your actual body.  This may come in handy in bright locations, as the screen itself is very shiny and reflective.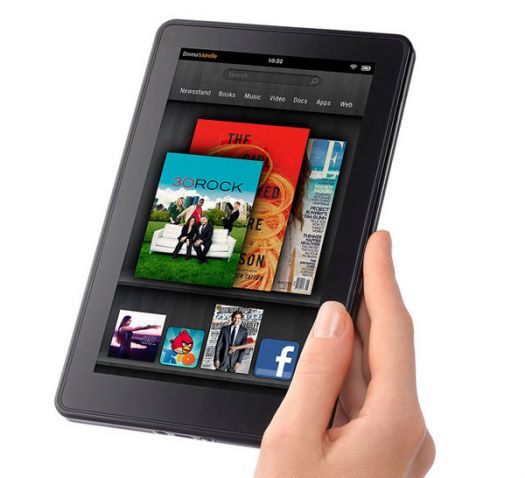 Hot Stuff
From the home page, the Kindle Fire offers a menu at the top with options for the Newsstand, Books, Music, Video, Docs, Apps and the Web. There's also the Carousel, which features a "flip book" of your most recently used apps and media. Upon first use, this seemed to be a little annoying and sort of junky for the home screen. After all, ours was filled with library e-books from long ago. Then, we discovered that you could delete selections by touching them for a few seconds. This does not delete the app from the actual device (unless that's what you want). However, it can come in handy to keep the home page clutter-free. It would have been a nice option to allow sub-folders, but the Kindle Fire doesn't do that.
Instead, let's take a look at what it does do -- which is a lot. Despite those bells and whistles, though, this is still a Kindle. That means that it's best known for being an eReader. We can happily report that the Fire has not lost any of its Kindle mojo. We started our testing with a variety of reading material. We checked out books from our local library, which were extremely easy to read on the Kindle Fire's screen. Children's books, in particular, had nice, bright graphics. We were also impressed by the text and the images found in the current issue of Shape magazine.
One advantage of the Kindle Fire over the e-ink Kindles is that the bright LCD screen requires no additional illumination when reading in bed or in a dark environment. We found that turning the brightness all the way down left us with adequate brightness and contrast to read comfortably in the dark, without getting a headache from an overly bright screen. Of course, this brightness advantage also comes at a cost: battery life. The Kindle Fire may last you through a couple of days of casual reading, game-playing and media viewing between charges (or 7 to 8 hours of solid game-playing or movie-watching), but this is a far cry from the month-plus battery time of an e-ink-based eReader, used exclusively for reading.
If you're actually an avid reader, another nice Amazon Prime perk is the Kindle Owners' Lending Library. As part of the Amazon store (found under the Books menu), this allows subscribers to borrow thousands of books for free, with no due dates.  However, don't plan to load up for a trip. You can actually only borrow one book at a time from Amazon, and only borrow a new book once a month.
Under Music, users will find options to play tracks directly from the device or tracks that are stored in the Cloud. Once open, we found all of the Windows Media Player tracks that are stored on our nearby laptop. Amazon automatically loaded those into the cloud, which was a nice surprise, and pretty darn convenient for playback when the laptop isn't in use. Other music can be purchased from Amazon, of course. Music apps, such as Pandora, aren't listed under the Music tab. Instead, those are with Apps. That said, all pretty much sound the same on the built-in speakers. The Kindle Fire delivers respectable sound for a tiny little 7-inch tablet, which is to say the sound isn't really that impressive at all. Of course, you shouldn't expect to rock the house using this thing. Isn't that what accessories are for?  We'd recommend at least a pair of good headphones if you want to enjoy your music and movies.
Loading Video was another seamless effort. Like the Music tab, Video only offers access to items purchased or streamed through Amazon. That said, we were able to call up previously purchased episodes of Modern Family and Breaking Bad, all within seconds. As we mentioned, the video isn't high-def, but it's not supposed to be. It also doesn't need to be on a screen this size. Colors looked great and detail was pretty decent considering the screen size.
A link to the Store will snag you more selections, as well as the access to the aforementioned streaming content through Amazon Prime. For TV series, we noticed the full series of Firefly up for grabs, streamed for free for Amazon Prime members, as well as The Office and Sons of Anarchy. The audio and video quality of Firefly was quite good, with stable, stutter-free streaming of the one episode we watched.  The free movie selection is a little light, but the original Swedish Girl with the Dragon Tattoo is here along with its two sequels, as well as The Last of the Mohicans and The Iron Giant.  And if you're in a winter holiday mood, then why not go for Fireplace in Your Home, which will turn your Kindle Fire into an actual fire (without the risk of burning down your home)? It's a lovely accompaniment to that romantic evening, once you stop laughing.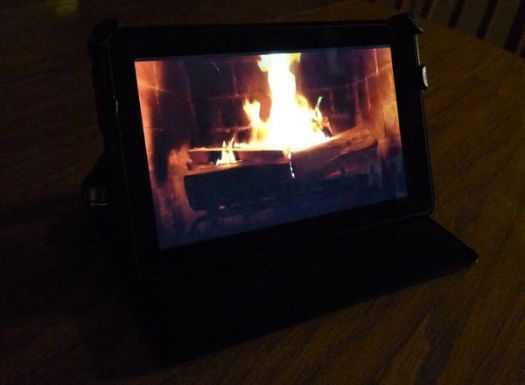 The Apps tab is probably where users will spend most of their time, since the options are fairly robust. The Kindle Fire comes pre-loaded with app suggestions, which you can install or delete. Upon start-up, we also received a little "1" in the upper left-hand corner of the screen. This is where Amazon delivers notifications, and this time, they were letting us know that we had 12 apps sitting in our existing account that were available for download.
Out of the box, the Kindle Fire suggested items like IMDb, The Weather Channel, Facebook, Pandora, Flixster, and much more. Of course, there are plenty of other options available through Amazon. Users can purchase apps directly through the Kindle Fire, or through the Amazon website, which you'll need to sync on the device. It's also extremely noteworthy that Amazon offers a free app every day. We were able to snag tons of games and even an interactive version of A Charlie Brown Christmas (which normally retails for $6.99) -- and every single one of them was free. You'll also see many discounted apps.  We saw a few popular racing and shooter games discounted from $4.99 or $5.99 to just 99 cents, and some apps even offered for a dime!  Amazon wants to you visit the app store daily, and at these prices, it's easy to go a little app-happy!
It's important to note that although it may seem at first glance that you're locked into the Amazon app market (which offers a fairly limited selection of apps, when compared to the full Android App Market), it is possible to install apps from other sources.  That said, "possible" doesn't mean "easy."  You can "root" your Kindle Fire so that it can get access to the Android App market, but this is a bit tricky to do and not for the faint of heart.  Check out this article on PC Mag for more details. There is a setting on the Kindle to "Allow installation of applications from unknown sources" (in the "Device" settings menu), but this does not magically grant you access to the Android Market.  So for most of us who don't want to risk problems by rooting the device, the selection of apps in the Amazon app market will have to do. There is a decent selection, but we miss having access to some of the AV-friendly apps such as SlingPlayer, Panasonic VIERA remote and Samsung remote control apps, which are available for any other Android phone or tablet in the Android market.
Silky Goodness
With the Kindle Fire comes Amazon's own web browser, dubbed Silk. Amazon says that this is a "cloud-accelerated browser" with a "split browser architecture." That basically means that the browser uses the cloud to help load pages with the promise that it's faster than other tablets. We weren't able to time this device against under tablets, but we can say that we never had problems with any recreational web surfing, and basic web pages loaded pretty quickly. Naturally, some pages look better than others, because of text size, page width or image placement. Also, more eleborate web-based apps, such as our own content management system for BPBS, don't work very well due to less than robust support for JavaScript and other active technologies.  However, we found most of our web travels to be enjoyable. Of course, a lot of that has to do with the device's support for Adobe Flash. That is a very welcome feature, not available on Apple devices.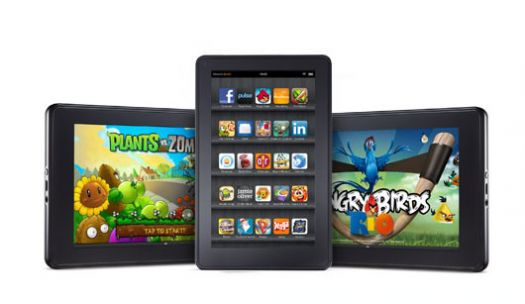 Turn Ons
Check out that price tag
Support for Adobe Flash Player
Solid web browser for basic web browsing
The wealth of Amazon content at your fingertips
Video streaming and book-borrowing for free with Prime membership
Great deals on apps in Amazon app store
Turn Offs
No Camera
No Bluetooth
No HDMI
No SD card slot or expandable storage
Poor placement of power button and headphone jack
No free (or paid) 3G option as seen on some e-ink Kindles
Limited app selection compared to full Android market
Final Thoughts
If you're trying to decide between an iPad and the Kindle Fire, you've got several things to consider. The iPad peforms better, with better features. Of course, the iPad is significantly larger -- certainly too big to carry in your pocket.  The iPad also costs more: at least two and a half times the price of the Kindle Fire. Those looking at the Kindle Fire need to know what they'll be missing out on, most notably a camera, GPS features, Bluetooth support, and additional storage. These omissions may seem a little obvious, but you know something? We didn't really miss that stuff all that much.
Those missing features also puts the Kindle Fire is in closer competition with the NOOK Tablet, which provides a little extra storage and a microSD card slot for $50 more. However, you can't beat entertainment, and the Kindle Fire offers a wealth of that, via the almighty Amazon. Besides actual purchases, there's also the option for Amazon Prime. For a $79 annual fee, Prime offers instant, unlimited streaming of movies and TV shows. It doesn't hurt that Prime membership also allows shoppers to order up free 2-day shipping on nearly all Amazon purchases. If you're on the fence, Amazon offers a 1-month free membership to all Kindle Fire buyers, right out of the box.
The Kindle Fire has its share of missed opportunities. However, you can't expect to have it all and pay such a low price -- at least not yet. As it is now, the Kindle Fire offers a user-friendly, fun tablet and eReader experience, with a wealth of entertainment options at an extremely affordable price.
Manufacturer's Specs:
Manufacturer's Contact Information:
Amazon.com
P.O. Box 81226
Seattle, WA, 98108-1226
On the web: www.amazon.com