3D TV Deal: LG 55-inch 55LW5300 1080p LED HDTV, Blu-ray Player and 4 Pairs of 3D Glasses: $1199.99
By Rachel Cericola
The pressure is on to come up with a great holiday gift. Instead of spending a ton of money on something that will sit in the back of a closet, you can give the gift of 3D TV -- and for a pretty decent price, too.
TigerDirect just listed a hot bundle that can deliver an instant 3D home theater, but for one low price. The package includes LG's 55-inch 55LW5300 1080p 3D LED HDTV, a Blu-ray 3D player and 4 pairs of passive 3D glasses, all for $1199.99 (after a $50 mail-in rebate). This bundle typically sells for $1799.99, so it's a pretty nice discount. Also, if you order before the end of this weekend, TigerDirect will ship the whole thing for free. Find out more on TigerDirect's product page: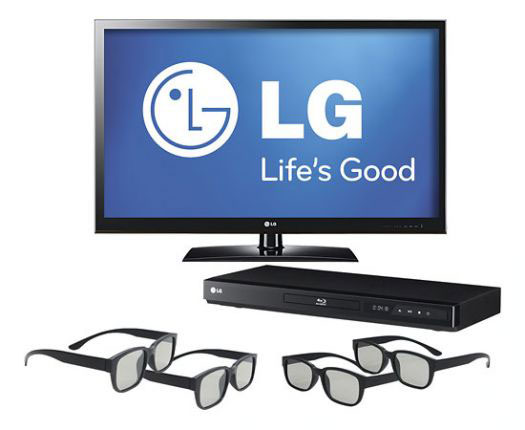 Because this HDTV is part of LG's LW5300 Series, it includes passive 3D technology. These newer 3D TVs boast a flicker-free performance with wider viewing angles. Also, because it's passive, it uses glasses that are lighter and less expensive. Other features include a full 1080p HD image, LG's LED Plus backlighting, TruMotion 120Hz technology, and three HDMI ports. We recently took a closer peek at this set. Find out more about the 55LW5300 in our Quick Take Review: LG LW5300 Series 3D LED HDTV.
As we mentioned, the glasses for this model are cheaper. However, you probably can't get much cheaper than free. Remember that this bundle includes four pairs of compatible 3D glasses, as well as that Blu-ray 3D player. This allows viewers to enjoy 3D content right out of the box. Of course, the player is also compatible with 2D Blu-rays, DVDs, and CDs.
According to TigerDirect, this sale price will be offered through December 17, 2011 (when the LG $50 rebate expires). However, you probably won't want to wait. Of course, it may sell out, but if you order before the end of the weekend, you can also score that free shipping!
Also Check Out:
Please note: all deals posted on Big Picture Big Sound are current as of the posting date and time. These deals are frequently time- or stock-limited and generally do not last. Final pricing and stock are determined by the individual deal provider, not by Big Picture Big Sound so you will need to click through on the offer link to see if it is still available. Through our affiliate relationships with many online vendors, Big Picture Big Sound may earn a small commission on any referred sale.