Quick Take Review: LG LW5300 Series 3D LED HDTV: 42LW5300, 47LW5300, 55LW5300
By Rachel Cericola
It used to be that you needed a lot of little pieces to make 3D happen at home. Besides, the TV, you definitely need 3D glasses -- and a Blu-ray 3D player and movies certainly are a nice touch. Since 3D became available at home, we have seen several manufacturers offer various bundle deals that promise free goods, discounts and other incentives to get you to upgrade to 3D. However, that's an every day deal when it comes to LG's LW5300 Series 3D LED HDTV.
LG has been nice enough to package up the LW5300 Series with the BD645 Blu-ray 3D player and four pairs of compatible 3D glasses. That basically means you can have an instant 3D home theater for one purchase price.
New for 2011, the LW5300 is available in three sizes: the 42-inch 42LW5300, the 47-inch 47LW5300, and the 55-inch 55LW5300. All three are part of LG's Cinema 3D line, which means that these are passive 3D TV sets. Passive 3D boasts a flicker-free performance with wider viewing angles. That should mean that every seat in the house is a good one. That viewing experience should also be pretty comfortable, too, since this set's compatible glasses are very lightweight. Inexpensive and easy on the eyes (well, the face), passive eyewear doesn't require batteries. In fact, these are exactly like the glasses used at the local Cineplex -- and can even be used on your next theater outing!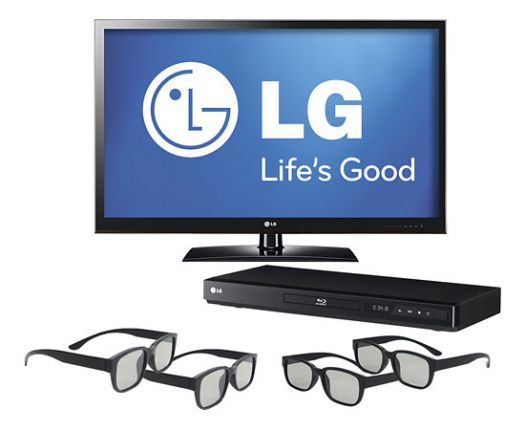 Because the glasses are included in the package, this TV offers a 3D experience right out of the box. The TV even has a 2D-to-3D conversion feature, which promises to add an extra dimension to all of that regular TV viewing.
Maybe you don't need a 3D Ashton Kutcher or Simon Cowell, and that's fine. The LW5300 also makes for an excellent 2D TV. It has a full 1080p image and LG's own LED Plus backlight technology, which boasts better brightness control and contrast through local dimming. Other features include TruMotion 120Hz technology, Picture Wizard II calibration, a USB port, and three HDMI ports.
Our own Ian White checked out the LW5300's big brother, the 55LW5600, at the end of the summer. Extremely similar to the LW5300, he had a lot of wonderful things to say about this model. "LG has figured out how to make a passive 3D HDTV that will sell the technology better than anything the competition has come up with for under $2,500," he says. Of course, we've seen the LW5300 package for well under that price point. Read his full LG 55LW5600 Cinema 3D LED HDTV Review for more information. We should point out that even though the two sets are very similar, the big difference is that LW5300 does not include any Smart TV features. Smart TV delivers on-screen access to services such as Netflix, Hulu Plus, MOG, Facebook, and much more. If this is something that you can't live without, well, you don't have to. Just add in a Roku box, which starts at just $49.99.
One of the main perks about the LW5300 is that it's packaged up with four pairs of 3D glasses and the BD645 Blu-ray 3D player. This player is exclusive to this bundle and cannot be purchased on its own. It also doesn't have Smart TV access, but does include the 2D-to-3D conversion feature. It also adds Blu-ray 3D discs into your AV mix, and can still play those 2D Blu-rays, DVDs, and even CDs. It also has a LAN port, which means that BD-Live is an option (with an added USB stick or other external storage), as well as firmware upgrades.
If you want to kick off the holiday season or even the New Year with a complete 3D setup, this is certainly a nice package. Even better, we've already seen the bundle on sale this week, and it's expected to be a hot seller for the holidays. Check out the links below for more information on pricing. Just make sure to add the package into your shopping cart to see the final price -- it's going to be so low that most retailers are going to make you work a little for it!
Where to Buy:
Also Check Out: