Buy a Low Budget/High Performance Home Theater Receiver and Speakers (Updated for 2009)
By Chris Boylan
Home Theater Gear - Champagne Taste on a Beer Budget
Champagne Taste on a Beer Budget
One of the fun parts of being an authority on home theater gear is that friends, family, and even friends of family are always asking me for advice on various equipment. Through trade shows, reviews and hands-on installations of home theater equipment all the way from low-budget to cost-is-no-object systems, I've been exposed to many home theater receivers and speakers and have developed favorites in each price range.

While there are many brands of receivers and speakers that offer excellent value, below are my current recommendations for low cost/high value home theater receiver and speakers. Links and pricing are all valid as of October, 2009 but offers do change over time. If you notice an offer that has changed or a link that no longer works, please let us know.

Don't Be Afraid to Mix and Match!

Many people don't realize that for just a bit more than the cost of a bland single-brand "home theater in a box" (HTIB) system, in fact for even less than the cost of some of the pricier HTIB systems, you can get great audio and video performance and flexibility by pairing a high value home theater receiver with a home theater speaker package.

With very few exceptions, you're going to be better off buying a receiver from a company that specializes in electronics and buying speakers from a company that specializes in loudspeakers. It turns out that good receiver makers rarely produce good speakers and vice versa. Specialization is good!


5.1? 6.1? 7.1? How many Point Ones Do I Need Anyway?
5.1 Surround is the standard format of both Dolby Digital and DTS surround sound - the most common surround formats on DVD and in HDTV broadcasts. It's called 5.1 because there are 5 main channels (front left, front center, front right, surround left and surround right) plus 1 low bass or "LFE" channel (low frequency effects).
To reproduce 5.1 Surround, you need a digital source component like a DVD player, Blu-ray Disc player or Digital set top box connected via a digital audio cable (typically fiberoptic or coax RCA style connector, or an HDMI cable) to a 5.1-channel capable receiver. The receiver then drives 5 main speakers plus a subwoofer so you get discrete multi-channel surround sound. 5.1-channel Surround Sound is fine for most small to medium listening rooms, or in rooms where seating is fairly fixed.
Recently, home theater systems have been enhanced with additional optional surround channels. In a 6.1-channel system, there is a rear center channel speaker that handles the rear-most surround effects. In a 7.1-channel system, there are two rear surround channels to handle the rear channel duties and the standard surround channels are placed along the sides of the listening space.  There are even some receivers that offer height and width channels extending the surround soundscape with speakers above or to the left and right of the standard front channels.  
Although HDTV shows that you watch on cable, satellite or over-the-air currently are delivered in either 2.0 or 5.1 channel surround, there are some DVD titles that are "enhanced for 6.1." This means they add in a rear channel that is encoded or "matrixed" into a standard 5.1-channel DVD so you do actually hear a different set of surround effects and audio coming from the rear channels. These movie titles are all backwardly compatible with standard 5.1-channel receivers so they'll play back just fine on a 5.1-channel home theater system.

Also, the high definition Blu-ray Disc format supports new surround sound options above and beyond the limitations of DVD. With Dolby Digital Plus, Dolby True HD, DTS-HD High Resolution Audio, DTS-HD Master Audio and multi-channel PCM, you can now have up to 7.1 channels of information on a Blu-ray Disc.  This can improve the illusion of space, particularly in larger rooms and home theater systems.  
If you have a large home theater, or an irregular seating arrangement, then 7.1 channel systems make a great deal of sense because they can help all viewers/listeners get the best sound out of their movie-watching experience. But the fact is that a 5.1-channel system can decode true multi-channel surround from any surround sound DVD or HDTV source, as well as any Blu-ray Disc and is perfectly acceptable for most purposes. On the other hand, it never hurts to be prepared for the future and to buy a system that can grow and be upgraded over time. So our usual recommendation is to buy a receiver or processor that supports 7.1-channel surround, but, if your budget is tight, start out with a 5.1-channel surround sound speaker system.

Any 7.1-channel capable receiver also supports a standard 5.1-channel speaker system. You simply have to disable the "rear surround" channel in the receiver's speaker configuration menu (or let the receiver's auto-calibration software handle that) to make sure the sound gets distributed properly. If you decide later that you want to experiment with 7.1-channel surround then you can simply buy two more speakers, change your speaker configuration in the set-up menu and let 'er rip!

The Receiver - Centerpiece of The Home Theater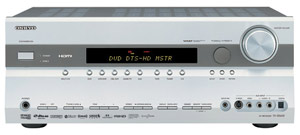 The home theater receiver is the control center of your entire system. It's where you plug in all of your sources such as a DVD player, cable box, DVR, Blu-ray Disc player, video game system and/or wireless media hub. The receiver then routes the appropriate video signal to your display and provides amplification for the audio portion of the system.

Key features in a budget home theater receiver include having enough inputs, ample power for your room, and sufficient audio processing modes and on-board decoders so you can accomodate all current home theater formats. Recently, with the advent of Blu-ray Disc players, as well as upconverting DVD players, the HDMI (High Definition Multimedia Interface) connector has become popular.  With HDMI, you get digital audio and video on a single cable, which makes life much simpler (mostly). 
Higher end receivers support HDMI connections, but not all do it the same way - some simply pass the HDMI source to the display with no processing of the audio.  Some HDMI-switching receivers do support audio but are limited to HDMI version 1.1 or 1.2 so they lack on-board decoding for the latest surround sound formats, Dolby TrueHD and DTS-HD Master Audio.  Ideally you want a receiver that supports all of the current features of HDMI 1.3 (audio and video).  Also, if you can swing it, look for "HDMI upconversion of analog sources."  This feature gives a receiver the ability to accept all of your audio/video sources - even older standard def components like VCRs, DVD players and game systems -  and convert them all to HDMI so you only need a single cable between the receiver and your television.   
Companies such as Denon, Outlaw Audio, Yahama, Sony and Pioneer all offer affordable performance-oriented home theater receivers but my current high-value pick is the Onkyo TX-SR607. It's currently available in either silver or black finish for a little over $400 from Amazon.  We reviewed its predecessor, the TX-SR605 and found it to be a capable performer.  The 607 is similar in design to the 605 but adds additional HDMI inputs for greater flexibility (now there are four).  It's also one of the first receivers to include Dolby ProLogic IIz processing for height-enhancement. 
The TX-SR607 occupies the entry to mid-level of Onkyo's receiver line and includes all the essentials as well as a lot of nice goodies normally only found in more expensive receivers: HDMI switching with audio support and analog video upconversion, DTS-HD, Dolby PLIIz and Dolby TrueHD support, Audyssey 2EQ auto-calibration, HD-capable component video switching, XM/Sirius satellite radio-readiness (just add a plug-and-play antenna plus service), 7.1-channel surround support plus compatibility with Onkyo's advanced iPod dock.  At a little over $400 street price, it's a great bargain and an excellent performer. 
Hook Me Up!
I've mentioned HDMI (High Definition Multimedia Interface) support as being something you want in a receiver.  The newest high definition source components (such as Blu-ray Disc players) require HDMI in order to pass full 1080p high definition resolution and the latest surround sound codecs.  But just because HDMI is "new and improved" over traditional analog connections, it doesn't mean you have to pay through the nose for the cable itself.  Some big box electronics chains only stock expensive HDMI cables.  
In most cases, super-expensive cables are not really necessary and you'll get the same results with lower price (but high quality) cables from lesser known brands.  We've used Cables-to-Go's basic HDMI cables (around $10-$12 each on Amazon.com) and gotten great results.  There are some cables that are even cheaper, but we can say from experience that these ones are good (and affordable).      
Speakers - the Voice of Your Home Theater

As important as selecting a flexible and powerful home theater receiver, choosing a good set of home theater loudspeakers is critical in putting together an enjoyable home theater system. Generally speaking, the smaller your speakers are, the less bass they can put out, though this can be mitigated with a good subwoofer (see more on subwoofers below).

Most budget home theater packages are comprised of four identical speakers called "satellites" for the front and rear channels, plus a center channel speaker that is usually a bit larger to accomodate the dialog or vocals.  Some budget home theater systems offer five identical speakers for front, center and rear, and this can also produce good results. 

You can choose a complete system (satellite speakers, center channel and subwoofer) from a single manufacturer, or you can specialize even further by choosing one brand for the main speakers and another brand for the subwoofer.

Good affordable home theater packages are available from companies such as Mirage, Atlantic Technology, Infinity, Harman Kardon, Definitive Technology, Athena and others, but my current high-value choices are from Polk Audio,  Energy and Cambridge SoundWorks. 
Polk's RM6750 system is comprised of 4 satellite speakers, one center channel and a powered subwoofer. It lists for $599 but is available online for under $300 - an outstanding value. Their small size (6.5 x 4 X 5 inches) makes them among the smallest high quality entry-level home theater speakers available.  Also, if you wish to upgrade to 7.1 channels, you can buy the RM6751 satellite speaker individually in black, titanium or white colors. 
Energy's Take Classic system sells for a bit more (but still under $350), offering slightly taller main speakers (6 7/8 x 4 1/8 x 4 1/8 inches) capable of handling more power and higher output.  This is an updated version of the surround system used by Big Picture Big Sound's film guru, Joe Lozito. He matches this system with a 100-inch 1080p projection screen for Big Picture and Big Sound.  The Take Classic system is sold as a 5-pack of satellite speakers plus a matching 8-inch powered subwoofer (ESW-8HG).  
Even though the Polk and Energy systems are small, it's still important to carefully note the measurements of these or any speakers and bring a measuring tape into your home theater or living room to verify that they'll fit in the desired space. Otherwise you may be in for a rude awakening when your newly aquired center channel speaker doesn't quite fit in your cabinet or your satellite speakers dominate your small living room!
If you're looking for an even smaller system that still offers good performance, then consider the HT55 home theater system from Cambridge SoundWorks.  This system is comprised of five identical 4.5" cubes and a 15" tall powered subwoofer.  Peter Suciu reviewed the HT55 system and found that it offered good performance for a bargain price (under $300).   

How Low Can You Go?

The Polk and Cambridge SoundWorks systems above each include a powered subwoofer, but some value-priced systems like the Energy Take Classic 5-pack do not. If the system you choose does not include a powered sub, then you'll need to add one if you want decent bass response. In the case of the Energy system, the optional matching subwoofer is a good bet because it is designed specifically to match the tonal characteristics of the Take Classic system.  But if you choose different speakers, then you'll need to select a powered sub that is a good match for your satellites.
The powered subwoofer is an essential part of any home theater system as it provides the low-end foundation of the system, giving not only explosions and gunshots their proper weight and attack but also giving everyday sounds and music a believable sonic heft.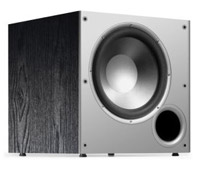 Some of the value-oriented high quality brands to look for in the subwoofer market include Polk Audio, Velodyne and Outlaw Audio.  And although size does matter (a 12-inch woofer in a large cabinet can generally put out deeper lower bass than an 8-inch woofer in a smaller cabinet), it is possible to get a relatively small subwoofer that will perform well, particularly in a smaller room.  Look closely at the frequency response ratings of your main speakers and that of the subwoofer to make sure there is some overlap.  In other words, if your satellite speakers only go down to 120 Hz, but your chosen subwoofer only goes up to 100 Hz, then you may end up with some missing bass frequencies which will produce a hollow sound overall. 
Because bass frequencies are non-directional, a subwoofer can usually be tucked into a corner or placed out of sight without hurting its performance.  Some even make nice end tables, just watch your drink during those cannon blasts!  For help setting up a subwoofer, read our detailed tutorial, "How to Set Up a Subwoofer for Home Theater."
Remote Possibilities
Your final consideration when completing a budget home theater system is how it's all going to operate.  Most home theater receivers, such as the Onkyo above do include "universal" remotes that can operate multiple components, like DVD players and TVs. But you'll still have to press a lot of buttons to get everything powered up and probably will need to keep a "cheat sheet" around for the family members to get it all up and running. 
For true home theater ease-of-use and integration, we'd recommend an intelligent home theater remote such as the Harmony One by Logitech. The Harmony remote allows you to associate complicated home theater operations with simple activity buttons like "Watch TV" or "Watch a DVD." Press one button and the remote will power up your DVD player, TV and receiver, switch the inputs on all devices to the right settings and start playing a DVD for you. Press another button when you're done and it will shut down the whole system. Just the thing to promote peace and... well... "harmony" in the household. 
Have Fun with It!

They say well begun is half done, so instead of agonizing over your choices, just get started and get your feet wet. Buy an inexpensive Blu-ray Disc player, receiver and speakers, and start experimenting. A moderate investment in equipment and time will generate immense enjoyment as you immerse yourself, your family and friends in your favorite movies and music. And once the home theater bug bites, don't forget to check back with Big Bicture Big Sound for our latest home theater and HDTV news, reviews and recommendations.

Where to Buy:
Home Theater Receivers
Speakers
HDMI Cables
Universal Remote
Additional Articles of Interest: